If it's a country property you're seeking, Associate Realty has a few to choose from and 42 years experience.   
---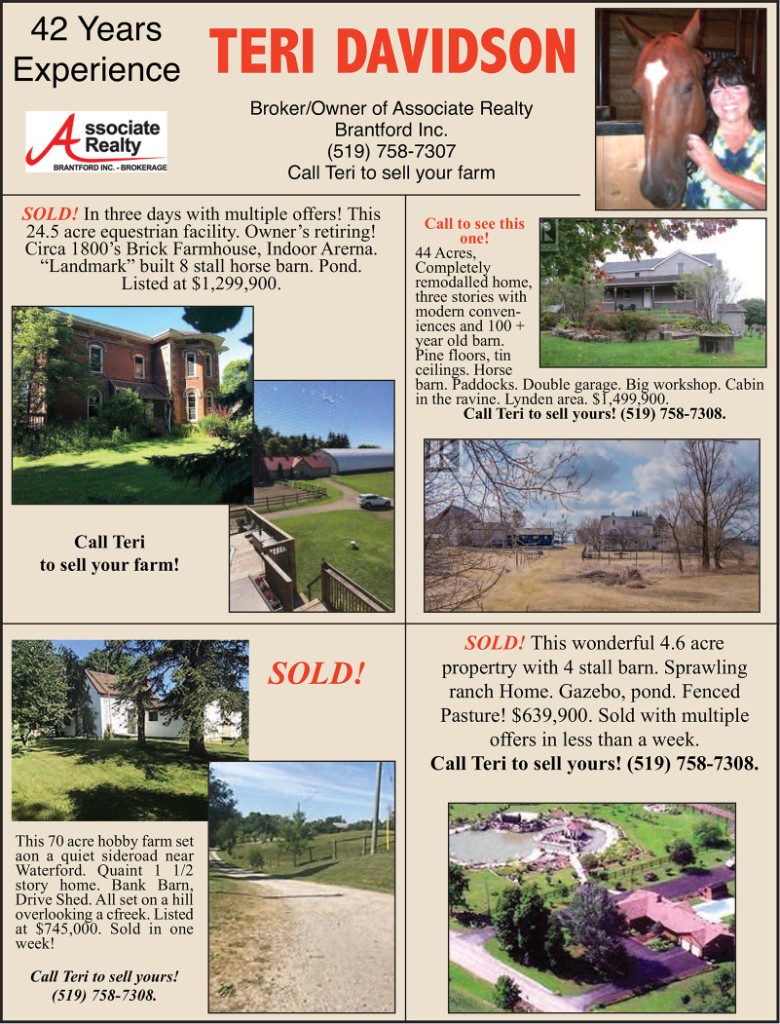 Properties For Sale
134 King George Road, Brantford, ON  N3R 5K9
Phone: 519-647-3330
Email: teridavidson@execulink.ca
Website: www.associaterealty.ca
---
SOLD
SOLD! In three days with multiple offers! This 24.5 acre equestrian facility. Owner's retiring! Circa 1800's Brick Farmhouse, Indoor Arena. "Landmark" built 8 stall horse barn. Pond. Listed at $1,299,900.
Call Teri Davidson 519-758-7307 to sell your farm!
---
44 acres
Call to see this one! 44 Acres, Completely remodeled home, three stories with modern conveniences
and 100 +year old barn. Pine floors, tin ceilings. Horse barn. Paddocks. Double garage. Big workshop. Cabin in the ravine. Lynden area. $1,499,900.
Call Teri to sell yours! 
---
SOLD!
This 70 acre hobby farm set on a quiet sideroad near Waterford. Quaint 1 1/2 story home. Bank Barn, Drive Shed. All set on a hill overlooking a creek. Listed at $745,000. Sold in one week!
Call Teri to sell yours! (519) 758-7307.
---
SOLD!
SOLD! This wonderful 4.6 acre property with 4 stall barn. Sprawling ranch Home. Gazebo, pond. Fenced Pasture! $639,900. Sold with multiple offers in less than a week.
Call Teri to sell yours! (519) 758-7307.