Pressure-Ice provides deep penetrating cold and active compression. 
---
Reduces Swelling and Pain.
Contact: Nancy Berman or John Pundyk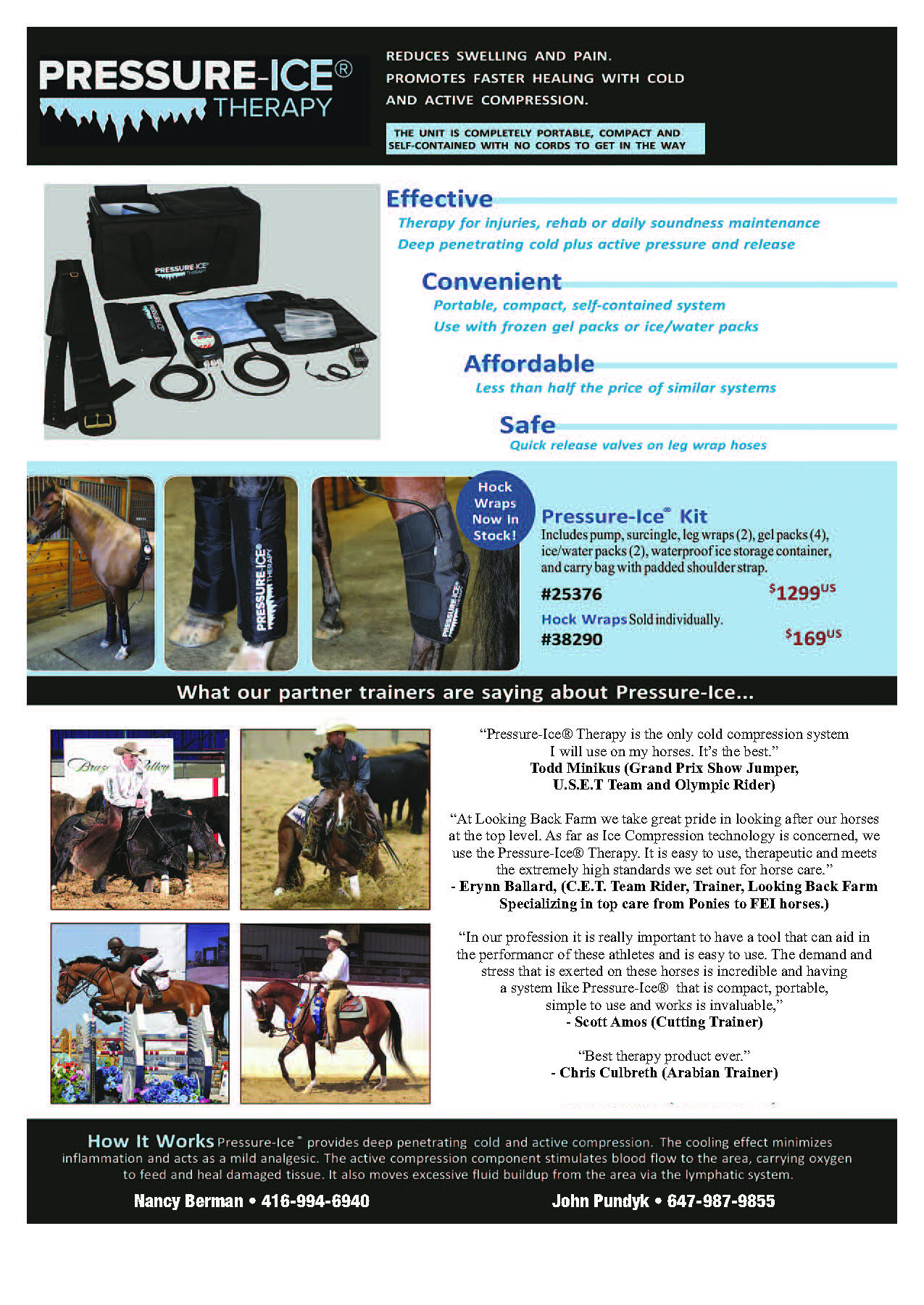 Phone:  416-994-6940 or 647-897-9855
Email: nberman@gameready.ca 
Promotes faster healing with cold and active compression. The unit is completely portable, compact and self-contained with no cords to get in the way. 
Effective: Therapy for injuries, rehab or daily soundness maintenance. Deep penetrating cold plus active pressure and release. 
Convenient: portable, compact, self-contained system. Use with frozen gel packs or ice/water packs. 
Affordable: less than half the price of similar systems
Safe: quick release valves on leg wrap hoses
Hock Wraps Now in Stock!
Pressure-Ice Kit
Includes pump, surcingle, leg wraps (2), gel packs (4) ice/water packs (2) waterproof ice storage container, and carry bag with padded shoulder strap 
#25376 $1299 US
Hock Wraps Sold individually
#38290 $169 US
What our partner trainers are saying about Pressure-Ice
"Pressure-Ice® Therapy is the only cold compression system. I will use on my horses. It's the best." Todd Minikus (Grand Prix Show Jumper,  U.S.E.T Team and Olympic Rider)

"At Looking Back Farm we take great pride in looking after our horses at the top level. As far as Ice Compression technology is concerned, we use the Pressure-Ice® Therapy. It is easy to use, therapeutic and meets the extremely high standards we set out for horse care." - Erynn Ballard, (C.E.T. Team Rider, Trainer, Looking Back Farm Specializing in top care from Ponies to FEI horses.)

"In our profession it is really important to have a tool that can aid in the performance of these athletes and is easy to use. The demand and stress that is exerted on these horses is incredible and having  a system like Pressure-Ice® that is compact, portable,  simple to use and works is invaluable," - Scott Amos (Cutting Trainer)

"Best therapy product ever." - Chris Culbreth (Arabian Trainer)
How It Works: 
Pressure-Ice provides deep penetrating cold and active compression. The cooling effect minimizes inflammation and acts as a mild analgesic. The active compression component stimulates blood flow to the area, carrying oxygen to feed and heal damaged tissue. It also moves excessive fluid buildup from the area via the lymphatic system.