David Carson Farms & Auction Services
---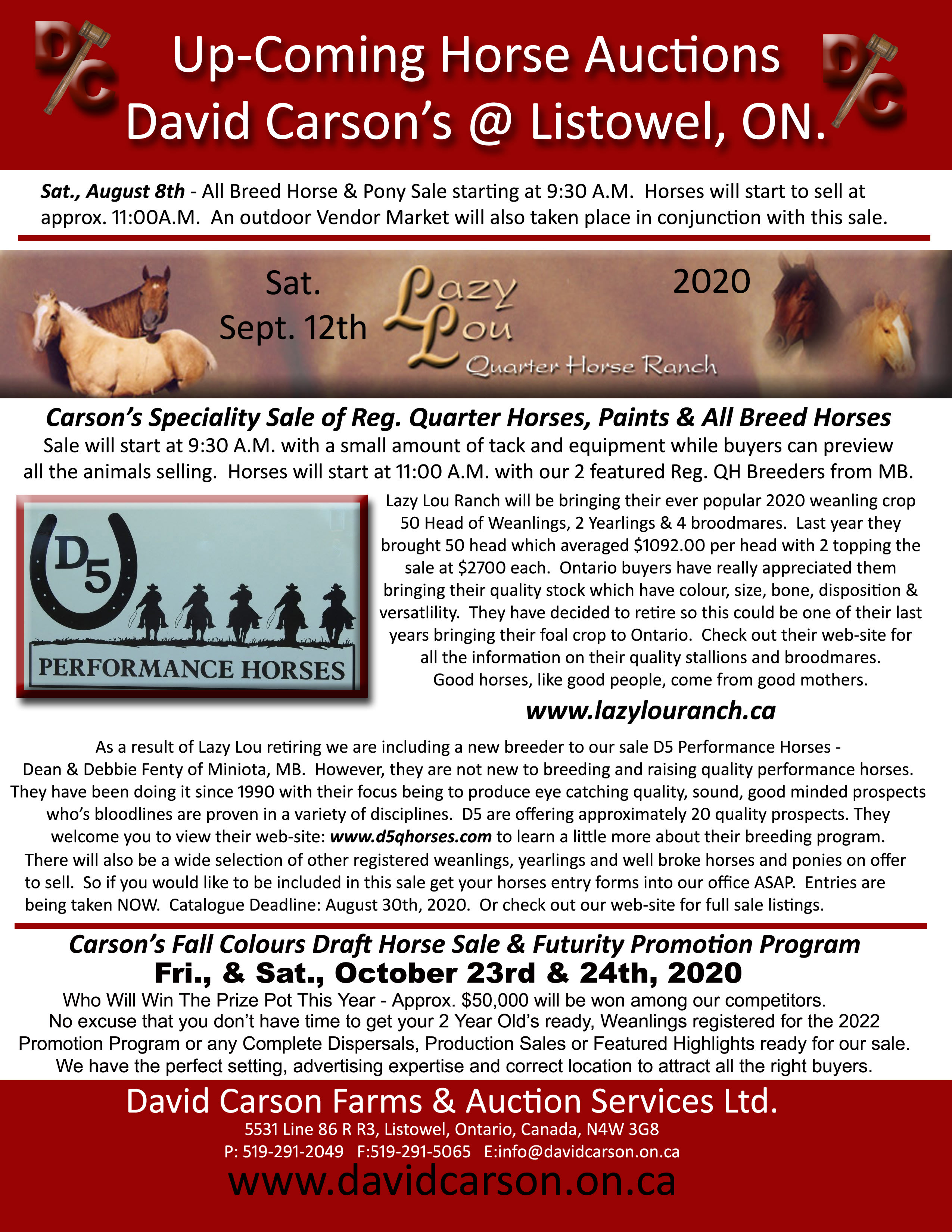 Phone: 519-291-2049
Address: 5531 Line 86, RR3 Listowel, ON N4W 3G8
Email: info@davidcarson.on.ca 
Website: www.davidcarson.on.ca 
Upcoming Auctions
Carson's Speciality Sale of Reg. Quarter Horses, Paints & All Breed Horses
Saturday, September 12th - Lazy Lou Quarter Horse Ranch 
Sale will start at 9:30 am with a small amount of tack and equipment while buyers can preview all the animals selling. Horse will start at 11:00 am with our 2 featured Reg. QH Breeders from MB. 
Lazy Lou Ranch will be bringing their ever popular 2020 weanling crop 50 Head of Weanlings, 2 yearlings & 4 broodmares. Last year they brought 50 head which averaged $1092.00 per head with 2 topping the sale at $2700 each. Ontario buyers have really appreciated them bringing their quality stock which have colour, size, bone, disposition and versatility. They have decided to retire so this could be one of their last years bringing their foal crop to Ontario. Check out their website for all the information on their quality stallions and broodmares. Good horses, like good people come from good mothers.  www.lazylouranch.ca 
Carson's Fall Colours Draft Horse Sale & Futurity Promotion Program
Fri., & Sat., October 23rd & 24th, 2020
Who will win the prize pot this year. Approximately $50,000 will be won among our competitors. No excuse that you don't have time to get your 2 year old's ready. Weanlings registered for the 2022 promotion program or any complete dispersals, production sales or featured highlights ready for our sale. We have the perfect setting, advertising expertise and correct location to attract all the right buyers.