At Ionson's Saddlery We Always Have Over 300 New And Used Saddles In Stock - And Much More!
---
Christmas Open House
Address: 14 Bruce Road 30, Chesley, ON N0G 1L0
Phone: (519) 363-5598
Website: Facebook Page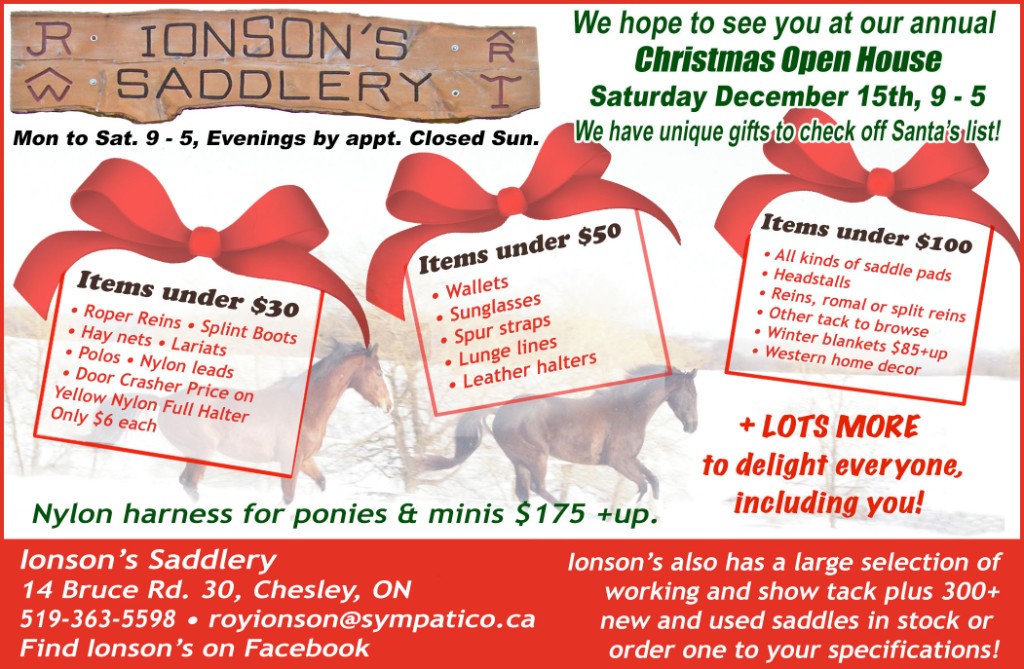 At Ionson's Saddlery we always have 300 to 350 new and used saddles in stock. We have Dale Chavez, Billy Cook, Circle Y, Martin, Textan New Continental reining saddles and HR (Texas) saddles in stock or you can order one to your specifications! We have a large selection of working and show tack! 
We hope to see you at our annual Christmas Open House
Saturday December 15th 9-5pm
We have unique gifts to check off Santa's list!
Items under $30: Roper reins, splint boots, hay nets, lariats, pollos, nylon leads, door crasher price on yellow nylon full halter (only $6 each). 
Items under $50: Wallets, sunglasses, spur straps, lunge lines, leather halters
Items under $100: All kinds o saddle pads, headstalls, reins, romal or split reins, other tack to browse, winter blanket $85 and up, western home decor
Nylon harness for ponies & minis $175 and up
Lots more to delight everyone including you!