When you really need to be sure what's in the bucket. 
---
Natural Horse & Canine Supplements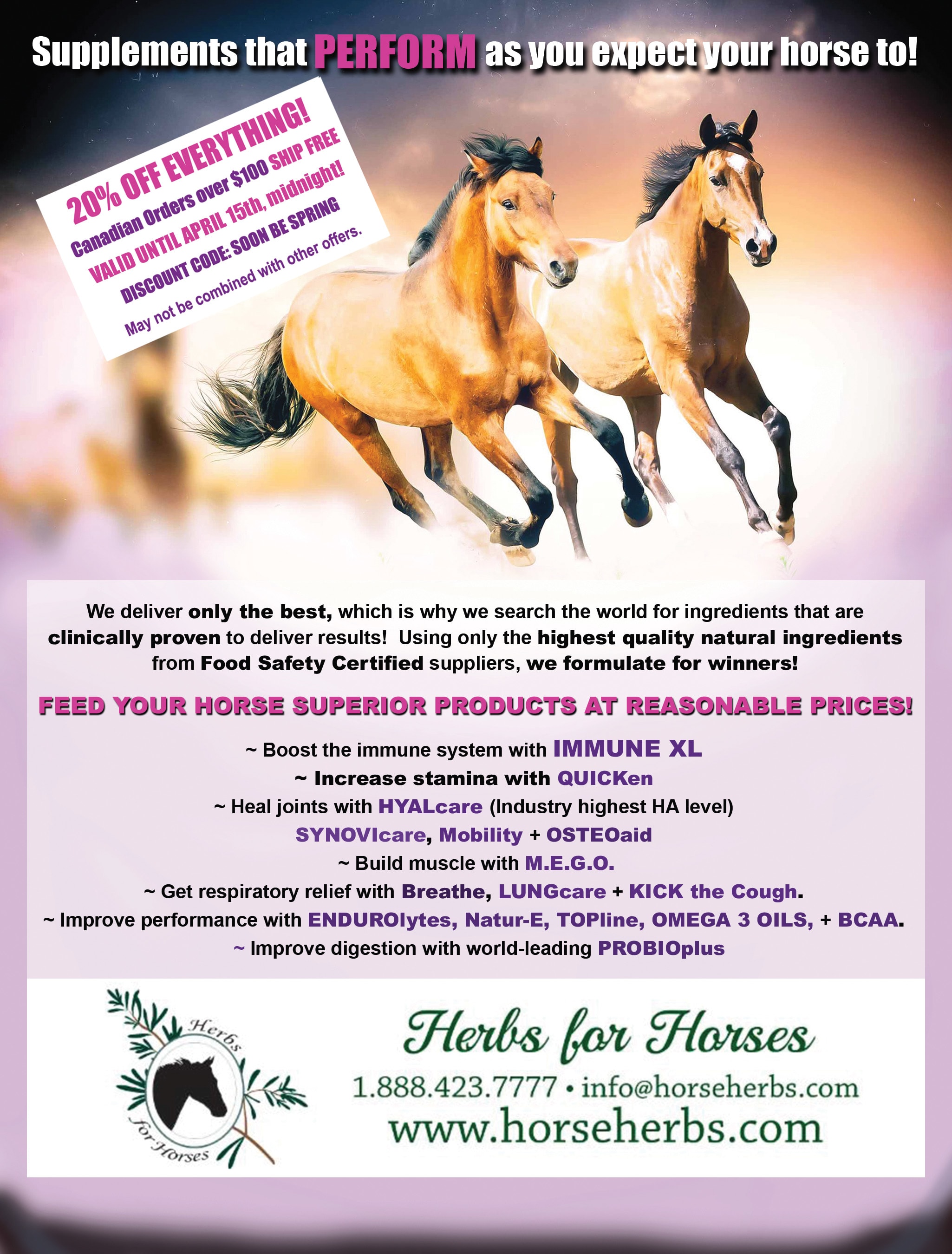 Address: 6 - 558 Massey Road, Guelph, On N1K 1B4
Phone:  1-888-423-7777
Website: www.horseherbs.com
Website: www.caninesupplements.ca 
Email: info@horseherbs.com and info@caninesupplements.ca 
An article in  The Rider explains why Omega-3 is so important for us, our dogs and horses!
When you really need to be sure what's in the bucket! 
20% OFF Everything! 
Canadian Orders over $100 SHIP FREE. Valid Until April 15th at midnight. Discount Code: SOON BE SPRING. 
*May not be combined with other offers. 
---
We deliver only the best, which is why we search the world for ingredients that are clinically proven to deliver results! Using only the higest quality natural ingredients from Food Safety Certified suppliers, we formulate for winners!
FEED YOUR HORSE SUPERIOR PRODUCTS AT REASONABLE PRICES!
Boost the immune system with IMMUNE XL
Increase stamina with QUICKen
Heal joins with HYALcare (Industry highest HA level)
SYNOVicare, Mobility + OSTEOaid
Build muscle with M.E.G.O.
Get respiratory relief with Breathe, LUNGcare + KICK the Cough
Improve performance with ENDUROlytes, Nature-E, TOPline, OMEGA 3 OILS, + SCAA
Improve digestion with world-leading PROBIOplus 
Digest Aide
Digestion plays a key role in your dog's overall health! 
assists in digestion
stimulates growth of beneficial bacteria in the intestinal tract
promotes bowel health
improves coat quality
increases metabolism
reduces stomach upset
decreases flatulance
lessens bad breath