Ancaster has set a goal to be the premier equestrian, livestock, tradeshow and event facility in Southern Ontario. The new show arena aligns with that plan!
---
Since the move to their new location on Trinity Road in 2009, the Ancaster Agricultural Society (AAS) has invested over $22 million in their existing infrastructure and are planning for long-term future growth with an additional $5 million investment in new facilities. The plan is to begin construction in the Fall of 2019 and to be completed by Summer 2020 in time to celebrate the Ancaster Agricultural Society's 170th anniversary.
"By adding a new 75,000 sq ft building to our existing 90,000 sq ft onsite facilities, our goal is to be the premier equestrian, livestock, tradeshow and event facility in Southern Ontario," said Al Payne, Capital Campaign Chair. "As a society with a focus on agriculture, the new building will give us the opportunity to seek large agricultural events to encourage country to meet city. Availability of such a facility will also encourage participants to stay in Canada for events rather than venture to the Northern USA for competitions."

The new 75,000 sq ft building, which will be heated for year-round use, will be comprised of a large 120 ft by 300 ft show ring and additional 108 ft by 244 ft area for stalls or exhibit space. The building will also have stadium/bleacher style seating, sound system, kitchen/concession area, show office/lounge, indoor washrooms and several oversized doors for large equipment to access the building.
"Although we have sponsors and partners for our current activities and events, we are just launching our major Capital Campaign and will be seeking to confirm partners for this project in the upcoming months," said Payne. "As we are finalizing our plans, this is also an excellent time for people to provide input as to what they would like to see in the new facilities."
To accommodate the new building, the AAS is relocating one of the existing outdoor show rings. With the addition of the new outdoor 54,000+ sq ft show ring (150 ft by 365 ft) they will have two excellent sand rings with an additional warmup area. They have also recently added heat to their existing 30,000 sq ft show arena and continue to host open rides and events all year long.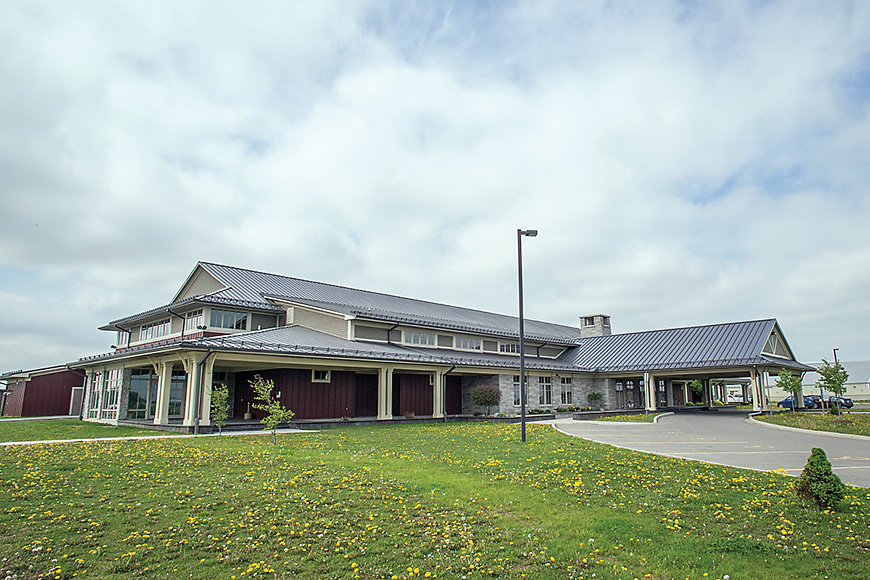 Why the Focus on Equestrian Events?
As more people realize the countless benefits that human-equine interaction provides, the more prevalent recreational and competitive equestrian activities have become. As a result, and due to the significant cost involved, suitable public facilities are scarce.
"There are limited facilities available focused on sports development and education where the equine community can gather, learn, train, compete and grow their programs," said Payne. "If we want to keep our athletes and national competitors in our community, we have to give them somewhere to train so they don't have to leave town to access world-class facilities."
The new facilities will give the Ancaster Agricultural Society the unique opportunity to meet the needs of the local, provincial and national equestrian community.