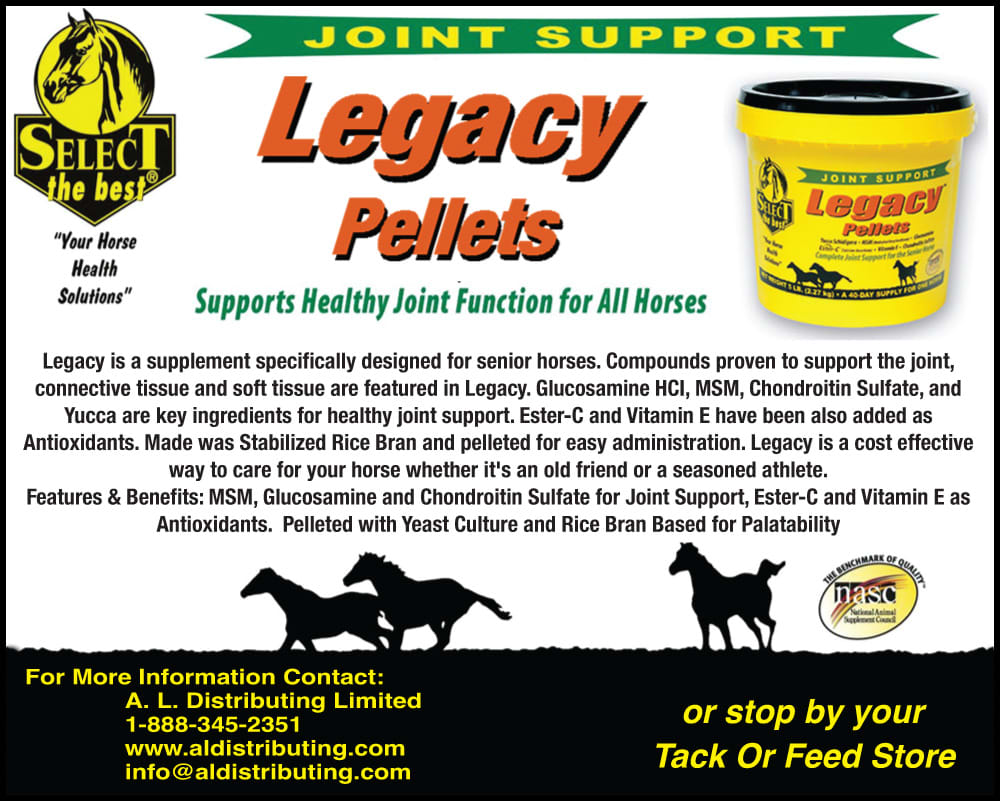 Legacy Pellets are a a supplement specifically designed for senior horses.
---
---
Compounds proven to support the joint, connective tissue and soft tissue are featured in Legacy.
Glucosamine HCI, MSM, Chondroitin Sulfate, and Yucca are key ingredients for healthy joint support.
Ester-C and Vitamine E have been also added as Antioxidants.
Made with Stabilized Rice Bran and pelleted for easy administration.
Legacy is a cost-effective way to care for your horse whether it's an old friend or a seasoned athlete.
Phone: 1-888-345-2351
---
Nu-Image 
is a scientifically formulated nutritional supplement rich in Omega-3 and Omega-6 Fatty Acids, fortified with Biotin, Zinc, Amino Acids, and is designed to promote the growth of lustrous hair, mane, and tail. Nu-Image is a high quality coat conditioner with exceptional value at pennies per day - even less than corn oil, without the mess. Formulated to work with all feeding programs and other supplements safely, without fear of over-supplementation, use Nu-Image to give your horse a Show Quality Coat in as little as ten days. 
---
HylaRx Complete
is formulated with the same Hyaluronic Acid (HA) as teh liquid HylaRX and is fortified with Glucosamine HCI, MSM and Chronodrlin Sulfate for healthy joint support. HylaRX Complete is now our most effective joint support product in a concentrated powder form for ease of administration. 
---
Dark Horse Nu-Image
is specifically formulated to enhance and sine manes, coats, and tails on black, bay and brown horses. Rich in Omega-3 and Omega-6 Fatty Acids, key Amino Acids, essential B-Vitamins including Biotin, properly balance Zinc and Copper as well as dark pigment enhancing ingredients Kelp and Paprika. Helps prevent that washed out reddish-orange coat as well as brings out the essence in your horse's natural colour by promoting a rich dark shine for your dark horse.