Brooks Performance Horse Feed is Dedicated To The Production Of High-Quality Horse Feeds In Ontario And Quebec!
---
Brook Performance Horse Feeds
Address: 1580 Hwy 7A, Port Perry, ON L9L 1B5
Phone: (905) 985-7992
Website: https://brooksfeeds.com/
Email: info@brooksfeeds.com 
Brooks Feed Store has long been dedicated to the production of high-quality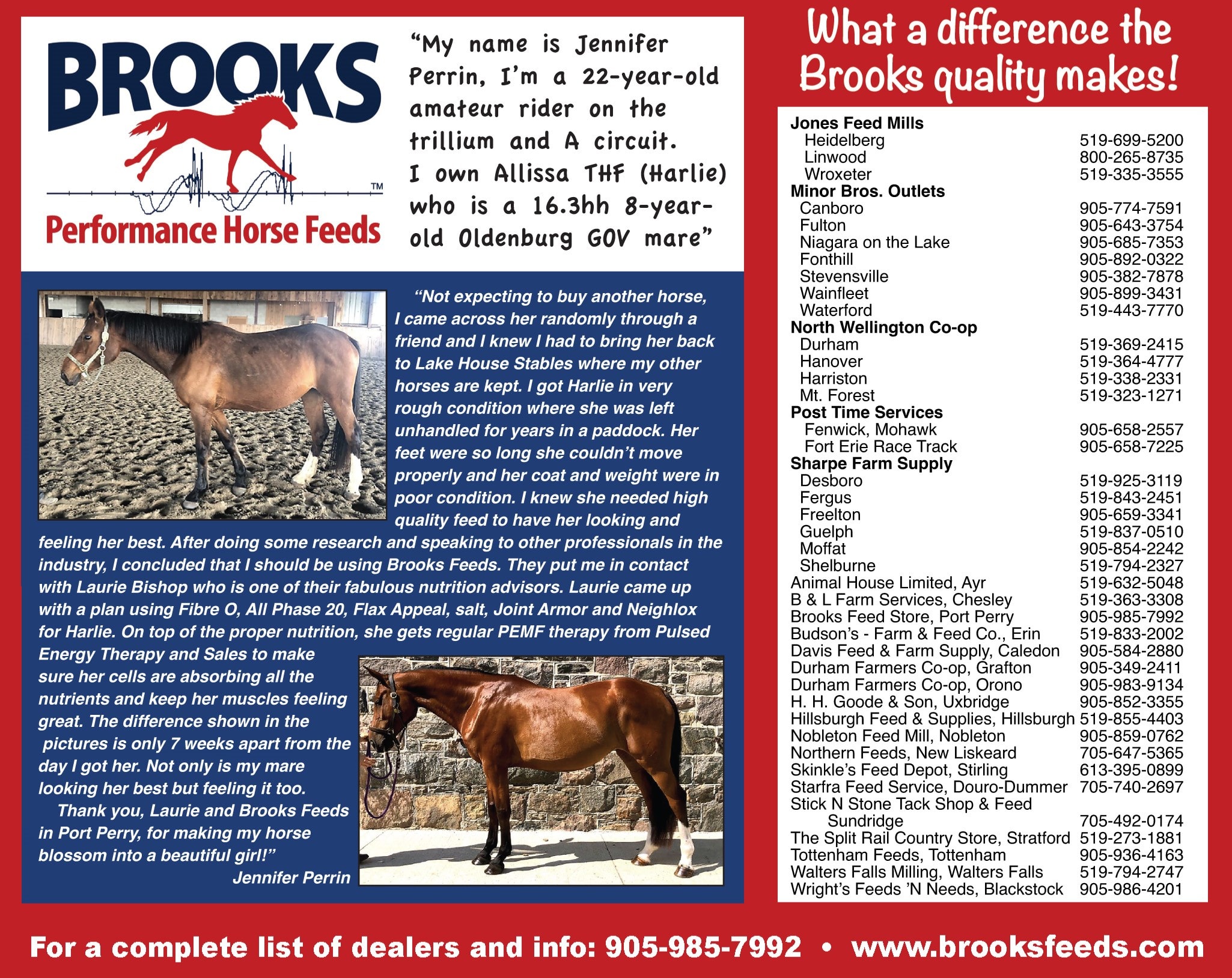 Horse feeds for the horse owners of Ontario and more recently in Quebec. Brooks has strived to produce feeds using only the finest ingredients and the utmost attention to detail.
What a difference the Brooks quality makes!
My name is Jennifer Perrin, I'm a 22-year-old amateur rider on the trillium and A circuit. I own Alissa THF (Harlie) who is a 16.3hh 8-year-old Oldenburg GOV mare. 
Not expeting to buy another horse, I came across her randomly through a friend and I knew I had to bring her back to Lake House Stables where my other horses arekept. I got Harlie in very rough condition where she was left unhandled for years in a paddock. Her feet were so long she couldn't move properly and her coat and weight were in poor condition. I knew she needed high quality feed to have her looking and feeling her best. I concluded that I should be  using Brooks Feeds. They put me in contact with Laurie Bishop who is one of their fabulous nutrition advisors. Laurie came up with a plan using Fibre O, All Phase 20, Flax Appeal, salt, Joint Armor and Neighlox for Harlie. On top of the proper nutrition, she gets regular PEMF therapy from Pulsed Energy Therapy ane Sales to make sure her cells are absorbing all the nutrients and keep her muscles feeling great. The difference shown in the pictures is only 7 weeks apart from the day I got her. Not only is my mare looking her best, but feeling it too. 
Thank you, Laurie and Brooks Feeds in Port Perry for making my horse blossom into a beautiful girl.
Jennifer Perrin