Brooks Performance Horse Feed is Dedicated To The Production Of High-Quality Horse Feeds In Ontario And Quebec!
---
Brook Performance Horse Feeds
Address: 1580 Hwy 7A, Port Perry, ON L9L 1B5
Phone:  (905) 985-7992
Website: https://brooksfeeds.com/
Email: info@brooksfeeds.com 
Brooks Feed Store has long been dedicated to the production of high-quality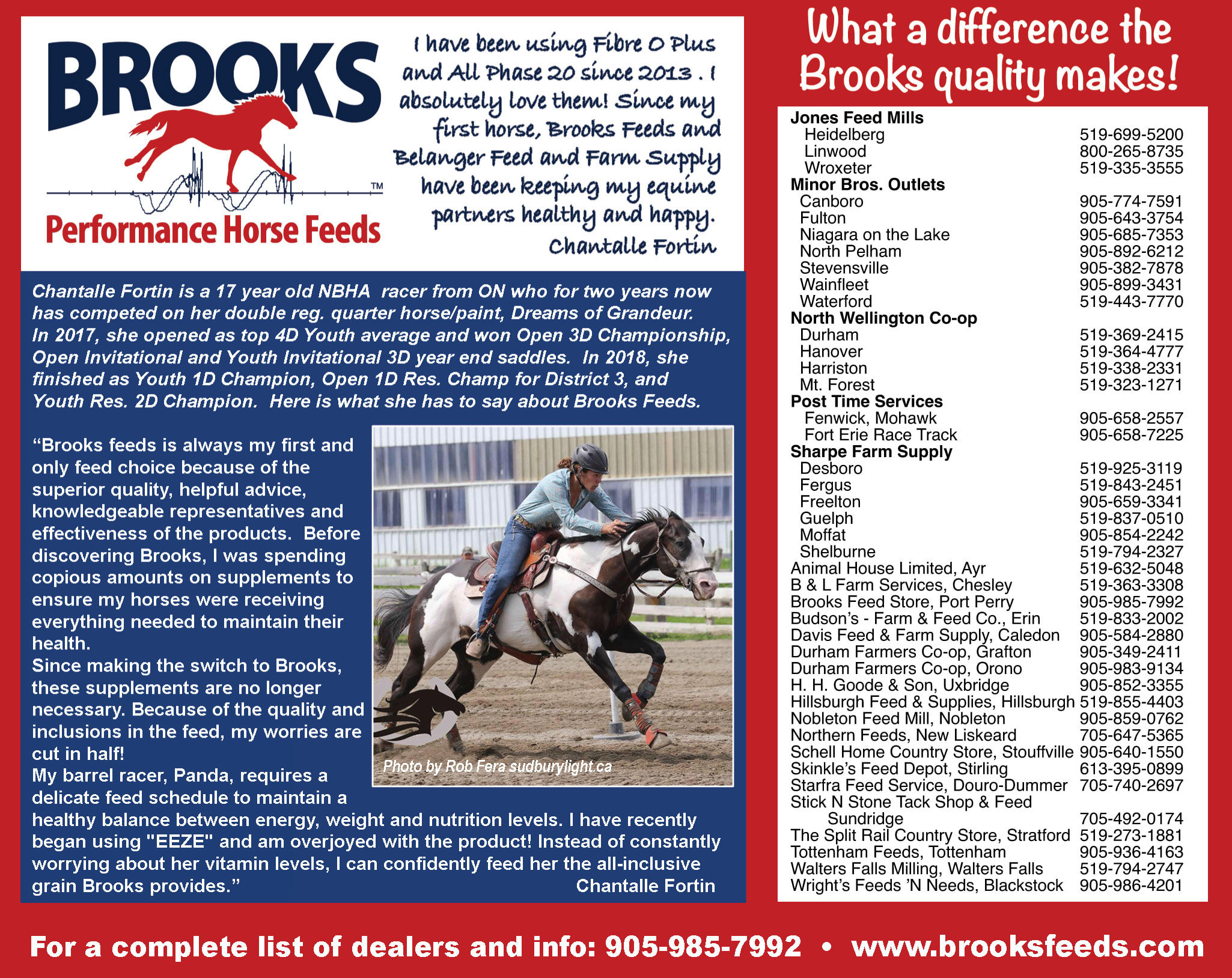 Horse feeds for the horse owners of Ontario and more recently in Quebec. Brooks has strived to produce feeds using only the finest ingredients and the utmost attention to detail.
What a difference the Brooks quality makes!
I have been using Fibre O Plus and All Phase 20 since 2013. I absolutely love them! Since my first horse, Brooks Feeds and Belanger Feed and Farm Supply have been keeping my equine partners healthy and happy. ~ Chantalle Fortin

On Fibre O Plus, the improvement was incredible. Almost instantly I noticed an improvement in her attitude and energy level. Even though she'll be 33, my girl looked amazing. ~Donna Lee Wilkins

I like Brooks feed because it is made in Canada. They offer a versatile line that doesn't excite my horses. It's excellent value for the money and my horses love it! ~Noemie Plamondon

We feed my yearling, Audi, Phase 2 and Fibre O! He's been on Brooks since being weaned. He's grown beautifully on it! Love Brooks for their feed and especially Laurie Bishop for all her expert advice along the way! ~Deanna O'Brien
Chantalle Fortin is a 17 year old NBHA racer from ON who for two years now has competed on her double reg. quarter horse/paint, Dreams of Grandeur. In 2017, she opened as top 4D Youth average and won Open 3D Championship, Open Invitational and Youth Invitational 3D year end saddles. In 2018, she finished as Youth 1D Champion, Open 1D Res. Champ for District 3 and Youth Res. 2D Champion. Here is what she has to say about Brooks Feeds. 
Brooks feeds is always my first and only feed choice because of the superior quality, helpful advice, knowledgeable representatives and effectiveness of the products. Before discovering Brooks, I was spending copious amounts on supplements to ensure my horses were receiving everything needed to maintain their health. 

Since making the switch to Brooks, these supplements are no longer necessary. Because of the quality and inclusions in the feed, my worries are cut in half!

My barrel racer, Panda, requires a delicate feed schedule to maintain a healthy balance between energy, weight and nutrition levels. I have recently began using Ezee and am overjoyed with the product! Instead of constantly worrying about her vitamin levels, I can confidently feed her the all-inclusive grain Brooks provides."

~ Chantalle Fortin