Here we grow again! 
---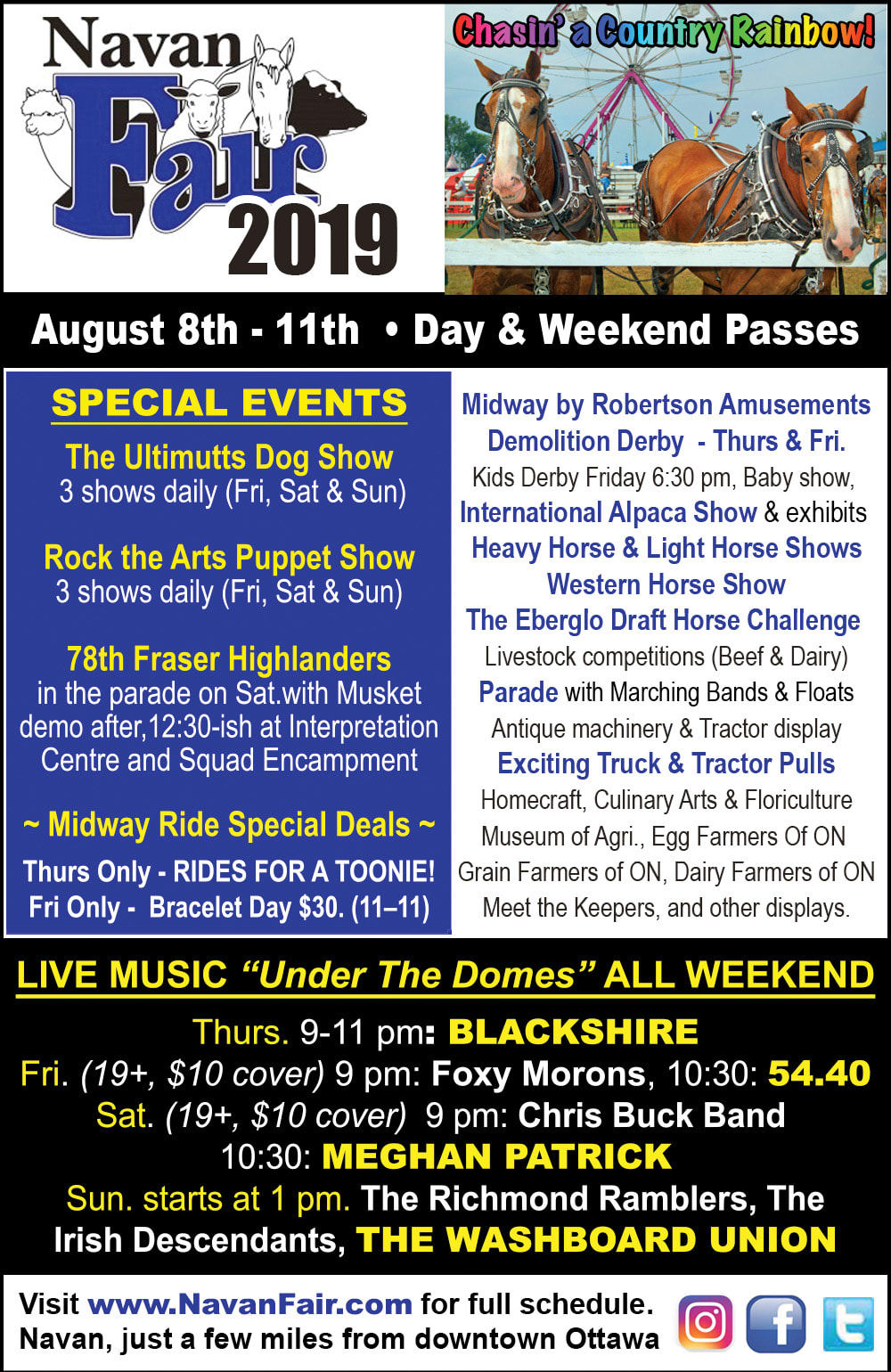 Navan Fair 2019 August 8th-11th 
Phone: 613-835-2766
Email: navanfair@bellnet.ca 
1279 Colonial Road, Navan, ON K4B 1N1
Website: www.navanfair.com 

Day & Weekend Passes
Special Events for 2018
The Ultimutts Dog Show 3 shows daily (Fri, Sat & Sun)
Rock the Arts Puppet Show 3 shows daily (Fri, Sat & Sun)
78th Fraser Highlanders in the parade Saturday with Musket Demo after, in the domes area 12:30 ish
Midway Ride Special Deals - Thursday ONLY - RIDES FOR A TOONIE! Fri Only - Bracelet Day $30 (11-11)
Midway by Robertson Amusements
Demolition Derby - Thurs & Fri - Kids derby Friday 6:30 pm
The International Alpaca Show
Heavy Horse & Light Horse Shows
Western Horse Show
The Eberglo Draft Horse Challenge
Livestock competitions (Beef & Dairy)
Parade with Marching Bands
Anitque machinery & Tractor display
Exciting Truck & Tractor Pulls
Homecraft, culinary arts & floriculture
Museum of Agri, Egg Farmers of ON, Grain Farmers of ON, Dairy Farmers of ON,
Meet the Keepers and other displays 
Enjoy Live Music Under the Domes All Weekend
Thurs night: 9-11 Blackshire
Fri night: Foxy Morons and 54.40 (19+ $10 cover)
Sat night: Chris Buck Band & Meghan Patrick (19+ $10 cover)
Sun afternoon:The Richmond Ramblers, The Irish Descendants, The Washboard Union
Navan is just a few miles from downtown Ottawa. 
---