Here we grow again! 
---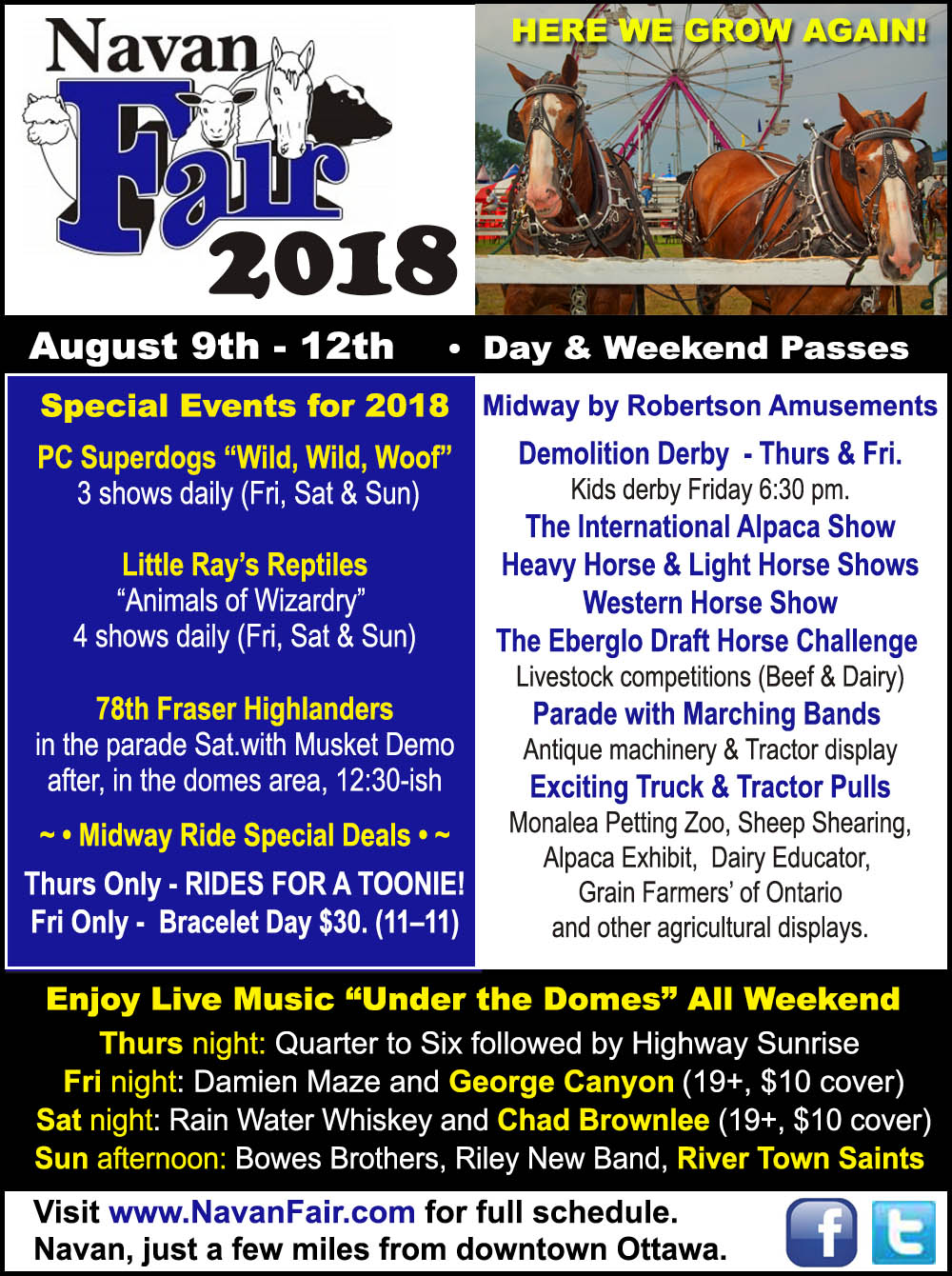 Navan Fair 2018 August 9th-12th 
Phone: 613-835-2766
Email: navanfair@bellnet.ca 
1279 Colonial Road, Navan, ON K4B 1N1
Website: www.navanfair.com 

Day & Weekend Passes
Special Events for 2018
PC Superdogs "Wild, Wild, Woof 3 shows daily (Fri, Sat & Sun)
Little Ray's Reptiles "Animals of Wizardry 4 shows daily (Fri, Sat & Sun)
78th Fraser Highlanders in the parade Saturday with Musket Demo after, in the domes area 12:30 ish
Midway Ride Special Deals - Thursday ONLY - RIDES FOR A TOONIE! Fri Only - Bracelet Day $30 (11-11)
Midway by Robertson Amusements
Demolition Derby - Thurs & Fri - Kids derby Friday 6:30 pm
The International Alpaca Show
Heavy Horse & Light Horse Shows
Western Horse Show
The Eberglo Draft Horse Challenge
Livestock competitions (Beef & Dairy)
Parade with Marching Bands
Anitque machinery & Tractor display
Exciting Truck & Tractor Pulls
Monalea petting zoo, sheep shearing, alpaca exhibit, dairy educator, Grain Farmers of Ontario and other agricultural displays. 
Enjoy Live Music Under the Domes All Weekend
Thurs night: Quarter to Six followed by Highway Sunrise
Fri night: Damien Maze and George Canyon (19+ $10 cover)
Sat night: Rain Water Whiskey and Chad Brownlee (19+ $10 cover)
Sun afternoon: Bowes Brothers, Riley New Ban, River Town Saints
Navan is just a few miles from downtown Ottawa. 
---