Brooks Performance Horse Feed is Dedicated To The Production Of High-Quality Horse Feeds In Ontario And Quebec!
---
Brook Performance Horse Feeds
Address: 1580 Hwy 7A, Port Perry, ON L9L 1B5
Phone:  (905) 985-7992
Website: https://brooksfeeds.com/
Email: info@brooksfeeds.com 
Brooks Feed Store has long been dedicated to the production of high-quality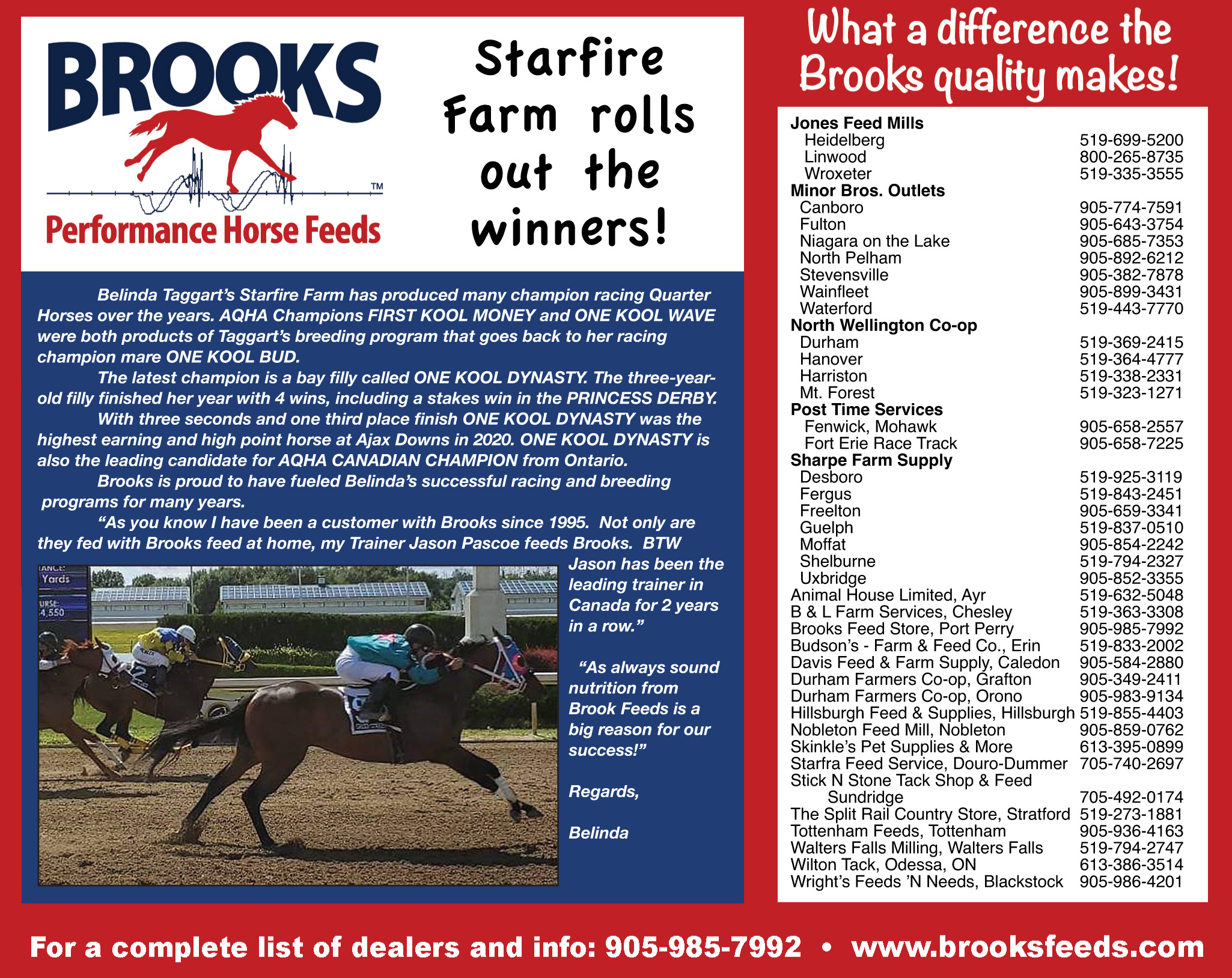 Horse feeds for the horse owners of Ontario and more recently in Quebec. Brooks has strived to produce feeds using only the finest ingredients and the utmost attention to detail.
Starfire Farm rolls out the winners!
Belinda Taggart's Starfire Farm has produced many champion racing Quarter Horses over the years.
AQHA Champions FIRST KOOL MONEY and ONE KOOL WAVE were both products of Taggart's breeding program that goes back to her racing champion mare ONE KOOL BUD.
The latest champion is a bay filly called ONE KOOL DYNASTY. The three-year old filly finished her year with 4 wins, including a stakes win in the PRINCESS DERBY. With three seconds and one third place finish ONE KOOL DYNASTY was the highest earning and high point horse at Ajax Downs in 2020. ONE KOOL DYNASTY is also the leading candidate for AQHA CANADIAN CHAMPION from Ontario.
Brooks is proud to have fueled Belinda's successful racing and breeding programs for many years.
"As you know I have been a customer with Brooks since 1995. Not only are they fed with Brooks feed at home, my Trainer Jason Pascoe feeds Brooks. BTW Jason has been the
leading trainer in Canada for 2 years in a row." 
"As always sound nutrition from Brook Feeds is a big reason for our success!"
Regards,
Belinda