Do You Know What Your House is Worth? 
---
Armstrong Farm Realty with Ruth
Contact: Ruth Armstrong
Address: 714350 1st Line EHS, Mono, ON  L9W 5T6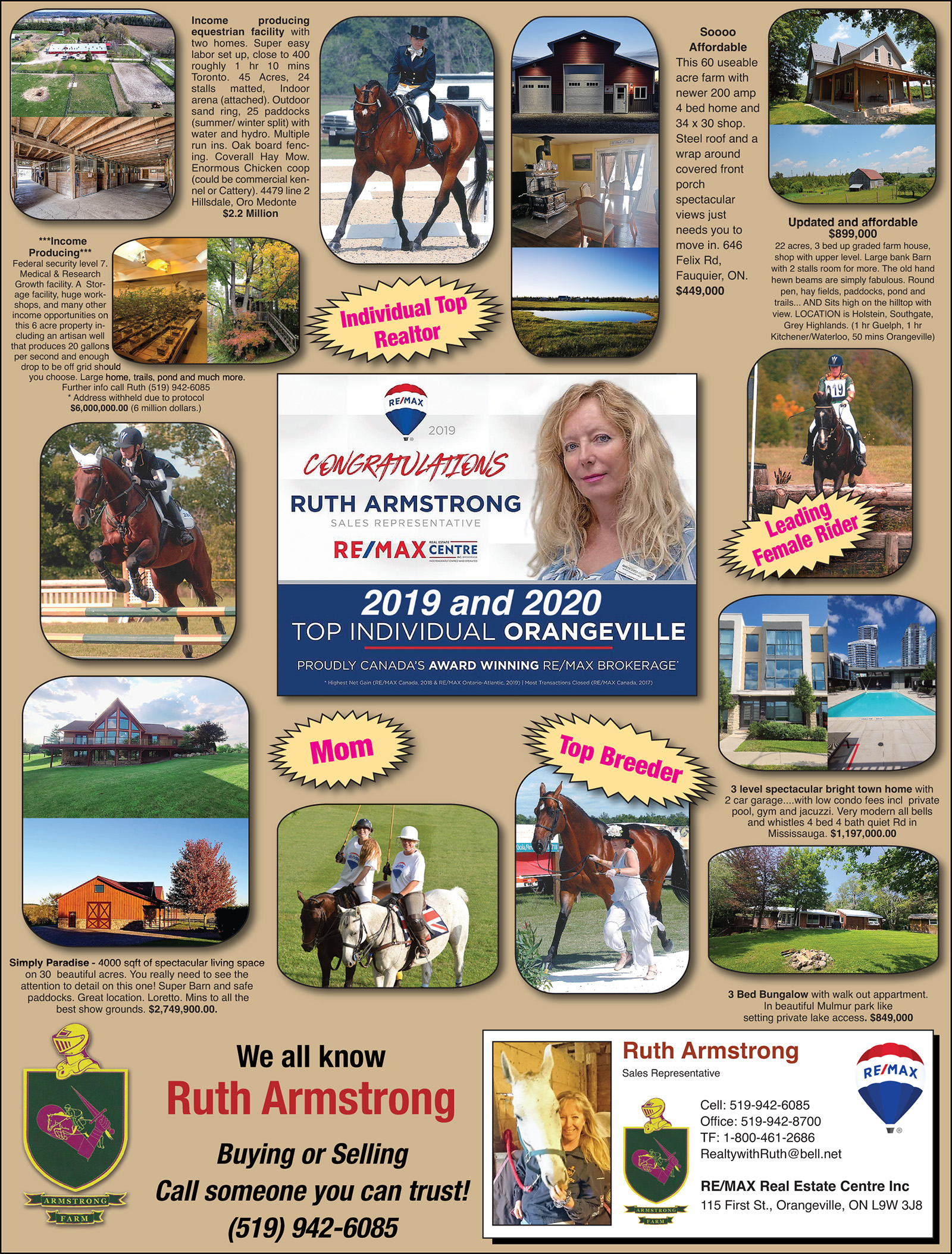 Phone:  519-942-6085
Email: realtywithruth@bell.net 
Website: www.realtywithruth.com  
Individual Top Realtor - Leading Female Rider - Mom - Top Breeder 
Income Producing Equestrian Facility
Income producing equestrian facility with two homes. Super easy labor set up, close to 400 roughly 1 hr 10 mins Toronto. 45 Acres, 24 stalls matted, Indoor arena (attached). Outdoor
sand ring, 25 paddocks (summer/ winter split) with water and hydro. Multiple run ins. Oak board fencing. Coverall Hay Mow. Enormous Chicken coop (could be commercial kennel or Cattery). 4479 line 2 Hillsdale, Oro Medonte $2.2 Million
Soooo Affordable
This 60 useable acre farm with newer 200 amp 4 bed home and 34 x 30 shop. Steel roof and a wrap around covered front porch spectacular views just needs you to move in.
646 Felix Rd, Fauquier, ON. $449,000
Updated and affordable $899,000
22 acres, 3 bed up graded farm house, shop with upper level. Large bank Barn with 2 stalls room for more. The old hand hewn beams are simply fabulous. Round pen, hay fields, paddocks, pond and trails... AND Sits high on the hilltop with view. LOCATION is Holstein, Southgate, Grey Highlands. (1 hr Guelph, 1 hr Kitchener/Waterloo, 50 mins Orangeville)
***Income Producing***
Federal security level 7. Medical & Research Growth facility. A Storage facility, huge workshops, and many other income opportunities on this 6 acre property including an artisan well
that produces 20 gallons per second and enough drop to be off grid should you choose. Large home, trails, pond and much more. Further info call Ruth (519) 942-6085 * Address withheld due to protocol $6,000,000.00 (6 million dollars.)
Simply Paradise
4000 sqft of spectacular living space on 30 beautiful acres. You really need to see the attention to detail on this one! Super Barn and safe paddocks. Great location. Loretto. Mins to all the best show grounds. $2,749,900.00.
3 level spectacular bright town home
3 level spectacular bright town home with 2 car garage....with low condo fees incl private pool, gym and jacuzzi. Very modern all bells and whistles 4 bed 4 bath quiet Rd in Mississauga. $1,197,000.00
3 Bed Bungalow
3 Bed Bungalow with walk out appartment. In beautiful Mulmur park like setting private lake access. $849,000
For your personal viewing please call Ruth Armstrong, Top Individual - Orangeville at 519-942-6085