Classy, gracious, and kind, with the competitive spirit and attitude of a Jack Russell terrier.
By Karen Dallimore.
Sadly, the Ontario equestrian community has lost another legend with the passing of Joan Ionson (nee Worthington) in October. Joan was the eldest of three children, born in London, Ontario on July 27, 1937.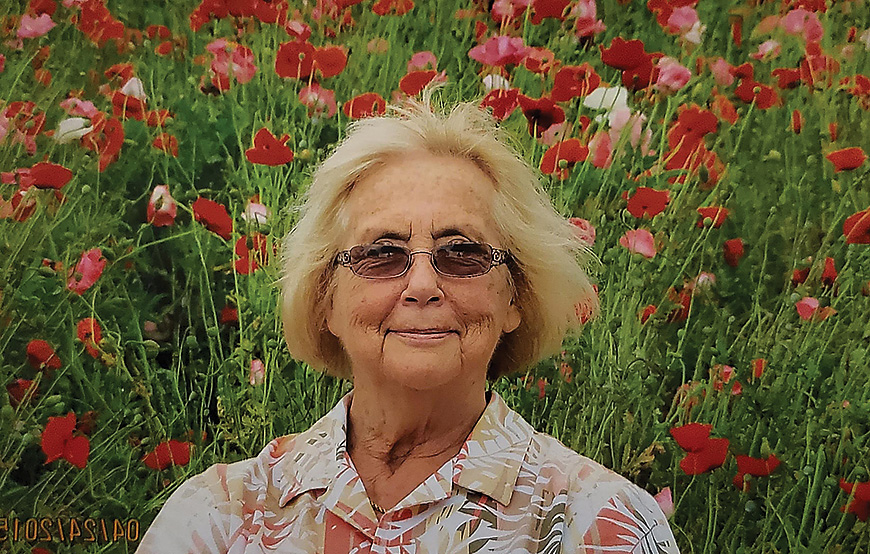 Although it was her husband, Roy, who was famous for his story-telling, Joan could tell a good story too. I asked her one time how she got into horses and how she met Roy?
"I got my very first horse when I was 13. My mother's sister, my Aunt, she had a boyfriend who had numerous horses and he gave me a 2-year-old Arabian stallion, unbroken, untouched, un-everything. And my parents didn't want me to have a have a horse. If you get a horse, you're going to have to pay for everything. We're not going to give anything toward keeping this horse. It's all up to you.
So, I found a place to board him in Ancaster out by the University. I found a farmer that did market gardening who had a workhorse and he allowed me to keep my horse there. He didn't charge me anything but I had to clean out the stall for his workhorse.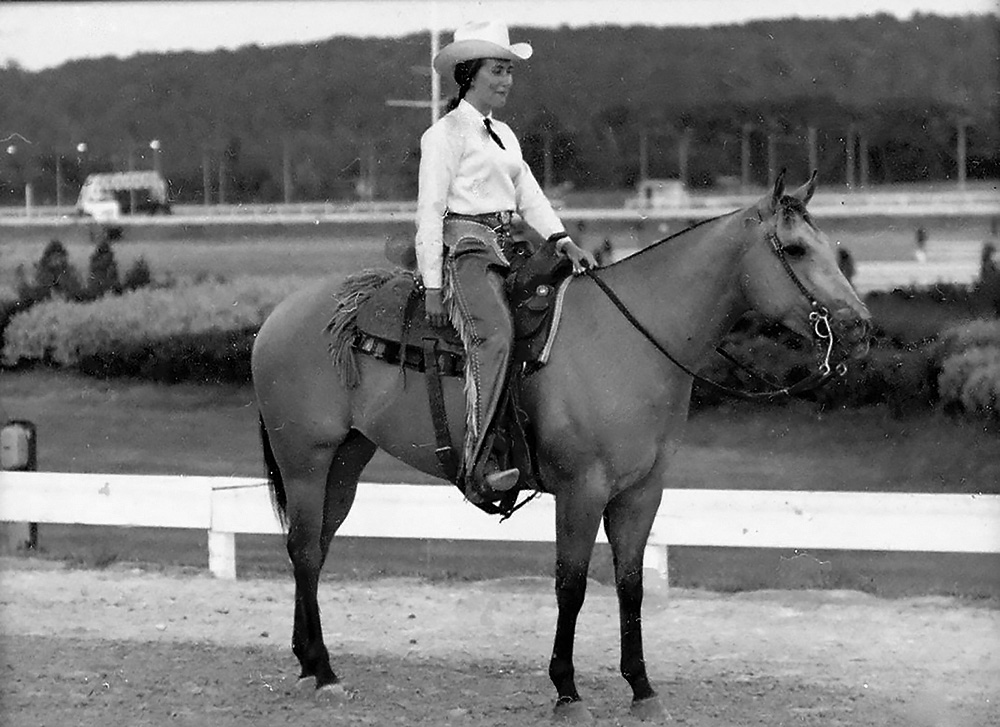 Unfortunately, I knew nothing about riding. I had just gone to riding stables up on the mountain and for $2 an hour, the man, he was an old drunk, he'd sit in his little office and he'd turn you loose. We thought we watched too many cowboy movies and we thought that real riding was galloping around. So, when I got my unbroken 2-year-old Arabian stallion I thought I was getting him really trained because he could run fast. I used to gallop home to the house and gallop back to the barn. It was awful.
I rode with Victor Smith, who owned the Bar 11 Ranch in Dundas and the Palomino Ranch in Carlisle. Every time we rode together it would be embarrassing because my stud was always acting up. He was still a stud and very rude! Of course, I couldn't control him. So this one day we had quite an episode with the horses. Victor said, "Joan, I will pay to have Smokey castrated. I will pay my hired man, Herb Towers to look after him."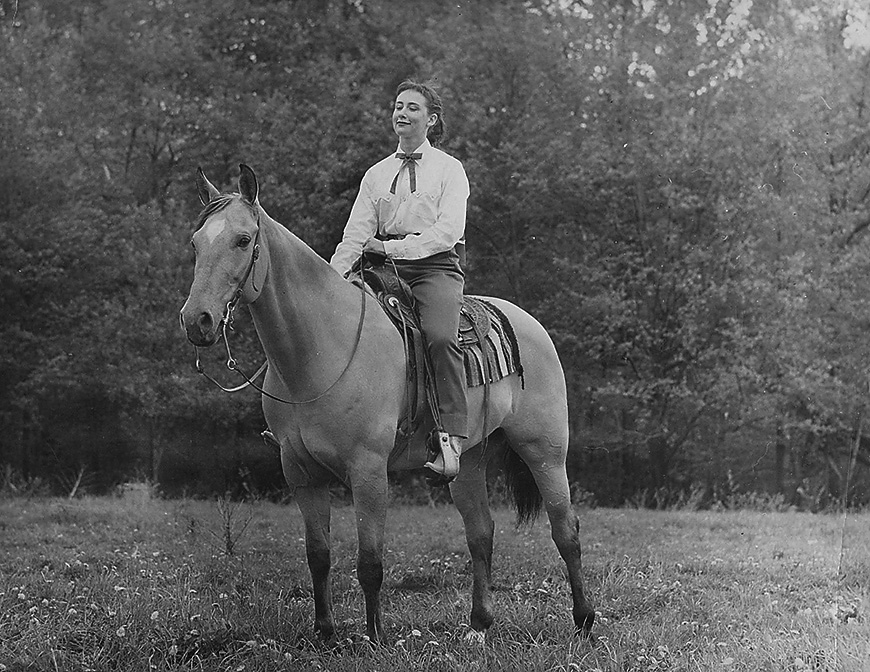 We had to take the horse to the vet college. The vet wouldn't come out to castrate your horse at that time. On the way home, we had to go the Galt Spring Fair (when Galt existed) to pick up Bill Long's Saddlebred stallion. This fellow comes riding up on a black stallion. It was Roy." Herb Towers introduced them.
For their first date they met at the Royal Connaught Hotel in Hamilton. Roy asked her to go for Chinese food. "Do you want to go? What do I say? No! He said, have you ever tried it? I said, no, but I know I don't like it! ("That's Joan," Roy piped in. He knew then what he was getting into.) We're going for Chinese food, if you want to go, come along. If you don't, that's tough. "
That was 1954. They got married in 1958.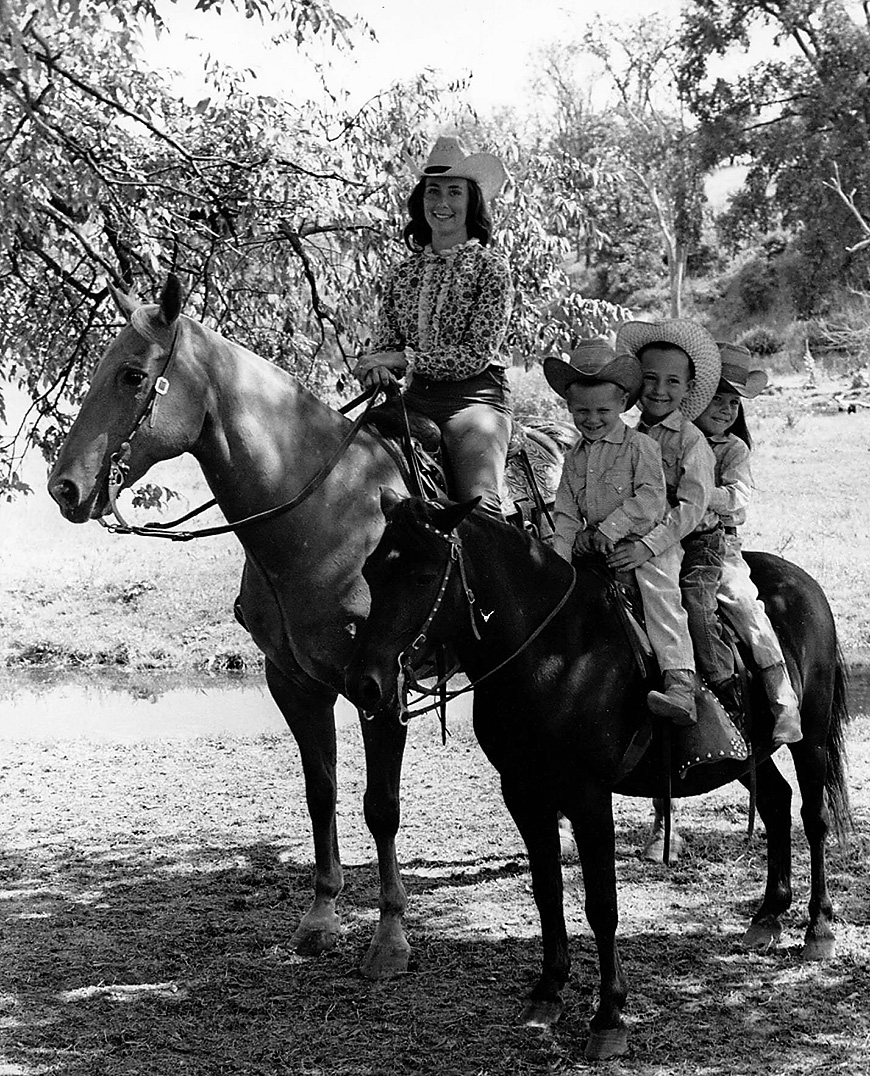 Roy and Joan lived in Clarkson when they first got married, then they moved to a nice house in Erindale a few months later, but they quickly sought the farm life even though it meant living in an old insulbrick refurbished chicken coop where it would get so cold there would be ice in the toilet. That was around 1960; their first son, Bruce, was born there. There they had close to 30 horse boarders, many of whom would cram in the living room to watch the rodeo on TV. Not many had TV's at that time. It was a pretty close-knit group of cowboys.
From there they bought 100 acres in Georgetown, buying and selling and boarding horses and holding the first Ontario Quarter Horse Futurity at that location. Later, after a brief stint in town in Acton, where they had the garage jammed to the rafters with saddles, they bought 17 acres in Chesley and opened up the Ionson's Saddlery store.
Bruce described his Mom as classy, gracious, and kind, with the competitive spirit and attitude of a Jack Russell terrier. She was always in the shadows of Dad, he said, but she was the driving force behind him. Joan was a leader. She was a true horsewoman; a trailblazer, giving clinics and lessons and judging and competing in cutting at a time when women didn't do those things.
Joan's favorite cutting horse, a colourful 15.2 Grulla named Blue Hornet, was the Ontario Champion Cutting Horse for five years in a row. He loved to cut, Joan once told me, he'd get his face on the ground and it was just such a thrill to ride him.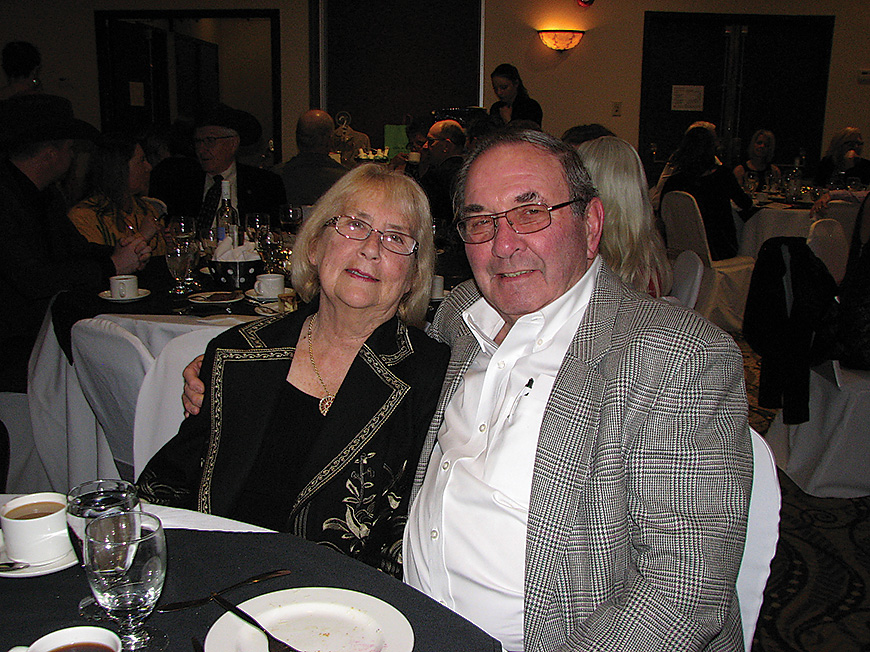 Bruce remembers that everyone was always welcome at their table for her famous chili and spaghetti, and how she used to play the piano and sang to the kids, at bedtime and especially at Christmas.
Joan and Roy lived a very full life of adventure, through many ups and downs, said Bruce. Through the hundreds of horses they owned, the thousands of people they touched and the million or so miles they drove they lived a very full life right to the end. Without Joan there would be no Roy. She was one of the pillars upon which the Quarter Horse breed and the roots of the Western horse industry were built in Ontario.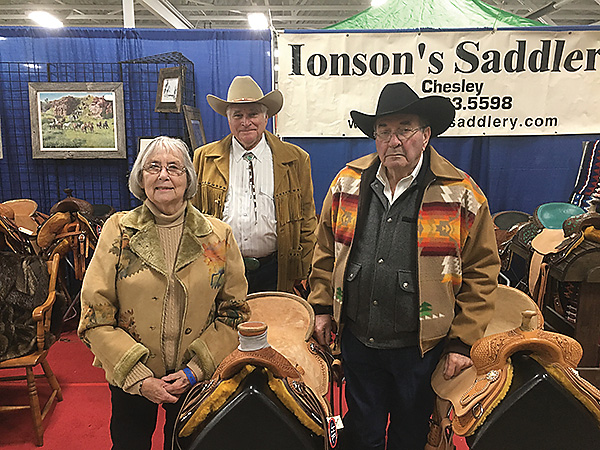 At their last Can Am together in 2019, I watched as Roy reached out and held her hand. She wore a few rings on her wedding finger, each one with a story. She seemed surprised and asked him, "what do you want?" He said he just wanted to know if her hands were cold? She was content with his answer, and replied yes, they were chilly. Wasn't it chilly in here?
Roy and Joan had been taking Ionson's Saddlery to the Can Am All Breeds Equine Expo since the beginning of the show, 15 years ago. It was a travelling road show, first to London, then to Orangeville, then to Markham. I'm not sure where their dog Buddy was but they always had friends and family to help out, more so every year as they got a bit older. This day it was their son, Lee, helping out, along with his wife.
But Roy didn't just want to know if her hands were cold. I saw by the way he looked at her as he reached out that he maybe wanted to know how long he would have his sweetheart, how much longer her mind would be with them? She'd become more forgetful; Alzheimer's was taking its toll. She'd repeat the same thoughts in short order. He was watching her slowly slip away.
As it turned out, we lost Roy first, on March 21, 2021, then Joan passed peacefully, reaching out to take his hand on October 6, 2021, in her 85th year, missing her Cowboy after 63 years of marriage. They had three children – Bruce, Judi and Lee – and seven grandchildren - Maddy, Avery, Laura, Paul, Erika, Nicolle, and Victoria.
Memorial contributions to the Alzheimer Society in Joan's name would be greatly appreciated.