"He has two loves in his life, his family and his horses."
Horses have played an integral and therapeutic role for every member of the Mollica family and now patriarch Bert is sharing his talents with OSAS horses with great success.
"He has two loves in his life, his family and his horses." That's how Susan Mollica describes her husband, Bert. "You know how a good mechanic can listen to a car and know what's wrong with the engine? Bert's the same way with horses."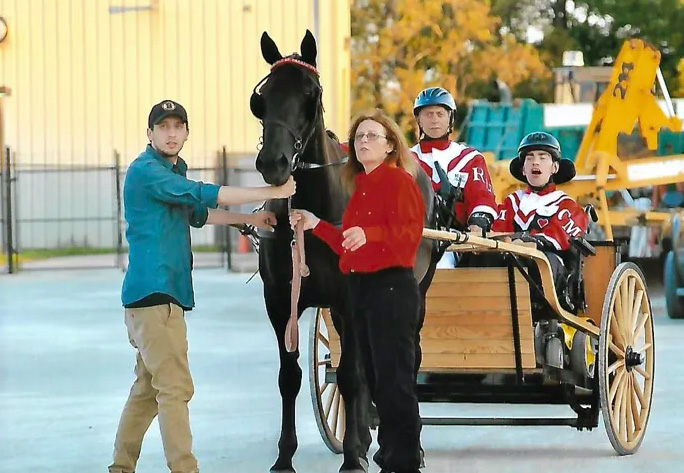 Bert's affinity for horses has been quite evident since he and Susan decided to foster horses for the Ontario Standardbred Adoption Society in the fall of 2020. Since that time they've hosted several newly retired Standardbreds and within just a few weeks Bert's had them all turned into riding horses and ready for new forever homes leading to Bert's nickname, the horse whisperer.
A lifelong horseman, Bert is quick to point out that his success with the horses is thanks in large part to their previous care givers. "I don't call what I'm doing with the horses training them, I say I'm tuning them up, they've already been trained. The horses we've had, I have to give credit to their trainers, owners and grooms, anyone who had been looking after them, they put in the hard work," he said humbly.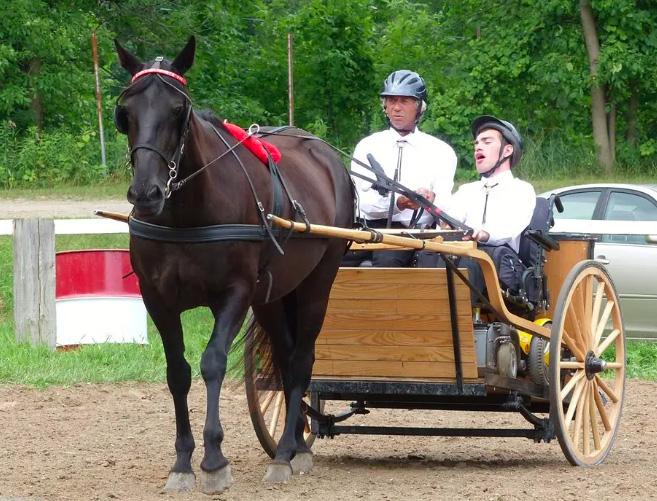 "These horses are smart; they have the manners, and they want to learn. I've worked with other breeds, some Thoroughbreds for example, that were very hyper and weren't trained properly, you can tell the difference between the horses. If you get one that was treated terribly you can't do anything with them. In my experience Standardbreds just want loving and the Standardbred horse people really love their animals, it's not just a business for them. For the most part the horses are not being treated like machines and the people genuinely like working with the horses. When I go to the track it's obvious everyone loves their horses. So, when I get a horse from an environment like that, the work is mostly done. The horses are very happy to learn and work."
While Bert downplays his success with the retirees, the time he commits to each one is an integral part of his formula. "I do spend a lot of time with them, they all become my babies. For me it's not a business, I enjoy it, I'll spend hours standing in the field just talking to them. I don't have a bridle or a saddle, I just spend as much time as I can, and the horses seem to like it. I don't push them; they've been pushed all their lives. One of the biggest things I have to teach them is they don't have to race anymore. They don't have to go fast. We become buddies, I don't have a whip, I don't use a whip. If any horse I'm riding is afraid of something, I get off the horse, we walk up to it, and I take the time to let them understand whatever it is."
"I'm forever calling him in for lunch or dinner, he's always out there with his horses," laughed Susan. "We met when I was 16 and he was 18 and he loved the horses as much then as he does now."
The couple met while Bert was working for the Thoroughbred operation Gardiner Farms. "I started in the broodmare barn and then moved to the racing barn," Bert remembered. The couple have been together for more than three decades and during that time have faced a great deal of adversity but despite that they remain optimistic and positive with an unwavering love for their sons and horses.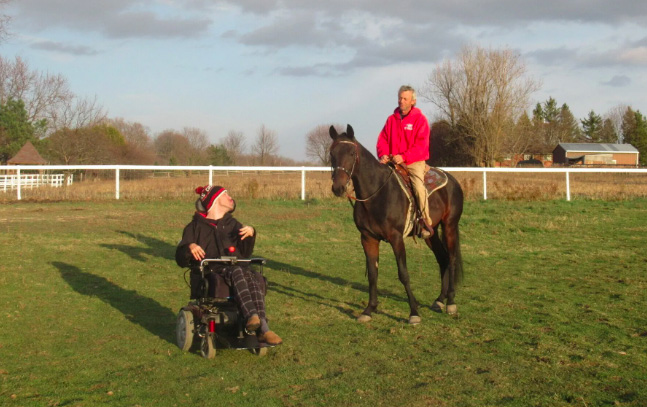 Their son Christopher was born more than three decades ago and was deprived of oxygen during birth which left him severely handicapped. He cannot speak but can nod his head to communicate and currently gets around in a wheelchair.
"He has well exceeded multiple life expectancies we've been given," explained Susan. "He's very intelligent, he could read a race program from the time he was two. My father, Earl Henry, had racehorses. He worked at Woodbine and Georgian Downs and he and Christopher would bet with pennies.
"Our other son, Adam, is a high school teacher in Barrie. He's good with the horses, he can harness and tack a horse. He went through to be an industrial designer, and then went back to York to get a degree in education. By the time he was 22 he had two bachelor degrees. He's our right hand man and helps with anything we need as he's only a half hour away. He's at the farm all the time giving us a hand."
Both sons share their parents' love for horses. When Christopher was young Bert built him a special saddle with a backrest so he could ride. After several surgeries that wasn't possible, so Bert created a cart which accommodates the wheelchair to allow Christopher to drive his horse, the Standardbred mare Eight Of Hearts, a 17-year-old daughter of Cams Card Shark.
"She absolutely loves Christopher," Bert said. "She never gallops, but when she sees Christopher come out of the house, she gallops to him, it's heart warming to see. We've had her since 2008. We went to a Standardbred auction, the Flamboro mixed sale, of all the horses in the sale Christopher picked Eight Of Hearts, there was nothing I could do to talk him out of it. There were horses that would have worked better, but he wanted her and we bought her; she was in foal. When we put the cart on her she knows it's business, it's a 300 pound wheelchair and she pays attention. She's not the world's greatest show horse, but she knows she's pulling Christopher and she knows she has to behave. That's why I love these horses."
It was through Christopher and his horse that the Mollica family got to know Joanne Colville, OSAS's manager. "I called Joanne to see if she would allow Christopher to compete in one of the Standardbred horse shows," explained Susan. "She said 'of course, why not?' And I told her a lot of people had said no and we were very grateful that they allowed him to compete. Everyone welcomed us with open arms. I am really hoping that once the shows come back that the people who have adopted horses that have been at our place will come and show them. My dream is that they'll all come out."
"It was at the horse shows that we first met Joanne and we hit it off," recalled Bert. "She wanted to buy my quarter horse, Koda, to use when she outrides at Mohawk. When I wouldn't sell him she asked if I would tune up her horse, Jay, which I did. He's a pretty good horse, he just needed some fine tuning, so I worked with him for a bit. I had done some Xtreme Cowboy and made a course here at the farm with a bridge, teeter totter, some sticks to walk over and flags. I tried to get him to ride with a flag flapping and really just tried to get him used to anything I could think of that might spook a horse. I put Jay through that and he turned out to be really smart. Joanne then asked if I would be interested in working with other horses and I said we'd give it a try."
"I was really impressed with the way he worked with Jay," said Joanne. "Bert is a true horseman, he simply has the knack to communicate with them that few people are blessed with. I saw it first with Jay and now subsequently with the OSAS horses he has worked with; he does an incredible job with them. I always stress that there is no rush with these horses, several of which are straight from the track, but Bert is usually riding them within a few days with no problem at all."
\The summer of 2020 marked the first time Bert had ridden a horse in three years. "He almost lost his life three years ago. At five in the morning he was driving to work, he did concrete forms on construction sites, and was involved in a head on collision and was severely injured. We're very fortunate he's here," noted Susan.
The Mollicas have a small hobby farm 30 minutes south of Barrie. In addition to Bert's riding horse, Christopher's Eight Of Hearts, they also have four miniature horses. When they take in a new OSAS horse they'll put one of the minis in with them to keep them company.
"I can calm a horse down and relax them, I now have a new life and can enjoy myself," Bert explained. He has no rules when it comes to working with the OSAS horses, the schedule depends entirely on the horse.
"I'll spend a week on the ground, letting them get used to me, maybe the next week we'll try a bridle and saddle and usually a couple of days after that I'm on them, it all depends on how they react. Normally once I know they're good with a saddle and are comfortable, then we start riding. At first most of them want to run, it's my job to calm them down and teach them to go slow. With some horses the adopters have a specific goal for them and Joanne will let me know.
"I like what I do and I'm in no hurry. If it takes me all day to get them to do something, I don't care. I don't work. Sometimes it's a half an hour. If a horse gets frustrated we'll take a break and do something fun in the field. We'll go and play. The horse needs to want to do it, they will never be pushed by me. Every horse is different, you can train a horse sometimes in a week, next one can take two months, it depends on the horse's background. If he's been racing all his life it might take longer.
"No one has really given me a hard time or tried to throw me off, they've all been well mannered. I've said to Joanne: 'thanks for giving me all the good horses' and she says: 'you're getting the ones that come.'"
Another trait Bert admires in harness horses is their gentleness and innate kindness. "I've had a horse in the cross ties and Christopher will drive right up to them. He can't judge the distance very well, and they've all been so good to him, they're so smart. He'll drive right up, get really close, they sniff his ears, pull off his knapsack, it's like they sense they need to be gentle," said Bert.
It's quite obvious that Standardbred horses and people have made a significant difference in the lives of the Mollica family.
"We've made new friends with all the people who have taken these horses. Susan talks to them on the computer and if any of them are having issues with the horse I'm more than happy to come out and ride them to see what the problem is if necessary. Every person I've met in the Standardbred world would help me. I remember when I was training my first horse, I had the knee boots on the wrong leg and the guy beside me looked at me and said 'you're a new guy aren't you?' I had the boots on upside down on the wrong side and he was quick to help me.
"I call it a family - the Standardbred family." And it's one the Mollicas have embraced, and been welcomed into, with open arms.
(Heather MacKay for OSAS)
Photos by Susan Mollica.