"It was a step up from La Baule size-wise and with a lot of strong teams," said Underhill.
Langley, British Columbia – The Canadian Show Jumping Team finished fourth in the $400,000 Longines FEI Jumping Nations Cup™ of Canada held on Sunday, June 5, at Thunderbird Show Park in Langley, BC.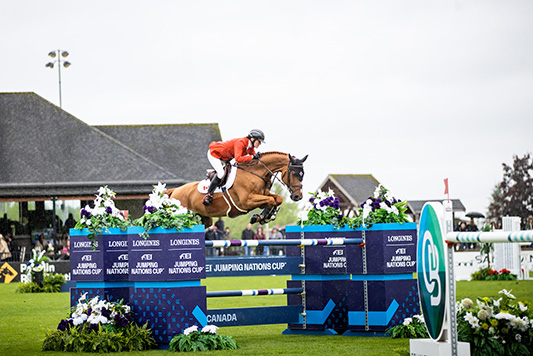 Last held in 2019 before the COVID-19 pandemic forced a two-year hiatus, this year's Nations' Cup of Canada attracted a starting field of six countries including Canada as the defending champions. A repeat win was not to be, however, as the Canadian team comprised of Mario Deslauriers, Tiffany Foster, Jacqueline Steffens Daly, and Beth Underhill trailed in fifth position with 24 faults at the end of the opening round. Only Israel suffered a worse fate when Daniel Bluman riding Ubiluc was eliminated at the open water jump, putting its three-man team out of contention for the second round. Ireland led with a score of four faults at the midway mark.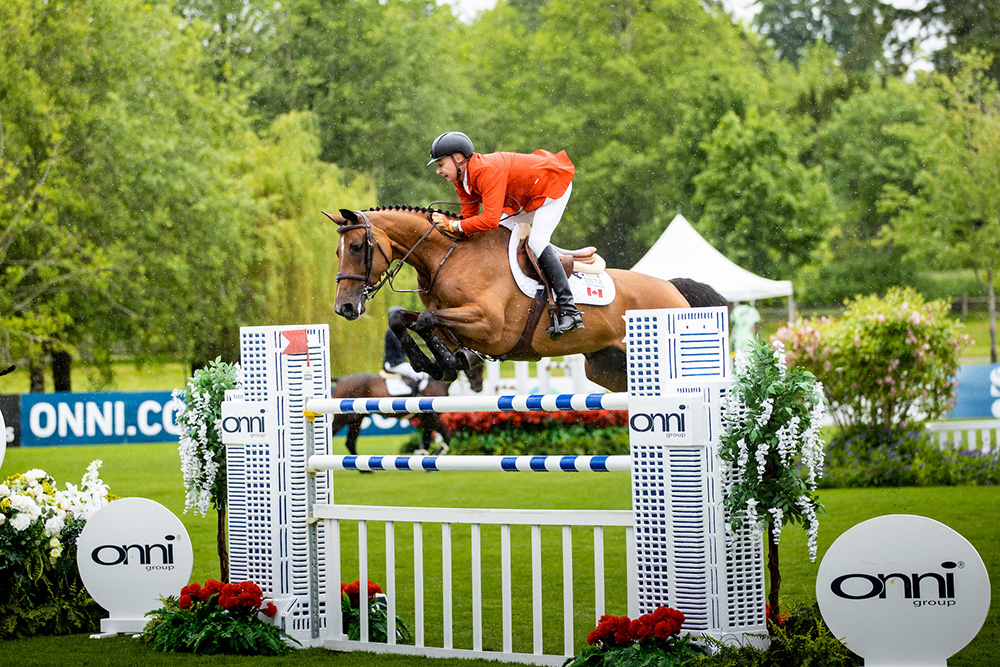 Under the guidance of chef d'equipe Eric Lamaze, the Canadian team dug deep to improve on its opening round performance. As the lead-off rider, Beth Underhill, 59, of Mulmer, ON, changed Canada's trajectory with a fault-free performance on her second tour of the grass field riding Chacco Kid, a 16-year-old Oldenburg gelding (Chacco Blue x Come On) owned by the Chacco Kid Group.
Deslauriers, 57, of New York, NY, repeated his first-round effort, delivering another four-fault performance with his Tokyo Olympic mount Bardolina 2, a 13-year-old Holsteiner mare (Clarimo x Landos) that he owns in partnership with Wishing Well Farm LLC.
Having made her Canadian Show Jumping Team debut in March in the Longines FEI Jumping Nations Cup™ of Mexico, Steffens Daly, 28, of Harriston, ON, was back for her second appearance riding for the maple leaf. After providing the drop score of 16 faults in the opening round, Steffens Daly had fence three down the second time out with Freaky, a 12-year-old Dutch Warmblood gelding (Darco x Litho X) that she owns in partnership with Team Eye Candy.
Hometown favourite Foster, 37, of Langley, BC, incurred 12 faults in the opening round before returning to her usual strong form to jump clear the second time out over the track set by Canadian course designer, Peter Holmes. The two-time Olympian was partnered with Hamilton, an 11-year-old Holsteiner gelding (Quadros 3 x Acolord) owned by The Hamilton Group.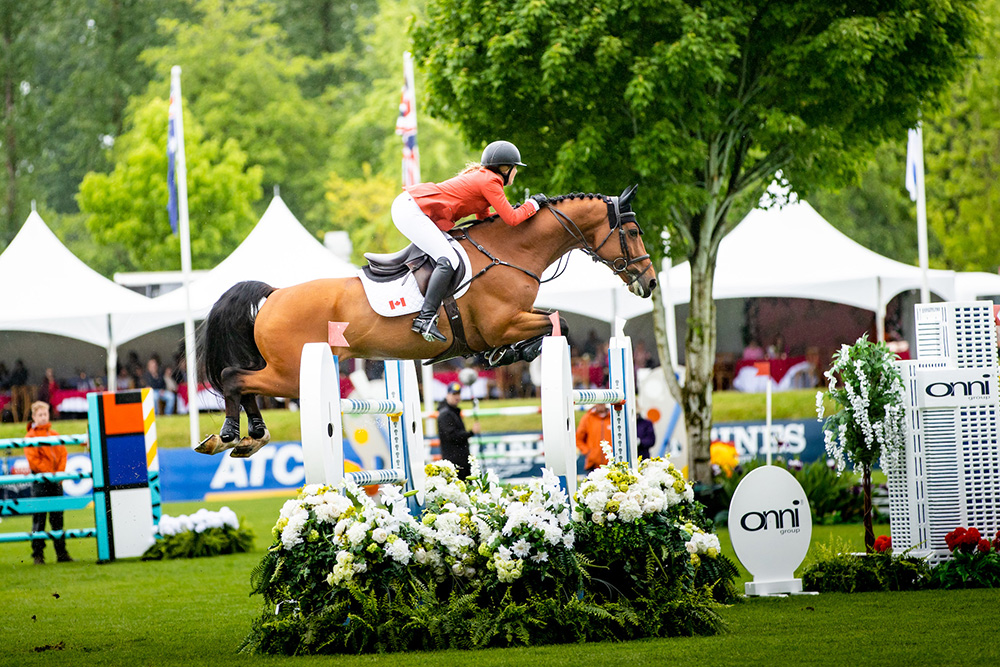 With four faults to count from the second round, Canada moved up to finish fourth overall on a final score of 28 faults. Ireland claimed an easy victory with five faults followed by Mexico in second with 13 faults. Australia took third with 22 faults while the United States, hampered by the elimination of Karl Cook at the water jump in the opening round and his subsequent withdrawal, took fifth with 36 faults.
"The lesson to be learned is that when we have a training camp, where people are riding together for a week or 10 days before the event, we come together as a team and we produce, as we saw in Europe," said Lamaze, referencing Canada's third and fifth place finishes respectively at CSIO5* La Baule, France, and CSIO5* Rome, Italy. "After the hype of La Baule and Rome, which was so intense with so much training, the approach we had coming here with such a quick turn around from Rome last week was not good. The result we got is the result we deserve. A disappointing day, yes, but we can't plan to be great at La Baule and Rome without losing some focus on this event."
Speaking to the performances of each of his riders, Lamaze said, "Mario was fantastic, he was there for everyone, did his job, and showed a lot of team spirit. Beth did her best on a horse we've been asking a lot of, and we wanted to see where Jacqueline was at. She came back and had four faults the second time which shows strong character, but we can't have 16 faults the first time out. Tiffany wasn't on her best horse but produced a clear in the second round. All the riders put in good rounds to finish, and to see riders come back and better their scores, that's what counts.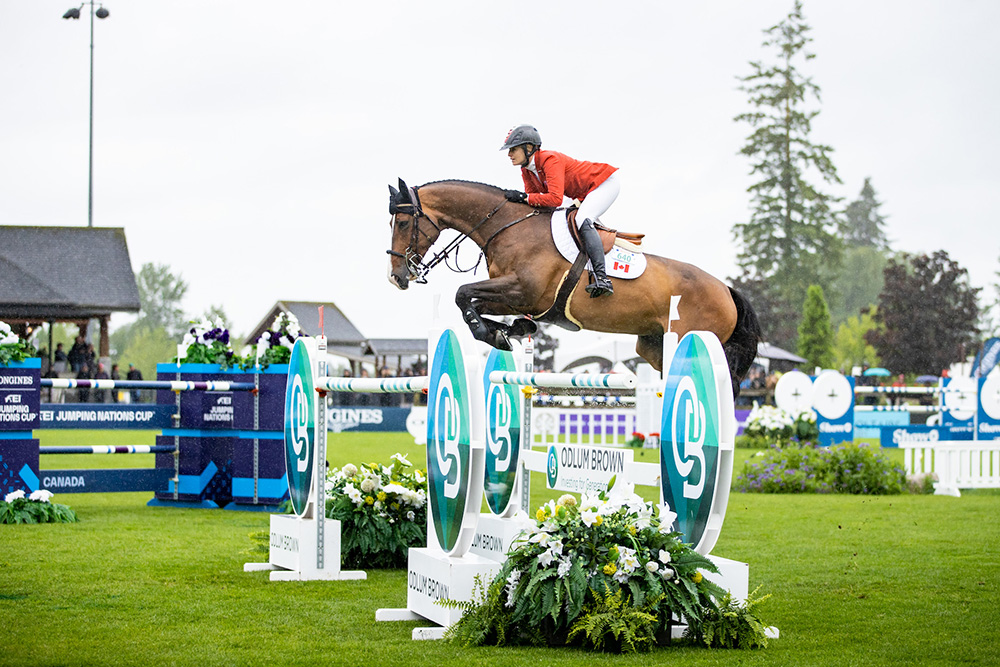 "We should also mention that Mac [Cone] delivered a fantastic round in the Grand Prix as did Ali [Ramsay]; I'm a big fan of her horse," continued Lamaze, noting Canadian rider performances in the $235,000 Longines Grand Prix held on Friday, June 3, where Ramsay placed fourth riding Bonita vh Keizershof Z while Cone was fifth riding Zaia di San Giovanni. "A lot of good things came out of this week, and relationships were improved. Year one on the job, I'm going to learn a lot. In year two, we will do things differently."
The Longines FEI Jumping Nations Cup™ of Canada also acted as the second and final qualifier for the North and Central America and Caribbean League which sees the top two teams following qualifying events head to the Longines FEI Jumping Nations Cup™ Final in Barcelona, Spain, from September 29 to October 2, 2022. Mexico and Canada were confirmed as the two countries to book their tickets to the annual Spanish fixture.
"The biggest thing is that we wanted to see where some of the horses were at and see who is in form for World Championships which is far more important to me than winning this Nations' Cup," concluded Lamaze, a three-time Olympic medalist as well as World Championship medalist. "World Championships take over everything; they are on my mind and will continue to be. We are going to train for it and we're going to be ready."
Lamaze and the Jumping High Performance Group plan to name the Canadian Show Jumping Team for the upcoming World Championships in Herning, Denmark, during the CSI5* Spruce Meadows 'National' tournament from June 16 to 19 in Calgary, AB.
For full results from CSIO5* Langley, British Columbia, held from June 1 to 5, 2022, click here.
Photos:
Beth Underhill of Mulmer, ON, and Chacco Kid, owned by the Chacco Kid Group. Photo by Ashley Neuhof
Mario Deslauriers of New York, NY, riding Bardolina 2, owned by Deslauriers and Wishing Well Farm LLC. Photo by Ashley Neuhof
Jacqueline Steffens Daly of Harriston, ON, riding Freaky, owned by Steffens and Team Eye Candy. Photo by Ashley Neuhof
Tiffany Foster of Langley, BC, and Hamilton, owned by The Hamilton Group. Photo by Ashley Neuhof