As long as I can remember, I've been interested in art - Michelle Hogan.
The Rider recently spoke with equine artist and harness racing professional MICHELLE HOGAN who shared her love of the sport with our Glenda Fordham. This multi-talented equine professional shared her thoughts and artistic process….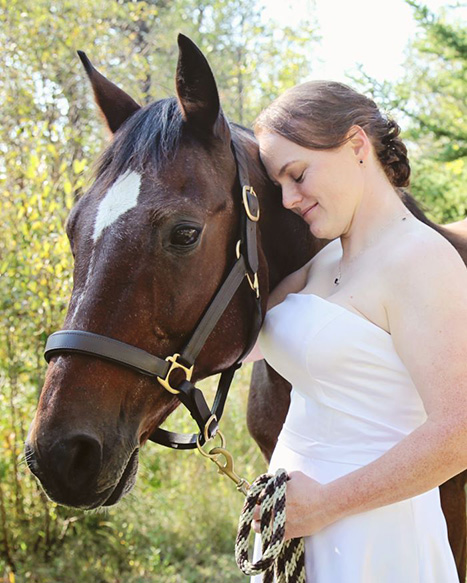 Michelle, you've worked with harness-racing horses as a trainer, owner and breeder – what inspired you to start such a unique career? 
Growing up, I was your typical horse-crazy kid, without a horse. During the summer before I entered high school, it was time to find my first job, and I went straight to Flamboro Downs, which was only a short drive from home. All I knew was that I wanted to work with horses. I had my first job as a groom within days and never looked back! At right, Michelle with one of her best friends on her wedding day! (Photo courtesy of Carrie Clarke Scott)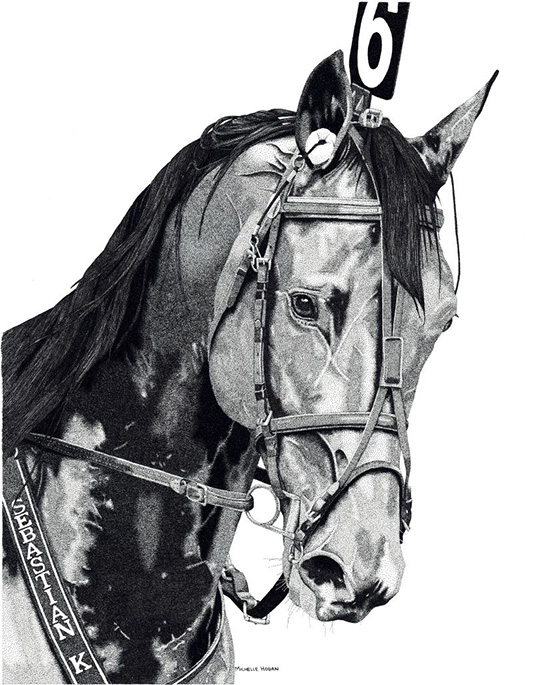 Your portraits of harness racing horses and drivers are so detailed & intricate – how long have you been observing these horses from an artist's perspective?
As long as I can remember, I've been interested in art. Art and horses have always been the two constants in my life. Because of this, I have always observed them with an artist's eye. I was photographing and drawing all the horses I cared for from the moment I stepped into my first role as a groom.
Did you study art at school or college or are you self-taught?
When I was 10 years old, my parents enrolled me in a local adult art group/class. As the only child in the group, I learned so much from both the teacher and the other members. I learned to paint with watercolours and fine tune my drawing skills. I was taught how to see as an artist. Aside from this, I took art through high school. Again, my teachers were fantastic and supportive of my interests. It was there that I learned techniques in pen and ink.
Commissioned works are an important revenue stream for any artist – do you go out to clients' stables or racetracks for photographing or interviewing the owners, drivers, the horses before starting each portrait? What is your process?
Most often I work from photographs provided by the client, with photographer's permission. However, for my work with Hanover Raceway, I attend the events we are partnered on and take my own photographs to work from. This way I can control the lighting and composition of the photographs to reflect what I prefer to work from in a reference image. Below, Remember Titans approves of his portrait along with Shawn Steacy & Monica Fritz.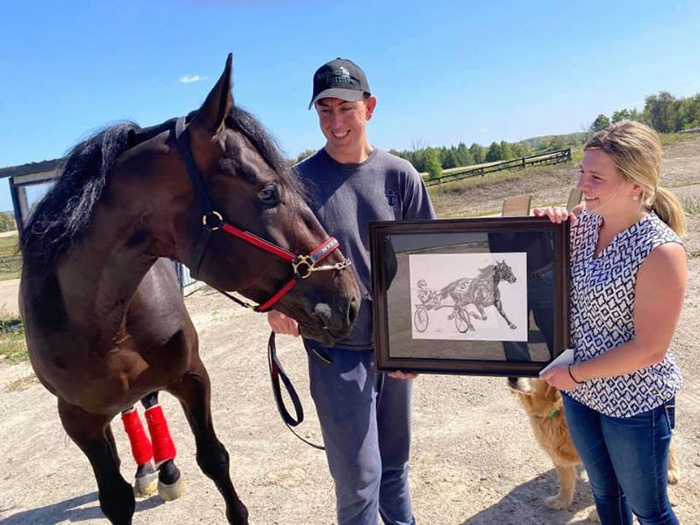 You work at and with the Hanover Raceway – is this where you started your career as a trainer/breeder? And they obviously enjoy having you and your work on site. Are there other tracks that you love to visit?
My involvement in harness racing began at Flamboro Downs in Dundas, Ontario. The horses in my care would often race at other Ontario tracks, including Hanover Raceway, and Hanover quickly became a favourite. I also love to visit Clinton Raceway (Clinton, Ontario) and Grand River Raceway (Elora, Ontario). The fan experience at these tracks is top notch, and you can get close to the action.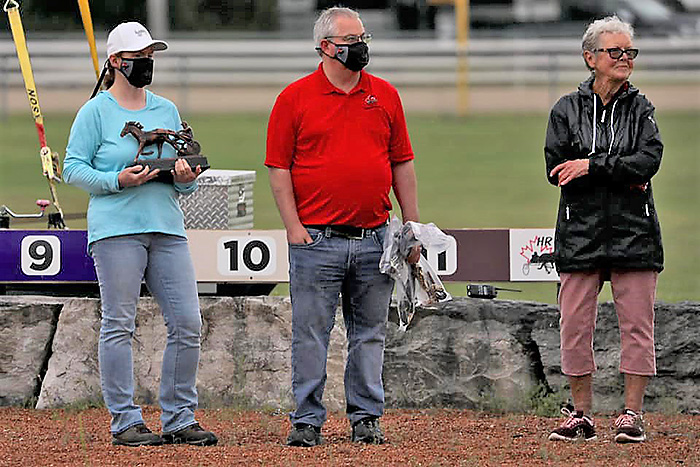 Michelle continues…
Having been directly involved in the harness racing industry for most of my life, the horses and the people are like family to me. It is important to me to give back in any way that I can. I strive to draw new interest and fans to the sport of harness racing through my art. I support aftercare for our horses through the Ontario Standardbred Adoption Society and industry charities such as "Harness the Hope".
2022 is my third season as the Official Artist of Hanover Raceway. Winners of the Dream of Glory Trot and the Balanced Image Trot receive custom portraits of their horse. I also partner with Hanover on other projects throughout the season, such as Bob McClure Day, Trevor Henry Day, and the Ontario Women's Driving Championship. Merchandise such as cards and mugs can be purchased at the Hanover Raceway program booth and Race Office.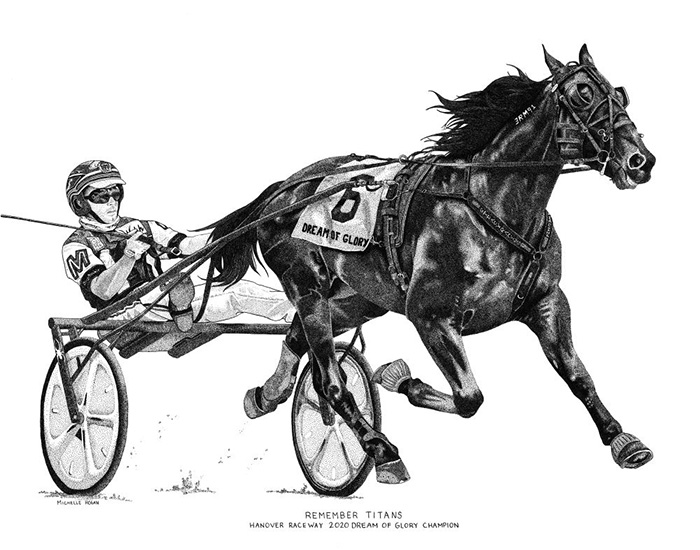 My studio (pictured below) serves many purposes: it's where I work, but it is also a source of inspiration and education. Visitors to my studio can see, feel, and experience a little piece of harness racing. I keep a collection of authentic racing equipment, memorabilia, and artwork on display.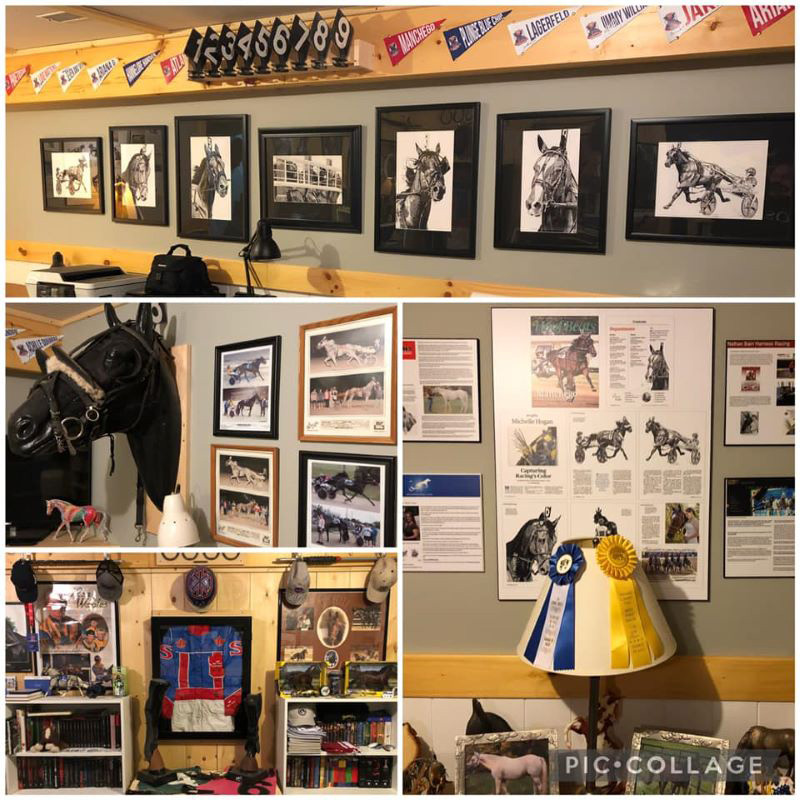 If you would like to learn more about Michelle and her work, visit her website www.harnessartist.com or follow her on Facebook.com/HarnessArtist You'll find lots of original art, prints, and gorgeous greeting cards for all occasions.