National Hunter/Jumper Championships Highlight 2023 Schedule.

Toronto, Ontario – Having celebrated its centennial in 2022, the Royal Horse Show will continue its tradition of equestrian excellence as it prepares for this year's Royal Agricultural Winter Fair to be held from November 3 to 12, 2023, at Exhibition Place in downtown Toronto, ON.

The CSI5*-W Royal Horse Show will continue to host international show jumping highlighted by the Longines FEI Jumping World Cup™ Toronto on closing night. Offering more than $1 million in prize money, this year's Royal will also mark the debut of Great Britain's Kelvin Bywater as show jumping course designer for national and international competition.
As the highly anticipated season finale for Canadian competitors, The Royal has once again been awarded the National Championships by Equestrian Canada for all its the hunter, equitation, and jumper divisions, including Under 25 and Junior/Amateur show jumping athletes. Following last year's successful introduction of a Junior/Amateur National Championship at the 1.30m level, invitation modifications for this year's 1.40m Junior/Amateur National Championship have been made to ensure the widest possible rider representation from across the country.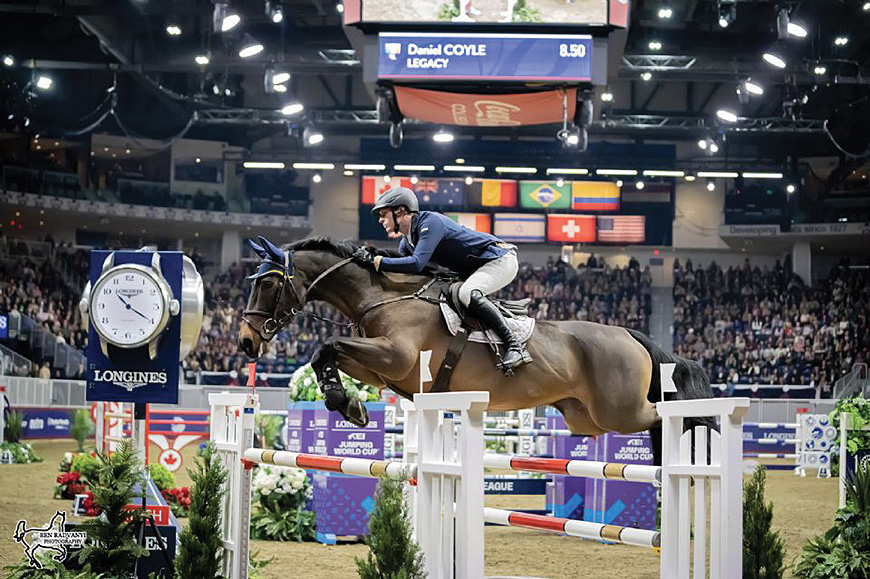 Ireland's Daniel Coyle won the Longines FEI Jumping World Cup™ Toronto riding Legacy to close out the 2022 Royal Horse Show.
Photo by Ben Radvanyi Photography
Opening weekend of the 10-day Royal Horse Show will feature the Canadian Show Jumping Championship, which will offer an increased purse over the two nights of competition.
Canadian horse sport breeding fans have long followed the entries and outcomes of the prestigious Governor General's Cup for three-year-olds shown in hand and the Lieutenant Governor's Cup for three-year-olds shown under saddle. The ponies will now have their turn in the spotlight with the newly introduced Royal Agricultural Winter Fair Pony Cup, featuring in hand and under saddle sections. All Cup classes, showcasing the quality of Canadian breeding, will take place in the Coca-Cola Coliseum on Saturday morning, November 11.
"The Royal continues to evolve in order to showcase the best horses and athletes in equestrian sport," said Charlie Johnstone, CEO of the Royal Agricultural Winter Fair. "Having celebrated 100 years of being the place where the best of the best meet at the end of the Canadian show season, we are proud to carry the longstanding tradition into a new century. We look forward to once again hosting the future national champions across the hunter, jumper, and equitation disciplines to this year's Royal."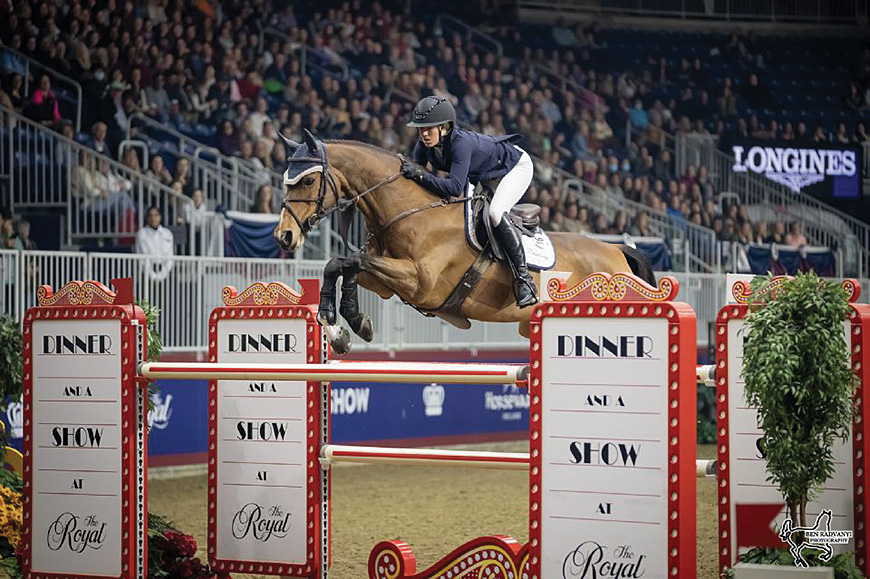 Ali Ramsay of Victoria, BC, claimed her first Canadian Show Jumping Championship title at the 2022 Royal Horse Show in Toronto, ON.
Photo by Ben Radvanyi Photography
National Championship qualifying criteria are available at www.royalfair.org/horse-show/competitors/ while the full 2023 Royal Horse Show prize list will be available in late June.
In addition to the exciting competition, Royal fans will be thrilled with the return of Guy McLean, last seen in Toronto in 2018. The popular Australian horseman, entertainer, and bush poet will be performing with his team of liberty horses during select Royal Horse Show performances.
As always, The Royal offers numerous hospitality experiences which sell out quickly due to their popularity. The Royal Terrace will be available for VIP and corporate hosting while the Coliseum's Sky Suites offer stables and groups their own private suites. The Tanbark Club will continue to be open to Gold and Platinum VIP ticket holders. Hospitality options are now on sale with returning clients being given the right of first refusal. Contact groups@royalfair.org or HSvip@royalfair.org for full details.
For more information and to purchase tickets for the 2023 Royal Horse Show, visit www.royalfair.org/horse-show/.

About The Royal
The Royal Agricultural Winter Fair is the world's largest combined indoor agricultural and equestrian event. The Royal Agricultural Winter Fair runs November 3-12, 2023, at Exhibition Place in Toronto, Canada. For competition schedules, live webcasting, results, and to purchase tickets, please visit www.royalfair.org.