"Easy Lover, he was just special".

Easy Lover Hanover and Imacutelilmonkey have a few things in common. They are both retired pacers with superstar Somebeachsomewhere figuring prominently in their bloodlines who have found the same wonderful, forever home through the Ontario Standardbred Adoption Society. They weren't quite on the same page in terms of ability on the racetrack, however. Luckily that doesn't matter to them and the pair are now best friends in retirement having taken very different roads to that destination.
Many Ontario racing fans will remember the story of Easy Lover Hanover both on and off the racetrack. Brad Grant purchased the son of Somebeachsomewhere just two weeks after the devastating barn fire at Classy Lane Training Centre seven years ago.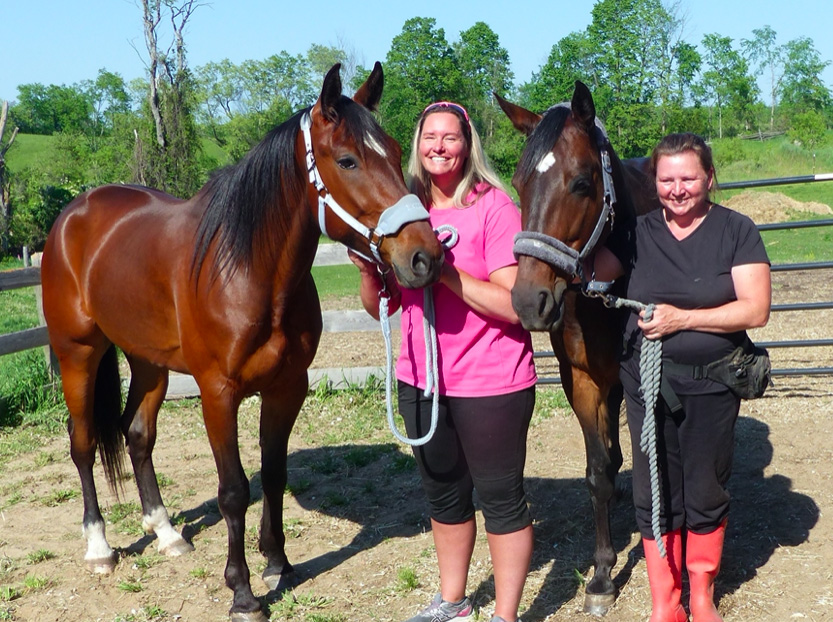 Annemarie with Monkey (aka Griffin), left, and Julie with Easy Lover Hanover (aka Philip).
That tragedy claimed the lives of more than 40 horses including Grant and trainer Ben Wallace's stable star Apprentice Hanover, another son of Somebeachsomewhere. At the time Apprentice had won just over $1 million in his career.
Grant purchased Easy Lover Hanover at the 2016 Tattersalls Mixed Sale in an attempt to fill one of the empty stalls in Wallace's barn, but they never expected him to also go on and achieve millionaire status.
Both Grant and Wallace agree that Easy Lover came into their lives at a critical time so they wanted to ensure they retired him at the appropriate time which proved to be in August of 2021. At that point he had a life summary of 51-22-14 from 144 starts for just over $1.1 million banked and a mark of 1:48.1 over Woodbine.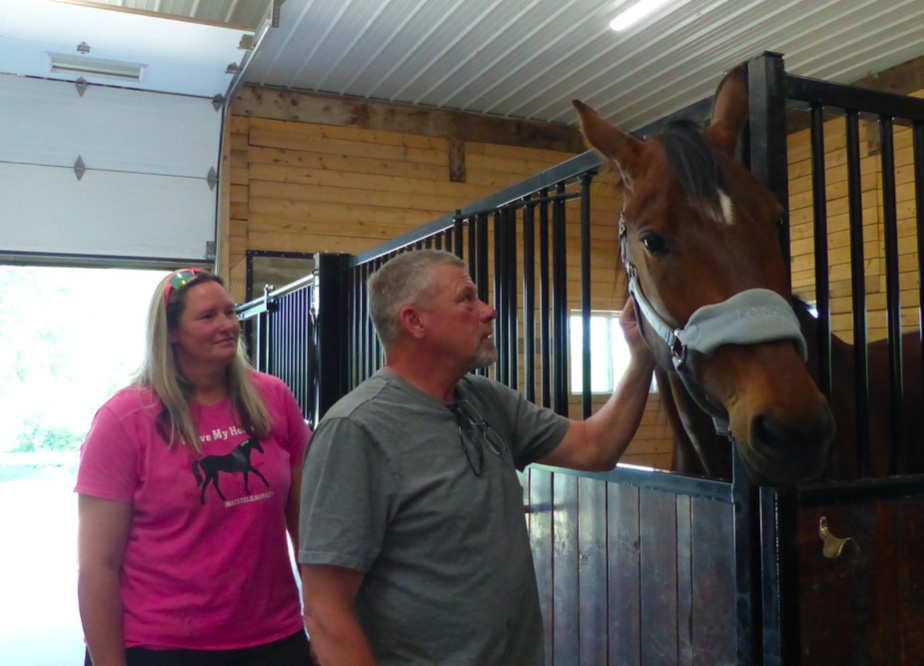 Annemarie and Mike Wade visit Imacutelilmonkey in his new home.
"Easy Lover, he was just special. He filled a big void when we needed something to fill it. And I really think that horse was probably the best thing that could happen for Ben, as far as just a good horse and Ben made him a great horse," noted Grant at the time.
A gorgeous horse with a striking face with a white star, Easy Lover was placed into the care of OSAS upon his retirement. After assessment and decompression, he was moved to the foster farm of Susan and Bert Mollica who taught him the fundamentals of his new career as a riding horse.
He learned his lessons well, and combined with his good looks and lovely personality, he had a lot of interested adopters including the folks at Northumbria Equine in Port Hope, Ontario. The facility is owned and operated by retired Toronto police sergeants Julie Wilson and her husband Rod MacLean.
Easy Lover, who is now called Philip, was the couple's third adoptee from OSAS. "In August of 2009 we adopted Warrawee Bellana (Angel) and Au Shade. In September of 2015 Au Shade was laid to rest and Angel is now 26 and retired from riding," explained Julie.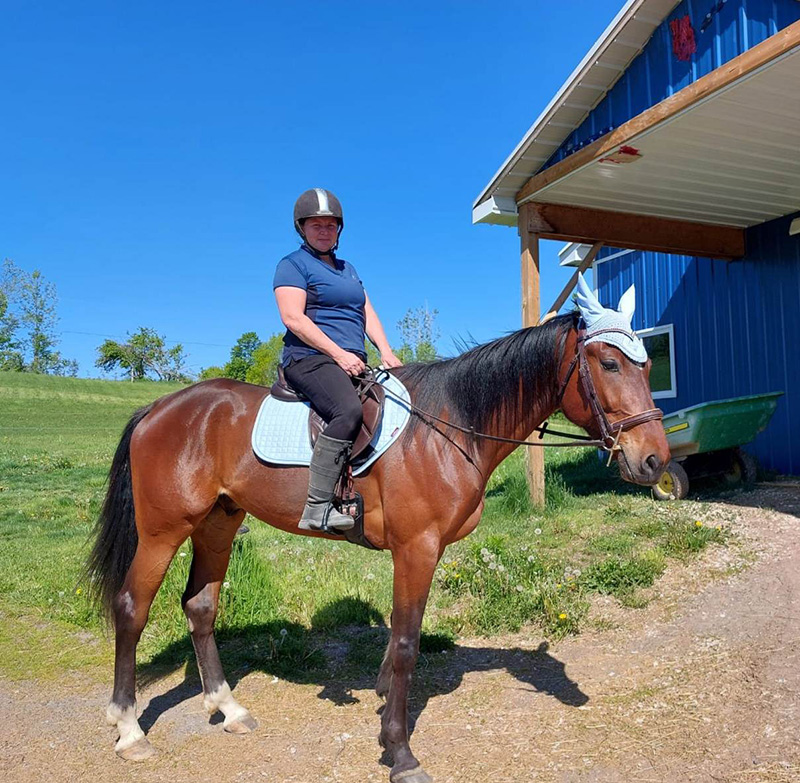 Photo at Left: Julie aboard Monkey for one of his first rides.
Warrawee Bellana is an unraced daughter of SJs Photo who hails from a prominent trotting family while Au Shade was a gelding by Shady Character who earned just over $80,000 in his racing career. His is also from a well-known racing family which includes the iconic Silk Stockings.
"I found myself looking for another horse in 2021 and contacted Joanne (Colville, OSAS's co-ordinator). She connected me with the Mollicas. I met Easy Lover and it was love at first sight. I now ride Easy Lover and he's doing great under saddle. He really enjoys obstacles and hacking out on the roads.
"Early this year Susan reached out as I had lost my Clydesdale to colic, she told me about Monkey. I met him and figured he would be a perfect fit for all of us," Julie added.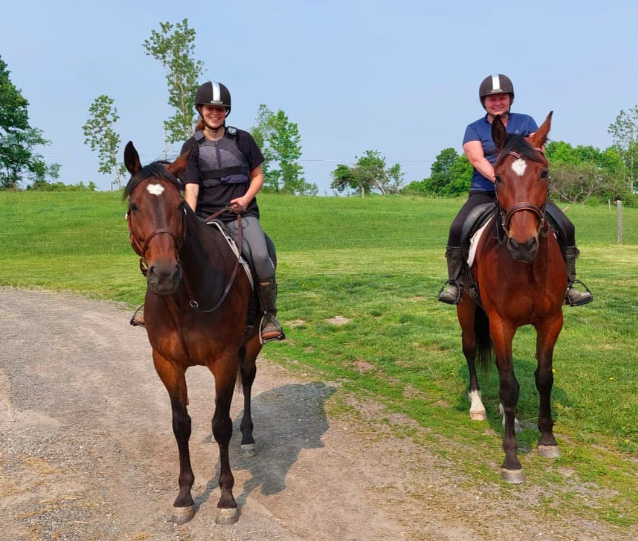 Photo at Right: Imacutelilmonkey and Easy Lover Hanover heading out for a ride.
Although not quite as prolific as Easy Lover on the racetrack, Imacutelilmonkey raced nine times as a three-year-old last year, winning once at his home track of Kawartha Downs. He was owned by trainer/breeder Annemarie Colville and her partner Mike Wade who say it was a miracle he even made it to the racetrack.
"Monkey did not have an easy start to his life. Mike and I decided then, that if we could save him and he never made a racehorse we would find him a loving home. It took almost a month, but Monkey was on the mend with help from our vets from Port Perry Vet Clinic," explained Annemarie.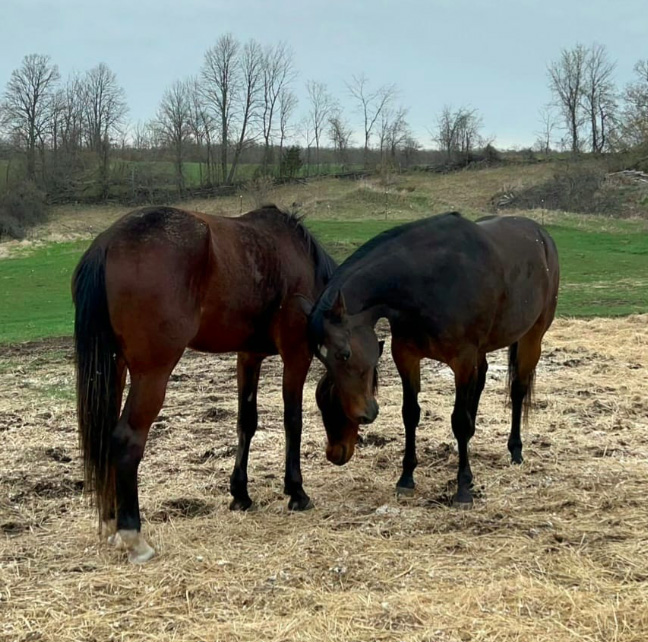 Photo at Left: Easy Lover and Monkey showing some affection while out in the field.
"We kept a close eye on him while he grew and low and behold, he grew into a beautiful individual and never looked any different than the other colts we had.  When it came time to break him as a yearling, we treated him like any other always keeping in the back of our mind if he ever struggled with anything we would stop. He never did.
"Fast forward to him qualifying twice and then going out and winning his first lifetime start at Kawartha Downs. He wasn't lightning fast that night, but he didn't have to be, so we still were not sure how he would be. 
  "It was when we started to have to ship to Flamboro and Georgian where they went faster, that he struggled. Mike and I knew that he was trying but he just couldn't go any faster.  We knew then that we were going to come through with our promise of finding him a loving home.  We wish we could have kept him as he is a sweet soul, but we just can't keep all of them unfortunately," she concluded.
So the son of Sunshine Beach entered OSAS earlier this year. Annemarie is quite familiar with the program for a number of reasons. "In earlier years, Spoonman, a retired Standardbred of mine, was an OSAS ambassador.  I have always volunteered, helped wherever I could for OSAS, and Mike and I always donate to the program, as we think it is great," noted Annemarie whose sister is Joanne, OSAS's administrator.
"It was not a hard decision for us to reach out and ask OSAS if there was room for Monkey. He stayed with us until there was an opening and we dropped him off at the Mollicas where he would learn his new career.  It was very hard and still is, but we knew that it was the right decision."
Monkey, who is now called Griffin, followed the same path as Easy Lover in that he took some time away from the track before going to the Mollicas to learn his new role. He was a quick learner and soon found himself on his way to Port Hope to join the group at Northumbria Equine. Because of his young age they are taking their time with him for now, but Julie credits the Mollicas and Annemarie for giving him such a solid foundation. After his first ride at his new home she noted "he did not put a foot wrong.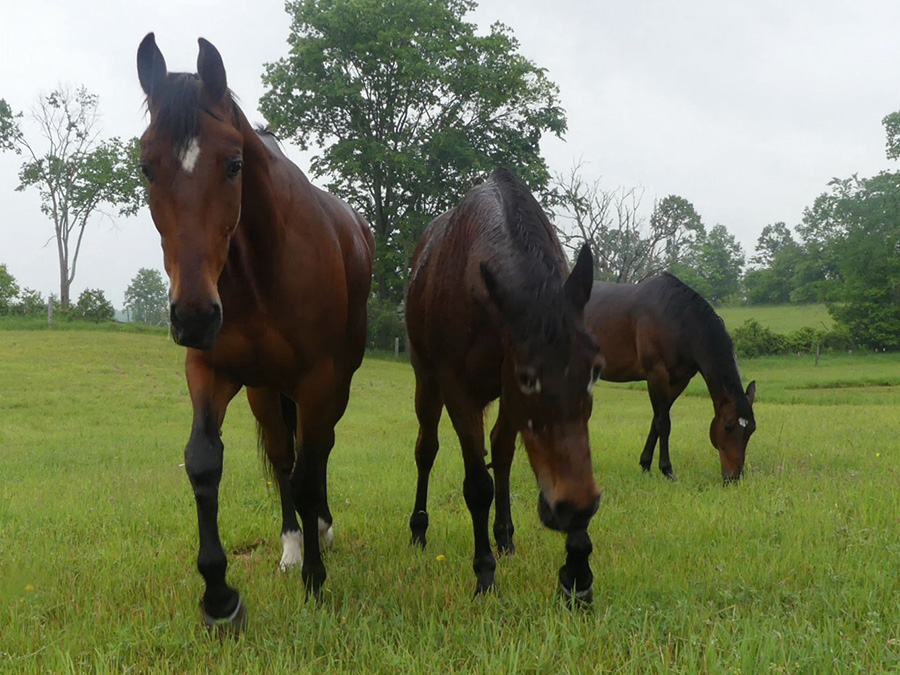 Northumbria Equine's three OSAS adoptees – left to right – Griffin (Imacutelilmonkey), Angel (Warrawee Bellana) and Philip (Easy Lover Hanover). 
"Griffin is doing amazing with his riding. Due to him being four we are taking it real slow. So, he is going to walk 10 minutes every other day. That will slowly increase as his body matures.
"I am not sure what we will do in the future. Perhaps some showing or mountain trail or endurance. It all depends on how they each develop. I am really excited to see what these two boys enjoy. It may just be hacking around here and that is fine too," said Julie.
"When we found out that Monkey had a home, Julie reached out right away and introduced herself and said that their doors were always open for us to come and visit.  Needless to say, she didn't need to tell me twice. She said that he already had a friend, Easy Lover Hanover!  She sent me pictures and I could tell that Monkey was happy and liked his new family, facility and friend ELH (Philip)," said Annemarie.
"We drove out to see Monkey and could not have been happier with his new family and friends. On a side note, it was also great to see how awesome Easy Lover Hanover looked.  They are great people, and their facility is gorgeous. We could not picture anything else we would want for Monkey.  We stayed quite a while and made plans to go back.
"Although this journey has had a lot of tears, we couldn't be happier that Monkey (now known to us as MG – Monkey Griffin) will live out his life to the fullest with his new family and friend 'the million-dollar man' Philip!" concluded Annemarie.
Although they had vastly different journeys, the two new best friends are thoroughly enjoying their forever home.


Photos supplied by Julie Wilson & Annemarie Colville













\