Wednesday's card of seven races gets underway at 1:30 p.m.

AJAX DOWNS, JULY 25, 2023 - The 2023 Ajax Downs Quarter Horse racing season reaches the halfway mark this Wednesday, July 26, the 12th card of the 25-day meeting. And if the second half of the season is anything like the first, there is a lot more exciting racing on the way.
Wednesday's card of seven races, which gets underway at 1:30 p.m., features some big fields including the day's finale at 350-yards for 3-year-olds and upward. The race has an intriguing mix of stakes winners and improving horses in the field of nine. SUGARMANS DELIGHT, winner of the 2022 Ontario Sires Stakes Maturity, figures to be favoured as he makes his third start of the season. The Ontario bred, owned and trained by Joe Tavares, comes off a close, second place finish on June 28 and Ed Walton returns to ride.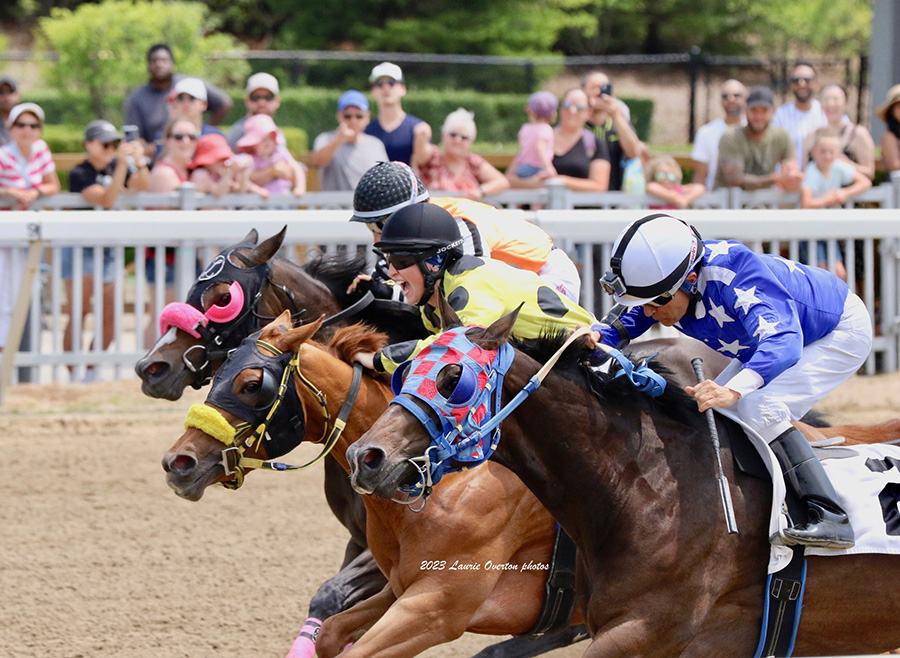 Through the first 11 days of the 2023 Quarter Horse season at Ajax Downs, fans have crammed the track to see exciting racing - Laurie Overton photo
Also in the field is the 3-year-old CHEEKO MALO, who comes off a win in the Restricted Maturity for owner, trainer, and breeder James Bogar. The owner, who has a farm in Cameron, ON, sits second in the standings with 10 wins, just one behind Burlington's Milena Kwiecien.
And Bogar has 11 wins as a trainer this year, second to Jason Pascoe, who has 18 wins. Pascoe will start two horses in the finale, the promising filly DAM IM RELENTLESS and stakes placed JOE CHECKERS.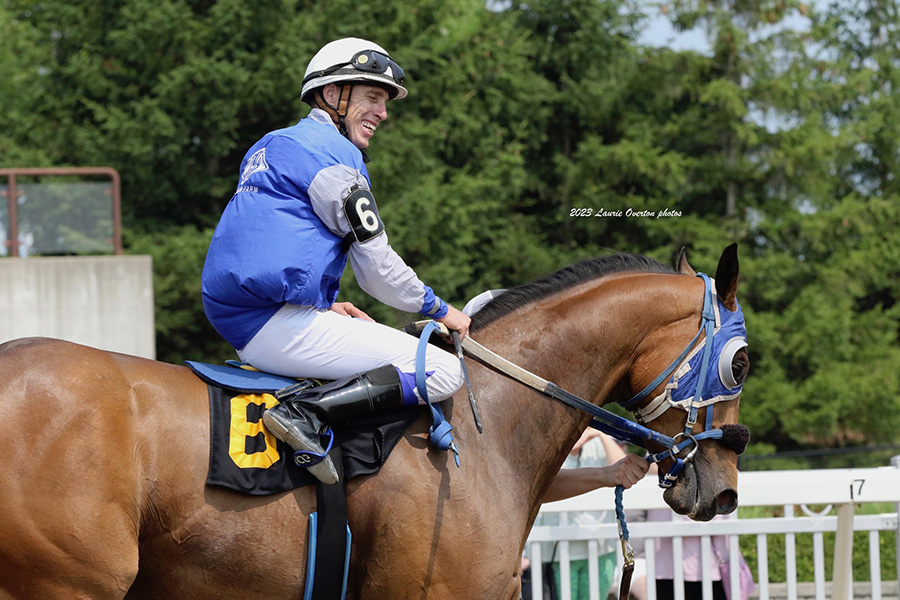 Brian Bell has 464 career wins and leads all riders in 2023 with 15 victories - L. Overton photo
*Wednesday's featured race is the third race, an allowance race for Ontario sired horses at 400 yards. Stakes placed EYESA DASHA WACKY, recently third in the Ontario Bred Derby to top 3-year-old Snow Moose figures to be favoured for owner Marie Broadstock.
Ajax Downs' leading rider BRIAN BELL, who has 15 victories from 47 mounts for a hefty 32 percent win rate, will partner Big Dog Racing Stables' TEX DYNASTY for trainer Carol McIntyre. JB Botello, second to Bell in the standings with 11 wins, will ride DAZ COLD for the Kwiecien and Pascoe team.
*For a free download of the day's pocket program, visit www,ajaxdowns.com. Admission and parking are free at Ajax Downs and trackside picnic tables make it a great place to watch the racing action. You can also watch and wager on Ajax Downs at www.HPIBet.com.


Leading Ajax Downs Jockeys (through 11 race days)
Rider Stats 1st 2nd 3rd Win %
Brian Bell       47  -15  -7 - 7 - 31.9
J. B. Botello  44 - 11- 9 -11- 25.0
D I Benitez    43- 9 - 8 -12 -20.9
Ramiro Castillo  45 - 8 - 8 - 8 - 17.8
Tony Phillips   39 - 5 - 7 - 4 - 12.8

Leading Trainers
Jason Pascoe   96 -18 - 18 - 18 - 18.8
James Bogar     48  -11 - 4 - 11 - 22.9
Bob Broadstock 42 - 9 - 5  -8 - 21.4
Bryn Robertson 16  - 5 - 4 -2  - 31.2
Scott Reid         25 - 5 - 2 - 3  -20.0

Leading Owners
Milena Kwiecien  48 - 11 - 9 - 11 22.9
James Bogar       45 - 10 - 4 - 11 - 22.2
Robertson, Carol & Jaime 16  -5 - 4  -2 - 31.2
Marie Broadstock  20 - 4 - 3 -3 - 20.0
Jason N. Pascoe   7 -4 - 2 - 0 - 57.1