The goal of this study is to identify management practices that can help lesson horses thrive.
By Caleigh Copelin
Do you remember your first lesson horse? Was it a wizened old schoolmaster, retired from his horse-show days who patiently taught you how to post the trot and pick a hoof? Or maybe it was a scruffy little pony whose most important lesson was teaching you to keep your palm flat when giving treats! Whether you ask a trail rider out west or a grand prix showjumper at an international competition, every equestrian has fond stories to tell about the lesson horses that raised them.
We know that lesson horses have the power to make us feel safe, supported, confident and empowered. But have you ever wondered how our lesson horses feel about their lives? Dr. Katrina Merkies and graduate student Caleigh Copelin from the Department of Animal Biosciences at the University of Guelph are conducting a research study to investigate just that.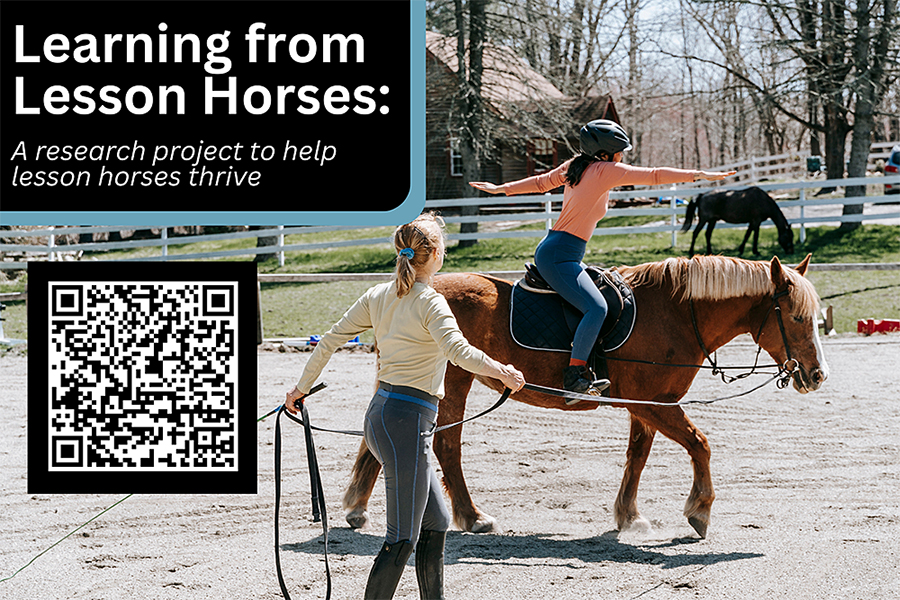 The goal of this study is to identify management practices (such as housing style and workload) that can help lesson horses thrive with the unique work they are asked to do. Making sure that lesson horses remain as happy and stress-free as possible will contribute to the longevity of these horses and the sustainability of the riding lesson industry as a whole.
The first step of this study is a Canada-wide survey to collect information about the common management practices of Canadian riding lesson facilities. Lesson facility owners, managers or head coaches are invited to complete the survey for their chance to win 1 of 3 $75 gift cards to Greenhawk Equestrian Sport. Visit https://uoguelph.eu.qualtrics.com/jfe/form/SV_bmDNdmdReKNEo3s to access the survey.
This project has support from the Ontario Ministry of Food, Agriculture and Rural Affairs, Equine Guelph and other stakeholders including Equestrian Canada and Ontario Equestrian. Helen Richardson, project lead of Ontario Equestrian's Stables Program says, "Ontario Equestrian is proud to support the research being undertaken by Caleigh Copelin under the guidance of Dr. Merkies. The research being gathered through their survey will inform where there are knowledge-to-practice gaps in the equestrian riding school community and assist us in developing educational and outreach programs to fill those gaps. For Ontario Equestrian, and our member stables, the results from this project will help us to understand and develop the tools, resources and supports that our riding schools and facilities need to ensure a high quality of life for those equines vital to the grassroots education of so many participants in our industry."
The researchers are also seeking volunteer lesson facilities located within three hours of Guelph, Ontario for on-farm assessments of riding lesson horses. These assessments will not impact the day-to-day operations of your business and volunteer facilities will receive a $100 honorarium for their time.
For more information about the project or to volunteer your facility, please contact the research team: Dr. Katrina Merkies – kmerkies@uoguelph.ca Caleigh Copelin – ccopelin@uoguelph.ca