Rising Hope is the coming-of-age story.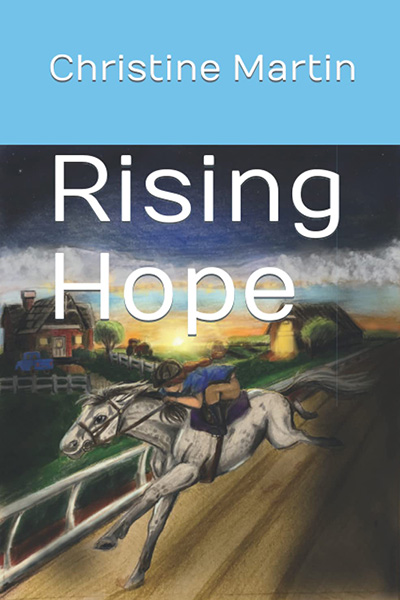 Fleeing a troubled past, horse-enthusiast Pascale Vladek leaves her native Québec for the United States, where she hopes to start a new life working at a racing barn in the Bluegrass Region of Kentucky. Though she is distant, and socially awkward, her intense nature attracts unsolicited attention from the members of the Lavergne family, her new employers. However, seventeen-year-old Pascale has reason to hope that her luck has turned, and that she can now chase her dream of becoming a jockey.
But that ambition is a long way from being fulfilled. While connecting with equines comes naturally to her, Pascale has a harder time relating to people. Those around her are quick to wonder why she fled her home. Their interest in her and her past threatens to shatter the walls she has erected to protect herself from further, emotional harm. Will she ever reveal the secrets of her traumatic past? Will she be able to overcome the dramatic events facing her at Lavergne Farm? Will she open up to friendship, family, and romance?
Rising Hope is the coming-of-age story of a courageous young adult who struggles to recover from trauma. Readers of all ages and backgrounds will enjoy this fast-paced, passionate novel, and will relate to Pascale's quest for safety, respect, love, and acceptance.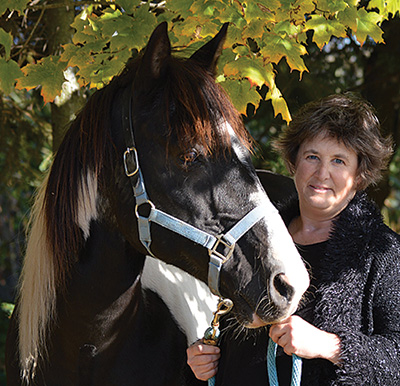 About the author
Between 1997 and 2000, Montréal-born Christine Martin published three French-language novels. In 2016, she decided to re-visit her earlier works, and started writing Rising Hope, an updated, English version of one of her French novels. She is working on an English-language version of its sequel, Bonaventure.
Christine has always been an animal lover. At age nine, she started taking riding lessons. Christine rode regularly until she entered law school in Montréal in her late teens. She married in 1990 and practiced law in her hometown until 1999, when she moved to Ontario. She then became a legal translator to and from English and French. In 2005, she reconnected with her lifelong passion for horses, and in 2008, fulfilled her dream to own a hobby farm. She currently lives in Brantford, Ontario with her family and two dogs, four cats, six horses and two miniature goats.

https://christinemartin.ca/
Buy this novel on Amazon and Kindle - www.amazon.ca/Rising-Hope-Christine-Martin/dp/1777928001/ref=sr_1_1