Bronze medal performance delivers Olympic Qualification for the Canadian Dressage Team.

SANTIAGO 2023 – UPDATE DAY 3
Dressage
Never underestimate the power of a group of young Canadian female athletes that when they put their mind to something, they will do everything it takes to achieve it. Though the path to Santiago 2023 was not always smooth for the young and tenacious quartet, full of the ups and downs of equestrian sport, nonetheless they persevered. And, in doing so, delivered what they came to Chile to do – earn a medal for Canada, and with it, an Olympic berth.
With just two spots available to get to Paris 2024, it was up to this young Canadian team to put up scores that would keep them on the podium after their solid performances on day one. The second day of dressage competition included the Intermediate I test for small tour rider Beatrice Boucher and the Grand Prix Special for the remaining three big tour combinations.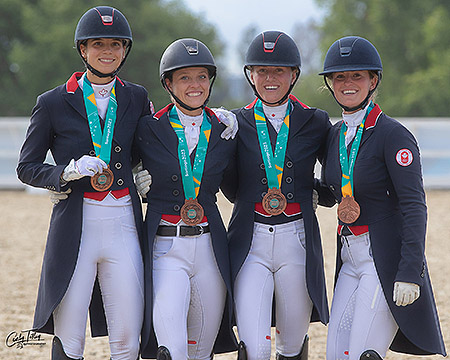 Left: Santiago 2023 Team Dressage Bronze Medalists Naima Moreira-Laliberté, Mathilde Blais Tétreault, Camille Carier Bergeron and Beatrice Boucher. Photo Credit: Cealy Tetley

Overall, it was another solid set of performances, each with their own shining moments. The standout performance of the day came from the youngest of the four – Camille Carier Bergeron, 23, who had a personal best performance and ranked as the top Canadian finishing in sixth place.
All hailing from la belle province, the bond seemed even more pronounced as the possibility of a medal became clearly attainable. With hometown favourites Chile not far behind, the medal was not a sure thing until the scores were tabulated. And even then, the difference between silver and bronze came down to a small margin decided by the final two combinations from Canada and Brazil. Based on Team USA's scores, the gold medal was already out of reach.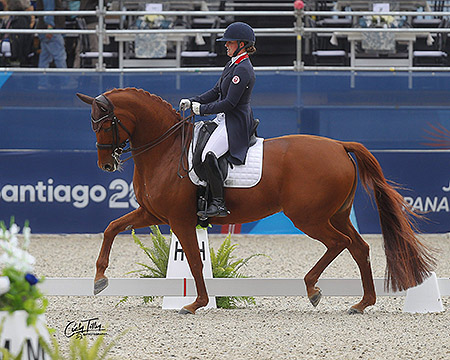 Right: Beatrice Boucher and Summerwood's Limei
Photo Credit: Cealy Tetley
Boucher of Saint-Dominique, QC and her 10-year-old Hanoverian mare Summerwood's Limei (LondonDerry x Weltmeyer) tackled the day's longer test with grace, and although their score was not as high as the previous, their goal of surpassing the 70th percentile was achieved with a 70.471 to put on the scoreboard for Canada.
Her mare, 'Limei', owned by Monica von Glahn and groomed by Amelié Sauriol has been a strong PSG competitor and Boucher was happy with her on day two as well. "I feel so grateful for her, honestly. She pulled another 70 for Canada and I'm just so lucky to have her and have the opportunity to ride for Canada on her back. It's amazing."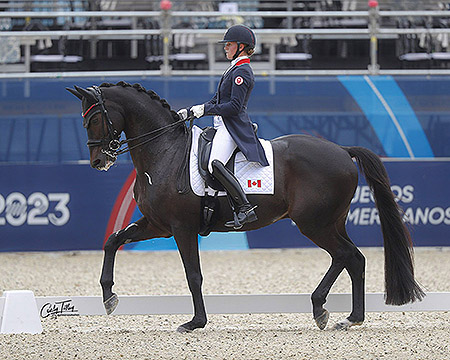 Right: Camille Carier Bergeron and Sound of Silence 4. Photo Credit: Cealy Tetley

Camille Carier Bergeron of Laval, QC was up next in the order with Canada's first Grand Prix horse of the day - her 15-year-old Westphalian gelding Sound of Silence 4 (San Amour I x Limes) owned by Gilles Bergeron and groomed by Joanie Carrier.
Having had a disappointing performance in day one, the pair were back for redemption, and redemption they got. Carier Bergeron had an incredible ride scoring 74.511, which would prove to be the best of the day for the Canadians and a personal best score at the GP level for the pair.
"For me, I had the best ride of my life and I'm thrilled I couldn't be happier to have such a great team and such great supportive teammates. And it made the experience so much fun and enjoyable, I enjoyed every minute of it," said Carier Bergeron. "It just feels amazing. Unreal. Like, I don't have any words. It gave me such an incredible feeling and he was so much better today. I didn't know until I saw the scoreboard and then I just couldn't believe it. Amazing."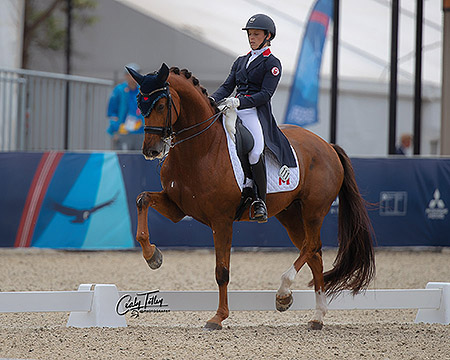 Right: Mathilde Blais Tétreault and Fedor. Photo Credit: Cealy Tetley

Mathilde Blais Tétreault of Montreal, QC was up third in the order with the 13-year-old Dutch warmblood gelding Fedor (Johnson TN x Negro) owned and groomed by Laurence Blais Tétreault. Although not faultless, the ride was an improvement in scores over the previous day with a final score of 71.128.
Blais Tetreault was pleased with her horse and felt some of the challenges they faced in the ring could be attributed to nerves. "Today was very good and better than the day before. He really worked well for me and tried his best, so I'm really happy," she said. "I wish I had gotten my changes again, but I guess, next time! <laugh>. I was more nervous than yesterday I think because I felt a little more pressure to do well for the medal and I also really wanted to do well for my team and make my country proud."
The oldest athlete in the group at 31, she led the sentiments for the team sharing their Canadian pride. "I am just so proud of us because we had a job to do, and we did it! It's amazing to be here with my wonderful teammates. All the work over the years, has come together and we hopefully will now be able to take a breath and realize what we just did."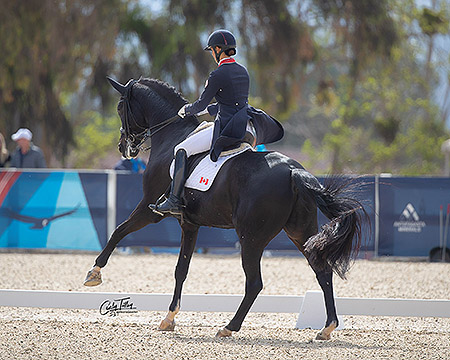 Right: Naima Moreira-Laliberté and Statesman. Photo Credit: Cealy Tetley

Reining gold medalist and Canada' final rider, Naima Moreira-Laliberté from Outremont, QC came to the ring with her 16-year-old Hanoverian gelding Statesman (Sandro Hit x Brentano II) owned by KML Inc. and groomed by Yasmine Lee Saunders.
They knew going in that a spot on the podium was secured, however, it was going to be a battle between Canada and Brazil for second or third place. With some additional pressure, the pair had a difficult start but built over the test to end with a solid but slightly lower score than yesterday with a 72.021.
"I think it was a bit of a rough start in there for me," Moreira-Laliberte admitted. "I didn't have quite the full focus of my horse, but he kept getting better and better and luckily amidst the mistake, we managed to bring the score higher and finished quite well, I think."
Moreira-Laliberte, whose mother is from Brazil was captured on her exit from the ring with a beautiful gesture of sportsmanship giving an encouraging handshake to final rider Joao Victor Marcari from Brazil.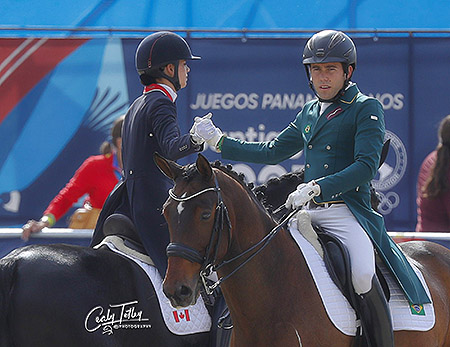 Left: Moreira-Laliberté and Marcari shaking hands. Photo Credit: Cealy Tetley

Once Marcari's ride was done and his score of 75.362 was on screen as the second highest of the day, it was decided that Canada would take the bronze. The thrill of knowing they were on the podium and that they had secured the Olympic qualification was electric.
"We qualified Canada for the Olympics!" said Blais Tetreault. "We did our job. We're super happy with all our rides. Our horses were amazing. Everybody showed up to work."
The win didn't stop the team from reflecting on who had helped get them there. "Thank you to everyone for their support, seriously, thank you," said Carier Bergeron. "It is so appreciated. It takes a big team and people at home are part of the team, and we are grateful to all of them."
"It's my first championships here and I didn't realize how much of a team effort it actually takes to keep everybody healthy, happy, and organized," continued Blais Tetreault. "It's incredible. It's more than a village, it's a whole city. It's a family. All these amazing people they take care of us. We are really grateful because this is going to be an experience that we remember for the rest of our lives."
A big part of the team is onsite but back home and everywhere in between. Feeling Canadian pride, after the medal ceremony James Hood, Director of High Performance at Equestrian Canada and Team Leader for Santiago 2023 reflected on the meaning of the medal.
"This achievement is a significant one for Canada, securing our way to Paris and ensuring Canadian Dressage will be well represented at the Olympics," said Hood. "We are so proud of this team. Everyone including the athletes, horses, grooms, owners, coaches, parents, friends and family all played a role in the success here today. A special thank you to Chef d'equipe and team manager Christine Peters and team Veterinarian Alan Manning for the support they have provided to the team to help make this happen. Congratulations all around, it is well deserved."
"Thank you also to Sport Canada and the Canadian Olympic Committee for their ongoing support of our programs and for their assistance in helping get us to the Pan American Games. We share our appreciation with our hosts Santiago 2023, the Pan Am Sports Organization, and the Pan American Equestrian Federation."
Source: Equestrian Canada News Release