"I miss seeing 'great' interviews on TV and I know many people do". - Bill Welychka

If ever there was a happy and contented has-been it's former MuchMusic veejay, popular host of multiple music specials featuring interviews with the biggest stars imaginable, MuchMoreMusic's leading on-air personality, radio jock and all-round music renaissance man, BILL WELYCHKA. He can now add "author" to his long list of skills and credits with the recent publication of his autobiography "A Happy Has-been",  a tale of his journey from anonymity to international stardom that rivaled that of his celebrity interview subjects and his book. 
I remember the first time I was aware of Bill's presence on my tv screen back in the 80s, especially towards the end of the decade when he hosted "Outlaws & Heroes" featuring the "new country" sounds and interviews with Nashville's (and Bakersfield's) newest minted stars who brought the old-timey sounds of Hank Williams, Bill Monroe, Conway Twitty, Eddy Arnold and the Patsies – Cline and Montana – forward towards the 21st century by adding new flavours to the twangs. These were MY people! (Bill pictured with a young Garth Brooks)
Like most showbiz stories, Bill has experienced highs and lows, as well as stabs in the back and dizzying heights of success and popularity throughout his career which started out behind the scenes, editing footage for the OGs of MuchMusic when it launched in the early 80s as Canada's answer to the US MTV. His book recounts his "adventures", not dirty laundry, and the book makes for a great read and you'll find out cool secrets and "would you believes.." from the early days of the Canadian music scene.
The Rider recently spoke with the author and asked him: You were witness to the demise of the original concept of MM and MMM, and the slow slide to tabloid television-style programming at both networks. Do you think the format could or should be returned to our televisions or has the 'net and streaming services killed off any chance to bring back good music, good interviews, good entertainment? 
No amount of creativity or money could recapture the essence or magic of what those channels were. They played a vital role in the creation of the Canadian music business and contributed huge amounts to Canadian pop culture. I am fascinated by the fascination with MuchMusic. Look at the new doc by Sean Menard, "299 Queen Street West". It's a documentary film currently touring across Canada. It's AMAZING! Good for Sean for reminding a couple generations of MuchMusic's importance. I miss seeing 'great' interviews on TV and I know many people do. My specials and interviews (on my YouTube channel) have BIG numbers. That is a testament to people wanting to watch solid music television with fun and informative interviews that were allowed to breathe. Current pop culture entertainment shows feature 10 second soundbites about who is in rehab, who has cellulite, who is getting divorced. WHO cares?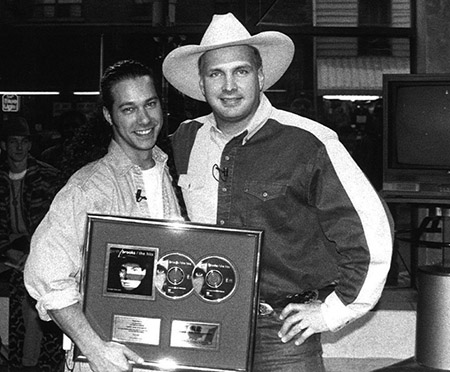 Photo at Right: Bill Welychka with Garth Brooks in 1984
With many pages of photographs from back when we were all young and crazy for music videos, readers will surely have happy memories flooding back, and you'll recognize many artists you may have forgotten over the years of ensuing adulthood.
The book is an enthralling read and ideal for long hours at horse shows, in the barn or by the family fireside. Put on your old 80s and 90s compilation tapes that have been gathering dust at the back of the shelf, pour a glass of wine or a cuppa tea, and start turning those pages.
Available online from Amazon or fine bookstores across the country. You can also order via Bill's website: www.BillWelychka.ca

Friesen Press
232 Pages
ISBN: 978-1-03-918346-9 (Hardcover), 978-1-03-918345-2 (Paperback) or 978-1-03-918347-6 (eBook)


Reviewed by Glenda Fordham
for The Rider.