Back-to-Back WEF Challenge Cup Wins for Canada's Eric Lamaze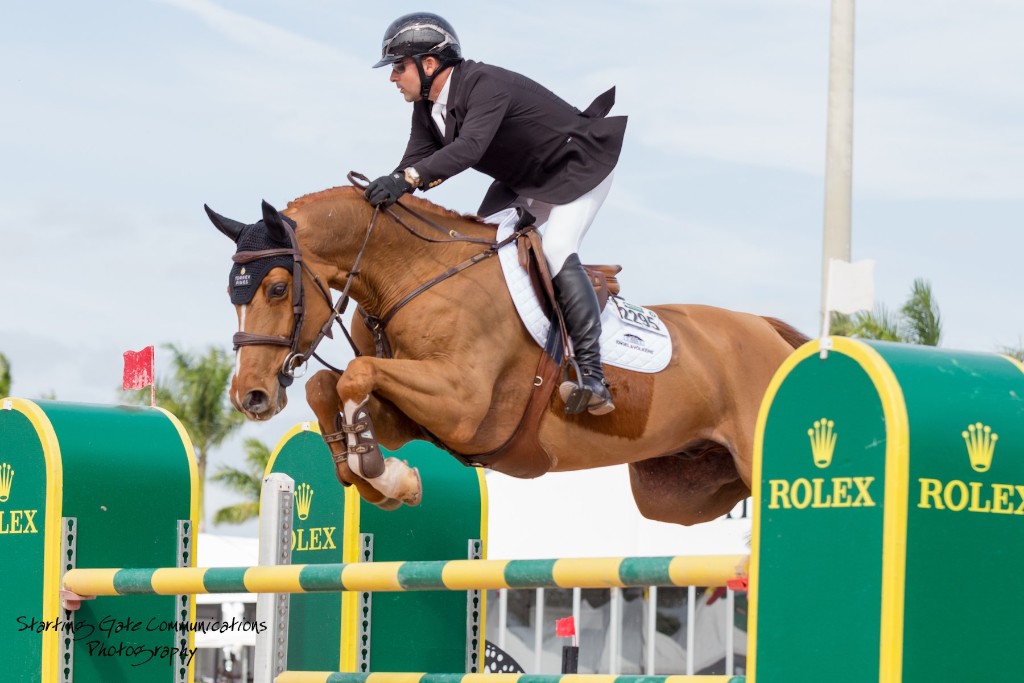 Wellington, Florida – For the second week in a row, Canada's Eric Lamaze and Chacco Kid won the $35,000 Equinimity WEF Challenge Cup held each Thursday of the 12-week Winter Equestrian Festival in Wellington, FL.  Having laid claim to victory in Round II, Lamaze and Chacco Kid returned to the International Arena on Thursday, January 25, to win the $35,000 CSI3* WEF Challenge Cup Round III.

Lamaze, a three-time Olympic medalist, was defending his title, as he had also won the WEF Challenge Cup Round III in 2017 riding Houston for owner Artisan Farms.  His victory on January 25 marked the 25th WEF Challenge Cup win of Lamaze's career, tying him with McLain Ward of the U.S. for the most all-time wins.

Canadian course designer Peter Grant set the tracks for week three, which yielded 26 clear rounds from an 84-horse starting field.  Lamaze turned in an impressive jump-off performance, jumping clear in a time of 40.02 seconds that would prove unbeatable.

Marilyn Little of the U.S. came the closest to catching Lamaze, stopping the clock in 41.37 aboard Clearwater while four-time U.S. Olympic medalist Beezie Madden placed third with a time of 42.28 seconds riding HHS Hercules.  Two-time Canadian Olympian Tiffany Foster of North Vancouver, BC, also jumped double clear to finish fourth with a time of 42.46 riding Brighton for Andy and Carlene Ziegler's Artisan Farms.
Lamaze once again found himself leading the WEF Challenge Cup victory gallop with Chacco Kid.  Paired with Lamaze for two years, the 12-year-old Oldenburg gelding (Chacco Blue x Come On) is owned by the Chacco Kid Group, comprised of Sara and Rick Mershad, Carol and Ludi Sollak, and Carlene and Andy Ziegler.
"To compare the two different weeks, I thought the course last week was more technical, only producing nine clear while today's course was more straightforward with a generous time allowed," said Lamaze, 49.

"I'm really happy to have Chacco Kid in my string of horses, and I'm really happy for the Chacco Kid Group to be rewarded with two wins in a row with this horse that they entrusted to me," continued Lamaze.  "Last year I didn't really take any chances with him in the jump-off, but now he's learning to go fast so I thought 'why not?'.  This is an opportunity to get to know your horse and to take some chances.  If you are ever in a situation where it is the largest prize money or the biggest competition in the world, you're going to feel better taking some risks as you know that you've done it before."
Experience is something Lamaze knows all about, having competed in six consecutive World Championships and three Olympic Games, including 2008 when he was the Olympic Champion riding Hickstead.  A respected coach as well as athlete, Lamaze is known for having brought numerous young riders up to the top level of show jumping sport and is currently working with several highly-competitive students.  One of those students is Spencer Smith of the United States, who placed tenth in the $35,000 Equinimity WEF Challenge Cup Round III riding Rivale du Barquet.
"I'm really proud of Spencer; he is showing tremendous progress and is really coming into his own," said Lamaze of his 21-year-old student.  "In the one year that I have been training him, Spencer has learned so much and is showing great maturity in his riding.  He has two nice grand prix horses under him now, and, through his finish today, has qualified for Saturday night's grand prix.  I'm very happy with his results."
In addition to coaching Smith, Lamaze will saddle up Chacco Kid for Saturday night's $132,000 CSI3* Adequan Grand Prix.

Lamaze, who divides his time being training bases in Wellington, FL, and Brussels, Belgium, will continue to compete in select weeks of the Winter Equestrian Festival, running through April 1.

For more information on Eric Lamaze, please visit www.ericlamaze.com.

 

Photos  Eric Lamaze and Chacco Kid earned back-to-back $35,000 Equinimity WEF Challenge Cup wins on January 25 at the Winter Equestrian Festival in Wellington, FL. Photo by Starting Gate Communications.

 
Thumb photo: 
Eric Lamaze is presented as the winner of the $35,000 CSI3* Equinimity WEF Challenge Cup Round III aboard Chacco Kid, owned by the Chacco Kid Group comprised of Sara and Rick Mershad, Carol and Ludi Sollak, and Carlene and Andy Ziegler.  Photo by Starting Gate Communications