Entertainment insider takes readers on an eye-opening tour of the television and music industries
WHATEVER IT TAKES:
Life lessons from Degrassi & elsewhere in the world of music and television

Author: Stephen Stohn, with Christopher Ward

Dundurn Press, 328 pages

$26.99 soft cover or $12.99 eBook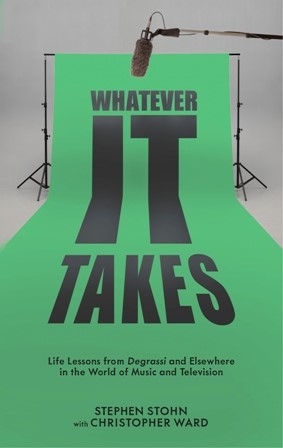 Entertainment lawyer and executive producer of Canada's internationally successful "Degrassi" TV franchise, Stephen Stohn, collaborates with songwriter and tv personality Christopher Ward on this witty and insightful autobiographical journey through Canada's music and television worlds from the early 70's to present day.

Having executive produced the Juno Awards for twenty years, Stohn shares his experiences with Canada's recording mega-stars such as Celine Dion, Our Lady Peace, Justin Bieber and 80's pop icon Alannah Myles (pictured here with the author), and behind-the-scenes looks at the Degrassi show featuring a pre-music fame Drake and other cast members, Canadian Idol and Instant Star as well as the not-so-well-received The L.A. Complex TV series.
Stohn started this journey back in the late 60's when he attended Trent University where, with lifelong best friend (and now co-author) Ward, he founded the student radio station. There he was involved daily with various campus activities including the folk music club, the student newspaper, participating in student government – all the time working towards his degree. Since then, Stohn's 40+year career accomplishments read like a who's who of international entertainment, as well as a how-to manual on music and tv production.

Married to business partner and co-creator of Degrassi, Linda Schuyler, Stohn also recounts his personal life and loves as well as finding peace and order in his stress-filled life through daily meditation.  His book is a thrilling look behind the curtain at Stephen Stohn's wizardry for creating fun entertainment. Bravo and a standing ovation for this great read.
---
by Glenda Fordham for The Rider