IBRA Canada looking for sponsors. Watch for news about upcoming shows coming soon. 
---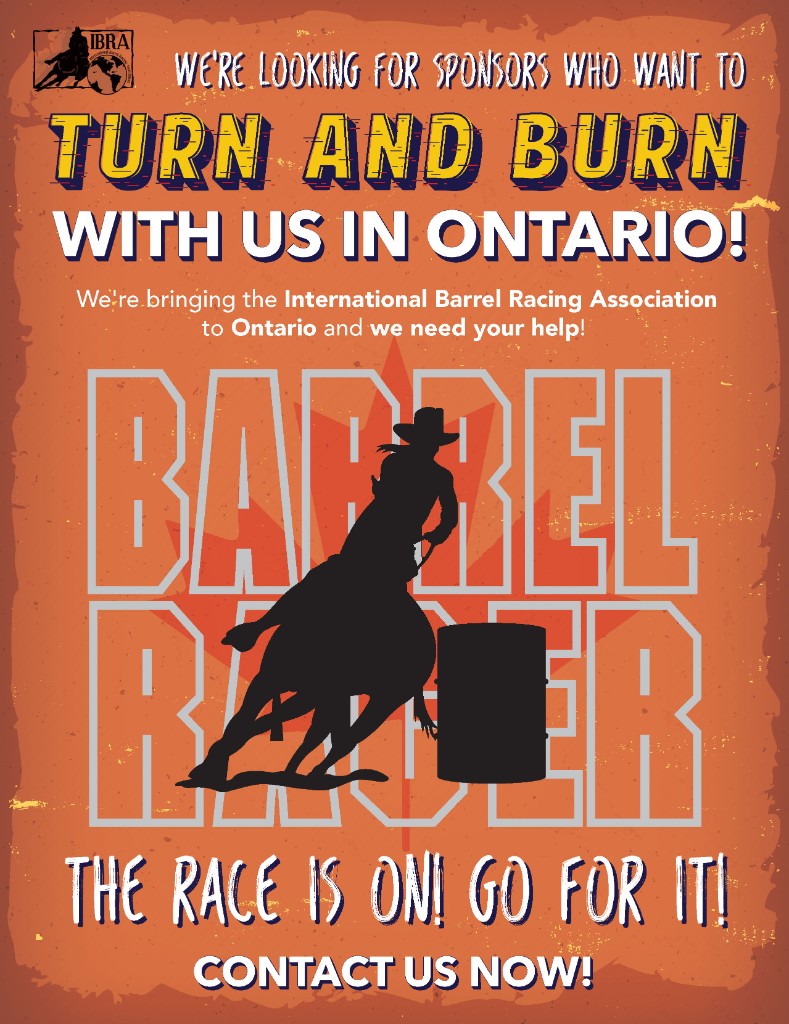 Get Involved. Sponsors Wanted
Phone: Debi 905-321-5097 or Vincent: 1-877-687-6861 
Email: debi@prowlcommunications.com or vincent@prowlcommunications.com 
---
IBRA Canada shows are coming to Canada. 
We're looking for sponsors to support the 2018 shows. Get your products and services in font of your target market. Barrel racing shows expected in late July or August.  Contact us today. 
For more information about IBRA Canada and becoming a member contact Aleasha at 306-203-0299.
LET'S TURN & BURN!
It is with our pleasure, Prowl Communications has taken on the role of sponsorship development for the NEW to Canada:
INTERNATIONAL BARREL RACING ASSOCIATION (IBRA)
We are excited to help this organization establish itself in Canada, particularly in Ontario for the 2018 / 2019 Season which runs from August 1st to July 31st each year.
As we speak venues and dates for upcoming shows are being booked and will be announced soon.
Why another barrel racing association?
The IBRA was started, quite simply, to encourage larger participation at local approved shows by working with other associations and to give our members better recognition for their year-long efforts with an outstanding awards program.
The IBRA is open to everyone; beginners, intermediates, professionals, weekend warriors, young and old alike with an emphasis on youth participants. The horse does not have to be registered and may be of any breed.
There is a lot to do this first year, and some money to be raised to help kick off the IBRA in Canada, give us our own presence in Canada as well as on the U.S website. If you would like more information about IBRA Canada itself, please contact Aleasha Nimec at 306-203-0299.
Please take a look at our sponsorship package and let us know if you would be interested in becoming a sponsor of this inaugural year (the two major sponsorships are a 5 year term).. Request the sponsorship package at the numbers at the top of the page. 
Thanking you in advance for your interest.