CANADIAN DRESSAGE TEAM TAKES 11TH AT FEI WORLD EQUESTRIAN GAMES™ TRYON 2018 
---
The Canadian Dressage Team returned to centreline on Sept. 13 at the FEI World Equestrian Games ™ Tryon 2018 (WEG) in Mill Spring, NC for the final day of team competition, where they earned 11th place.

Together, Megan Lane of Loretto, ON, Brittany Fraser-Beaulieu of Saint Bruno, QC, Jill Irving of Moncton, NB, and Belinda Trussell of Stouffville, ON earned a team total score of 206.538 in the Grand Prix to wrap up their WEG 2018 experience.

Germany was crowned the winning team on a score of 242.950. The United States took silver on 233.136, while Great Britain earned bronze (229.628). Isabelle Werth of Germany topped the individual standings with Bella Rose on a score of 84.829%.

After Trussell and Irving kicked things off during day one of dressage competition, Lane and Fraser-Beaulieu closed out the Canadian performances on day two.

Fraser-Beaulieu was riding high after representing the Canadian Equestrian Team (CET) as flag bearer in the opening ceremony, and her week continued to improve after she piloted All In (Tango x Damiro), a 13-year-old Dutch Warmblood gelding she co-owns with her husband, Marc-Andre Beaulieu and father, Craig Fraser, to a score of 70.016% in her WEG debut.

"I had a little mistake in the zig zag, but it felt amazing," said Fraser-Beaulieu, who also rode All In at the 2015 Toronto Pan American Games, helping the Canadian Dressage Team earn the silver medal. "He went in that ring – and there is a lot of atmosphere in there – and he was totally with me. Overall, I am so proud of him."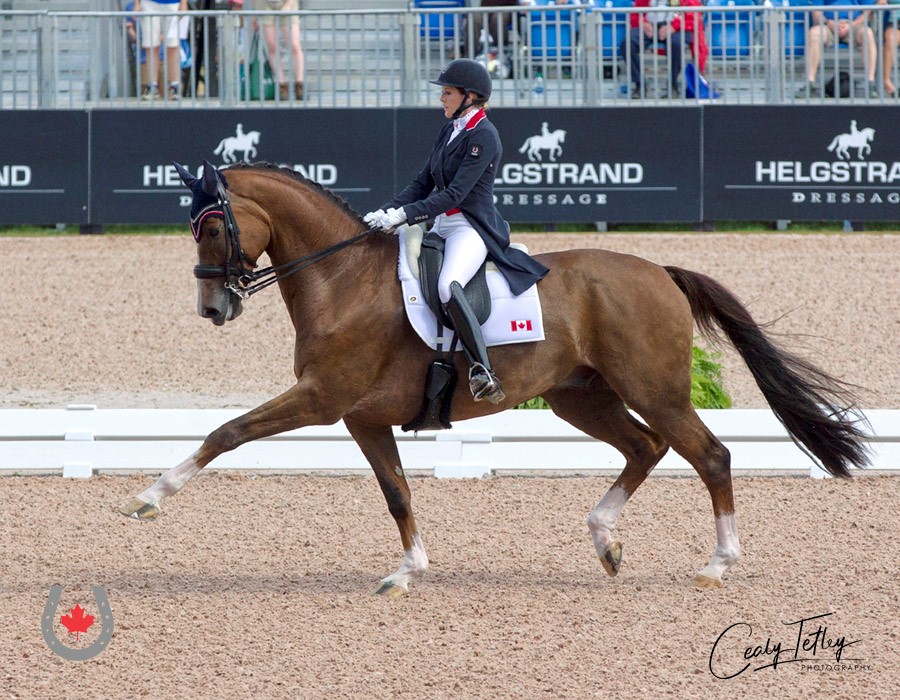 Brittany Fraser-Beaulieu of Saint Bruno, QC led the Canadian Dressage Team to an 11th place finish at the FEI World Equestrian Games ™ Tryon 2018 on Sept.13, 2018.
Photo Credit - © Cealy Tetley - www.tetleyphoto.com

Highlighted by high scores for individual movements, including 7.9 for one-tempis and 7.1 for extended trot, Beaulieu's performance made her the top-placed Canadian of the Games in 33rd place, just shy of the top 30 invited forward into the Grand Prix Special on Sept. 14.

Lane, who was also part of the silver medalist team in 2015 and competing in her fourth consecutive major games for the Canadian Dressage Team, picked up a hard-earned score of 60.901% aboard Zodiac MW (Rousseau x Amethist), a 14-year-old Dutch Warmblood gelding owned by Deer Ridge Equestrian.

Canadian fans are accustomed to seeing Lane with her long-time veteran partner, Caravella, who she competed with at all levels, from Young Rider to the 2016 Rio Olympics. For the past few years, Lane has also focused on bringing Zodiac MW up through the ranks, reaching the grand prix level in early 2018. In his first major games experience, Zodiac MW had a few bobbles in the piaffe movements mid-way through the test, but recovered to finish on a high note, earning scores of 7.4 in the canter pirouettes, 7.3 for a flying change, and nailing the final piaffe.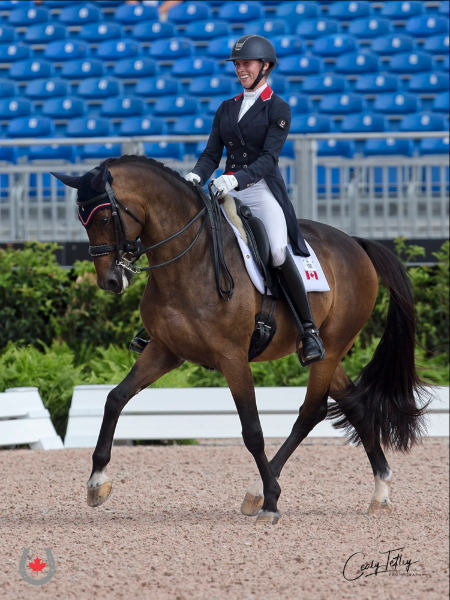 Partnered with Zodiac MW, Megan Lane of Loretto, ON completed her fourth consecutive major games for the Canadian Dressage Team at the FEI World Equestrian Games™ Tryon 2018 on Sept.13, 2018.
Photo Credit - © Cealy Tetley - www.tetleyphoto.com

"Zodiac came in a bit tense, but that was to be expected because it's his first international championship," explained Lane. "He's been doing the grand prix for less than a year. At this phase in their life, you don't really know what's going to happen in the arena, but I am very proud of him. He finished really well, which I am happy with."

Lane concluded, "Horses really keep you humble. It's a very humbling sport. You live and learn."

With the team competition concluded, the focus now turns to individual competition in dressage. The top 30 athletes will move forward to compete for individual honours in the Grand Prix Special on Sept. 14. From there, the 15 best-placed athletes will have the opportunity to perform their custom choreography set to music during the fan-favourite Grand Prix Freestyle on Sept. 16.

Next up for the Canadian Equestrian Team (CET) is the second and final day of the dressage portion of eventing on Sept. 14. For the full schedule, live results and more info visit https://tryon2018.com.

For full EC coverage of WEG 2018, including results news releases for all CET disciplines, breaking news, and games insider features, visit www.equestrian.ca/events-results/games/ridetotryon. Also be sure to check out EC's Facebook, Twitter and Instagram for unique content, including a daily WEG photo album.





 
 WEBSITE