A Celebration of Life will be on Saturday, October 13 from 1 - 4 at the Moose Lodge, 145 West St, Brantford.
---
I've written quite a few articles for the Rider over the years, but this is the hardest article I have ever written.  Its about a man and his love for his wife, of over 65 years, his kids and his horses.   Herb Towers loved life.  It is ironic that his passing was just before Thanksgiving, where people celebrate what they are grateful for.  So now when Thanksgiving comes next year, and people are showing their horses at Rockton and Norfolk Fairs, they will remember that Herb Towers and his colleagues were responsible for getting these shows in past years by establishing the Western Horse Association of Ontario back in 1952.

Herb grew up by the Brow in Hamiulton, ON, steps from where the incline railway climbed the Mountain at Wentworth Street.  School ended suddenly for Herb.  "I got to the front door of Cathedral and had to go to work. Dad was up and gone and Mom needed Herb's help to keep the family going.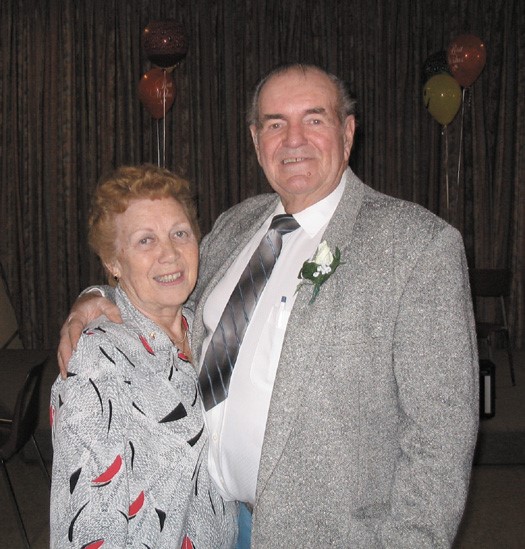 Herb and  Jean met at  work  They both worked for an area meat packer.   Jean was 17 when they got married.   Herb and Jean and the kids rented a little place at Mount Albion. They had a horse and Herb used to get home from work, saddle up, gallop all over what is now King's Forest Park. "Just bush and trails and creek then," he says.

Then he got to know Ken Soble, founder of CHCH. Soble had a spread on Highway 99 in Dundas and kept half a dozen horses there.  He hired Herb to be his ranch foreman -- free house and $85 a week. Duties included teaching Soble's daughter to ride. Soble, too, though a slowpoke mare suited him best.

The Bar 11 Ranch was on TV each weekday afternoon from 5 to 6:30. It lost a guitar-playing American named Bill Long and Soble asked Herb to take over.

He was a natural. His job was to introduce the cowboy picture, do some local interviews and handle the live ads in between -- for products like Mammy's Bread, Vam hair tonic, made-in-Hamilton Hoover vacuums.

There were programming changes and the TV gig ended. Herb soon decided that from then on, he was going to work for himself. He became a blacksmith and stuck at it for 48 years. "Only kicked twice," he says.  He would head off, sometimes all week, shoeing horses from here to Kingston. He'd sleep in the truck, cook steak on the barbecue.

And he used his TV speaking skills to announce horse shows big and small. The most memorable was the WHAO show at the CNE and the WHAO show at Garden City Raceway. He also became a well respected WHAO Judge all over Ontario.
Back in 1952 a group of cowboys got together and formed the Western Horse Association of Ontario.   The first page of the WHAO rulebook hasn't changed and it still reads " To promote horsemanship in Ontario, cultivate  relationships with other Organization…. "  The WHAO shows lasted 50 years and in all those 50 years Herb and Jean sponsored the Youth Horsemanship Class every year. Herb also managed to get an over 50 class at the Ancaster Fair of which I managed to win, a trophy I will cherish. 

Herb always had great stories to tell about all the old cowboys, Jack Price, George Southward, Jack Bridge, Leroy Kufsky just to name a few.  Herb was always there when you needed a question asked, Herb, we want to start a saddle club, how do we go about it?  Herb would come out and tell you the best way, the best classes and would come out and judge your show.   Herb and friends were instrumental in bringing Rodeo to Ontario.  A sport that has grown in leaps and bounds and something he was very proud of.  It has been my pleasure to call Herb my friend over the past 50 or so years.

Now we are celebrating his life, a full life, a life dedicated to his family, his love of golf but mostly his love of horses.  His dedication to this sport will always be remembered for years to come.  Herb touched so many lives, judged moms and dads, their kids and their kids kids.   Rest in peace Herb, ride the hills and valleys in the sky with all your pals until we meet again.
A Celebration of Life will be on Saturday, October 13 from 1 - 4 at the Moose Lodge, 145 West St, Brantford.
https://www.thespec.com/announcements-obituaries-memorials/obituaries-death-notices/8952441-towers-herbert-alan/#.W7zG5mDr3UI.facebook