With competition paused due to the COVID pandemic, it has been two years since Lamaze last stepped foot on the Calgary venue.
Calgary, Alberta – It has been 10 years since Eric Lamaze and the legendary Hickstead claimed their last major victory together at the Spruce Meadows 'Masters' tournament in Calgary, AB. A decade later, Lamaze will return to the international ring at Spruce Meadows with another feisty stallion, Dieu Merci van T&L, to take on the $2.5 million CP International, presented by Rolex, on Sunday, September 12, 2021.
With competition paused due to the COVID pandemic, it has been two years since Lamaze last stepped foot on the Calgary venue. He's returned with three horses in tow including his 2016 Olympic bronze medal partner Fine Lady 5; the stallion, Dieu Merci, that he plans to ride in Sunday's feature event; and a new mount, Kino, recently acquired from Japan's Karen Polle.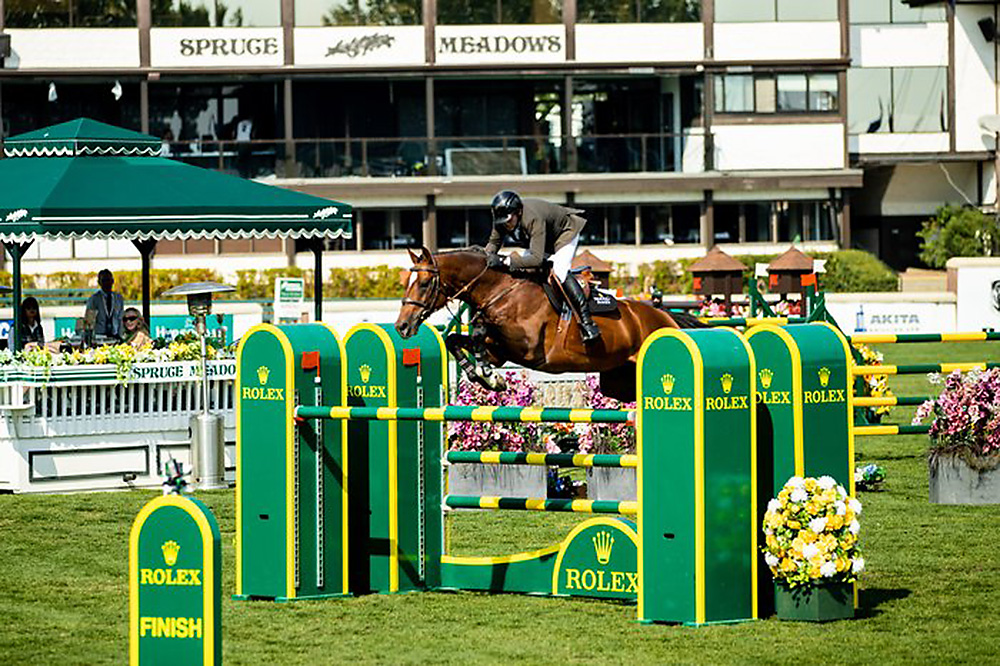 As the all-time leading money winner at Spruce Meadows with $6,689,287 in career earnings coming into the 'Masters' tournament running September 9 to 12, 2021, Lamaze plans to widen the gap this weekend. With top placings with all three horses on Thursday's opening day, he's already off to a strong start.
"One thing that Spruce Meadows has never done is that they have never lowered the standard," said Lamaze, 53, when asked why Spruce Meadows is his favourite venue to compete at. "You have to expect big things, great things, when you come to Spruce Meadows. Nothing is ever easy. Even with less Europeans here this year, don't expect the grand prix on Sunday to be any easier."
Lamaze also hopes to give show jumping fans, allowed on-site in limited capacity, a preview to the future when he tacks up Dieu Merci, whose name translates from French to 'thank god,' on Sunday.
"He's a fantastic horse that I've partnered with recently; he has all the quality and scope in the world," said Lamaze of the 12-year-old Belgian Sport Horse stallion (Toulon x Corrado I) that he owns in partnership with the Rein Family LLC. "He's a winner. He's very careful, he's genuine, he has all the power you need, and he has all the character you need. He can be feisty, being a stallion, but I like that. Hickstead was like that. He's an amazing animal. "You'll see the making of a superstar on Sunday," he promised.
Lamaze will face stiff competition from the likes of fellow Rolex testimonees Steve Guerdat and Martin Fuchs, both of Switzerland, as well as Great Britain's Scott Brash, who remains the only athlete to have ever won the Rolex Grand Slam of Show Jumping, accomplishing the feat in dramatic fashion at the 2015 edition of the Spruce Meadows 'Masters' tournament.
"It's fantastic to have the Rolex Grand Slam back running again," said Lamaze of the series that links together four of the best show jumping events in the world. "I consider it to be the Wimbledon of show jumping; it's in that league. It's a major, and it doesn't get any harder than that. It has been a busy few weeks with the Olympics, European Championships, and then Aachen (Germany) next week but riders like Scott and Steve are here for the Rolex Grand Slam. Scott is still the only one to have ever won the Rolex Grand Slam; to have witnessed it was incredible. He won in front of my own eyes, and it was the best day of sport in history."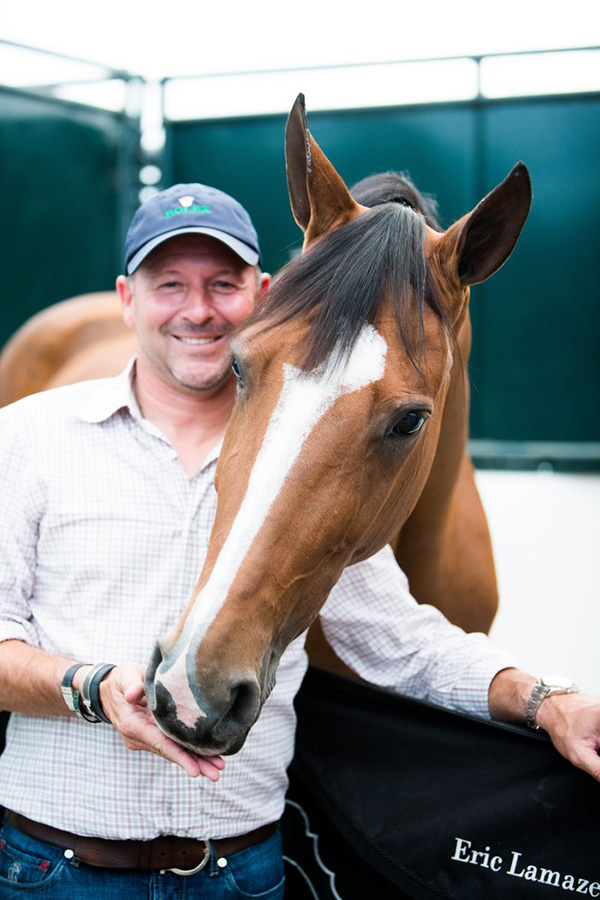 Lamaze made history himself by winning the CP International twice in his career riding Hickstead, claiming victory in 2007 and again in 2011. A life size bronze statue of Hickstead overlooks the Spruce Meadows plaza, reminding visitors of his enormous impact on the sport. Having won individual gold and team silver medals at the 2008 Beijing Olympic Games, Lamaze and Hickstead are true champions, and their combined accomplishments will be celebrated on October 3, 2021, when they are inducted into Canada's Sports Hall of Fame.
"It's a great honour and I'm very proud of this achievement in my career," said Lamaze of the upcoming induction ceremony, which will be held virtually for 2021. "Hickstead was incredible, one of a kind. It is well deserved on his part; I just went along for the ride."
Meanwhile, Lamaze believes the 'Masters' tournament will mark the last time that his other Olympic medal partner, Fine Lady 5, competes at Spruce Meadows. He'll be riding the 18-year-old Hanoverian mare (Forsyth x Drosselklang II) owned by Artisan Farms LLC and his Torrey Pines Stable as a member of the Canadian team in the $600,000 BMO Nations' Cup on Saturday afternoon.
"Fine Lady is a winner, and she knows her job well," he said, revealing that he hopes to breed Fine Lady 5 to Dieu Merci via embryo transfer in the near future. "She is healthy, she's sound, but she is also 18 and this is her last appearance at Spruce Meadows. I would like to finish her career in the Rolex Grand Prix at Geneva in December. I'm the only Canadian to have won the Rolex Top 10 Final and I did it in Geneva with that little mare."
In celebrating the 10-year anniversary of his last win in the CP International at Spruce Meadows, Lamaze is also celebrating 10 years as part of the Rolex family of testimonees.
"When you use the term 'family' it is very fitting," said Lamaze. "They've been the most wonderful sponsor anyone can expect to have. They are family, they're not just your sponsor. I'm very close with everyone and love to see them at every event. They are so supportive towards us. We're the luckiest people in the world."
No matter the outcome of this weekend's events at Spruce Meadows, Lamaze is already a winner.
To learn more about Lamaze and his Torrey Pines Stable, visit www.ericlamaze.com. 
PHOTOS
Top Photo: Eric Lamaze riding Dieu Merci van T&L on opening day of the 2021 CSIO5* Spruce Meadows 'Masters' tournament in Calgary, AB. Photo by Rolex / Ashley Neuhof
Bottom Photo: The all-time leading money winner at Spruce Meadows, Rolex testimonee Eric Lamaze with Fine Lady 5. Photo by Rolex / Ashley Neuhof