Fraser-Beaulieu finished runner-up in the CDI-W Grand Prix
Jennifer Ward / Starting Gate Communications for Equestrian Canada
Wellington, Fl., Feb. 14, 2022 – Canadian dressage athletes showed their competitive strength with Brittany Fraser-Beaulieu of Saint-Bruno, QC, leading the way during week five of the Adequan® Global Dressage Festival (AGDF) held from Feb. 10 - 13, 2022, in Wellington, FL.
During Thursday's opening day of competition, Fraser-Beaulieu finished runner-up in the CDI-W Grand Prix with a score of 71.895% riding All In, a 16-year-old liver chestnut Dutch Warmblood gelding (Tango x Damiro) that she owns in partnership with her father, Craig Fraser, and her husband, Marc-Andre Beaulieu.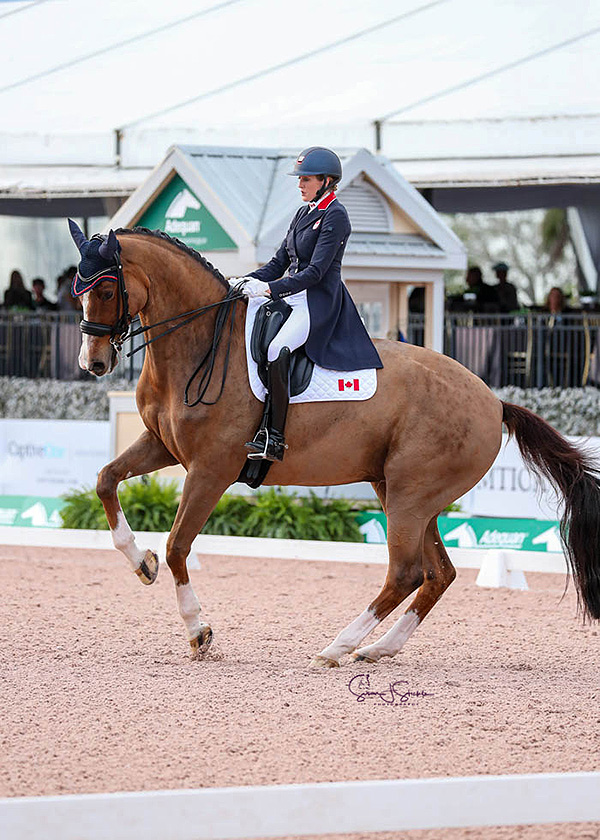 The following day, Fraser-Beaulieu and All In impressed the panel of five international judges to earn a score of 77.045% for fourth place in the CDI-W Grand Prix Freestyle among a competitive starting field of 11 entries. Complied by Dutch freestyle designer, Joost Peters, and featuring music that included Celine Dion's 'I'm Alive,' Fraser-Beaulieu's freestyle received artistic marks over 80% from all five judges.
"It was a good first outing of 2022," said Fraser-Beaulieu who represented Canada with All In at last year's Olympic Games in Tokyo, Japan. "Each time I go into the ring with All In, he gives his very best. Last year was such an incredible year for us that I told myself that anything else he gives me is a bonus.
"It was fun to do my freestyle," she continued. "We haven't been in the ring since competing in Aachen in September and he felt like he didn't miss a beat."
Fraser-Beaulieu's highest score in freestyle competition came during last year's AGDF when she earned 79.330%. She plans to enter the CDI5* division in two week's time and said, "I'm dreaming of getting 80% because we're so close. I hope we can reach 80% before All In retires. I think we can do it."
Her other goal is to compete at the annual World Cup Final which, this year, is scheduled to be held in Leipzig, Germany, from April 6 - 10, 2022.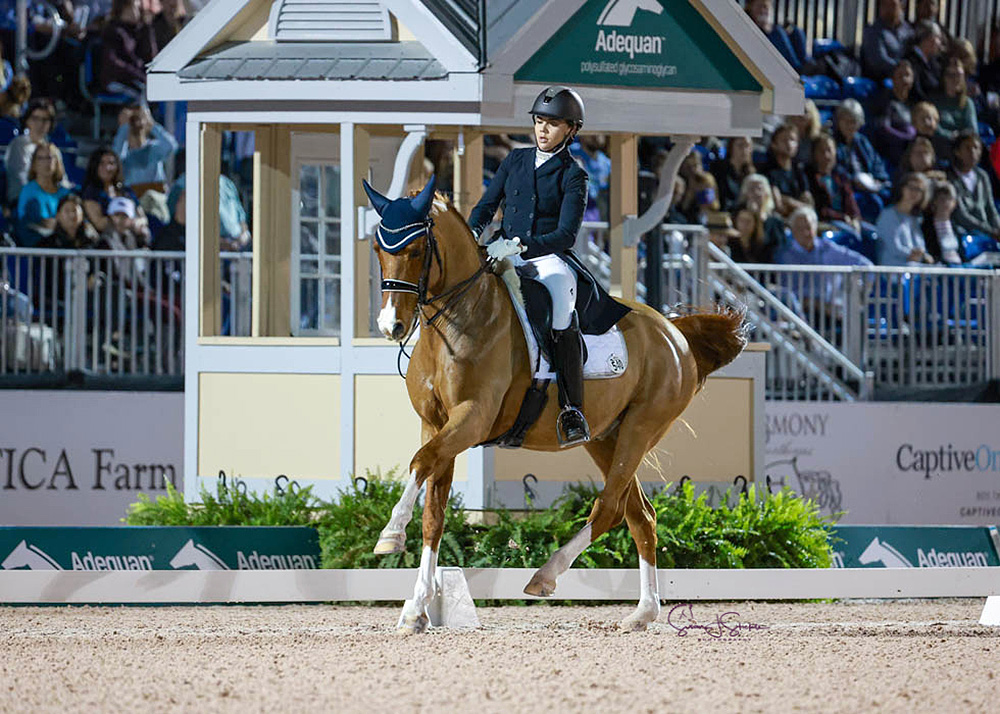 "I would love to get a starting place to go to World Cup," said the 33-year-old. "It's going to be tough, but that's what I'm aiming for. Last year I was invited but they had to cancel, so I'm hoping for an extra starting place. We'll be ready to go if we get invited."
Camille Carier Bergeron of Laval, QC, was the first rider down center line on opening day of competition. The 21-year-old won the first class on offer, the Under 25 (U25) Intermediaire II, with a score of 70.059% riding Acoeur, a 14-year-old Baden-Württemberg gelding (Acordelli x Ricardo) owned by Gilles Bergeron. Trained by Fraser-Beaulieu, Bergeron and Acoeur have recently reached the coveted number one spot in the U25 world rankings, which is open to athletes aged 16 to 25.
Ariana Chia, 30, of Winnipeg, MB, contested the CDI4* Grand Prix on Thursday, earning a score of 68.50% to place fifth overall. Competing under the lights on Friday night in front of a packed house, Chia and Fiderflame, her 12-year-old Oldenburg gelding (Fidertanz 2 x Abanos), performed their freestyle program to current, upbeat music for a score of 71.920% and sixth place overall.
Beatrice Boucher, 24, of St. Dominique, QC, impressed in the CDI1* division. Riding Summerwood's Limei, a horse bred in Canada by Claude Ménard and Lynda Tétreault, Boucher earned 70.912% to place fourth in the Prix St. Georges test. On Saturday, Boucher and the nine-year-old Hanoverian gelding (Londonderry x Weltmeyer) owned by Monica Von Glahn took second place in the Intermediaire I test with a score of 70.324%.
Athletes representing 14 different nations competed in the Fédération Equestre Internationale (FEI) division during week five of the AGDF.
For more information and full results, visit gdf.coth.com.
Photos:
Top Photo: Canadian Olympian Brittany Fraser-Beaulieu of St. Bruno, QC, and All In earned 77.045% for fourth place in the CDI-W Grand Prix Freestyle during the fifth week of competition at the AGDF in Wellington, FL. Photo Credit: Susan J. Stickle Photography
Bottom Photo: Ariana Chia of Winnipeg, MB, rode Fiderflame under the lights to earn a score of 71.920% and sixth place overall in the CDI4* Grand Prix Freestyle. Photo Credit: Susan J. Stickle Photography