The Ontario Sires Stakes and its accompanying Prospect Series are back in full force for 2022
 FEBRUARY 4, 2022 – One of North America's leading stakes programs, the Ontario Sires Stakes and its accompanying Prospect Series are back in full force for 2022, launching Confederation Cup weekend, May 21 and 22, at Flamboro Downs.
All four of the three-year-old Prospect Series classes will headline the Saturday, May 21 race card, and Confederation Cup Sunday (May 22) features the opening leg of the Grassroots Series for three-year-old pacing colts.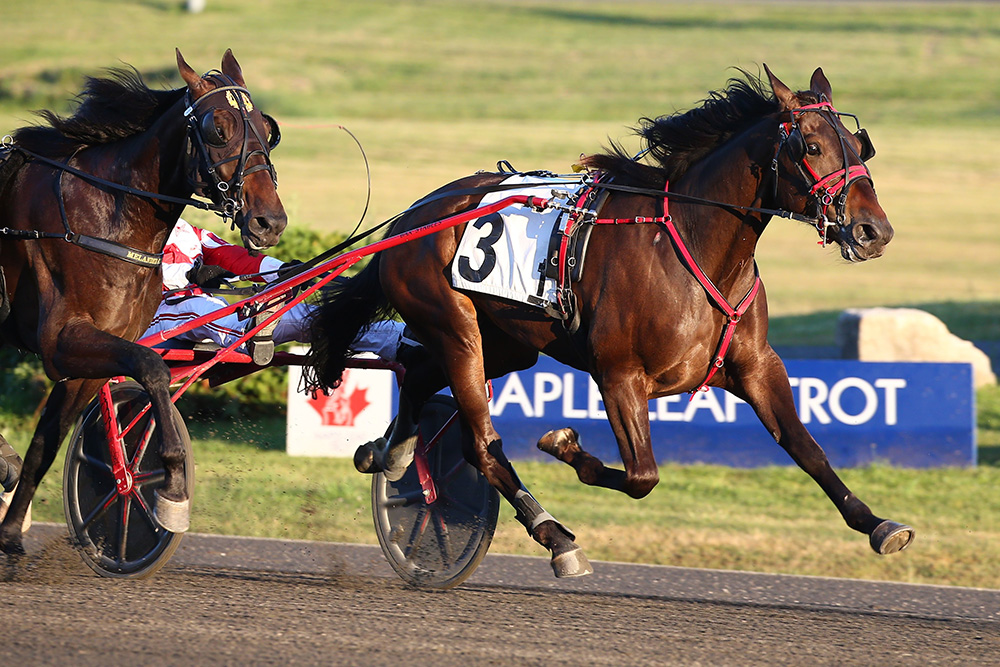 The Gold Series gets under way on May 30 at Woodbine Mohawk Park, with the first leg for the three-year-old trotting colts.
Veteran trainer John Bax will look for sophomore trotting gelding Duly Resolved to carry the momentum from a two-year-old campaign that saw him win three Gold Series divisions and earn $631,000 through 12 starts on his way to an O'Brien Award nomination.
"This (series) is what horse racing is all about. Developing a horse as a yearling then racing it as a two-year-old, and three-year-old," said Bax, "That's the reason I get out of bed in the morning, and this program is the best bang for your buck in North America."
Woodbine Mohawk Park will host the Grassroots Semi-Finals on September 22 and 23 with the Championships a week later, and the OSS season wraps up with the Gold Super Finals on October 15 at the Milton oval.
As per tradition, signature stakes events at racetracks across the province, such as the Kin Pace Final, Earl Rowe Trot, Industry Day, Balanced Image Final, Camluck Classic Night, and more, will feature legs of the Gold, Grassroots, and Prospect Series.
Updates To TO OSS Program
New in 2022, horses finishing sixth through last in the Gold Super Finals and Grassroots Championships will receive a one per cent share of the purse. In Gold and Grassroots Series divisions with 11 starters or multiple trailers, horses finishing sixth through last will also receive one per cent of the purse.
In addition, the Standardbred Improvement Program (SIP) Committee elected to increase the purse for single Gold Series divisions with 11 horses or multiple trailers to $190,000. Other single Gold Series divisions will once again compete for $150,000.
Horses racing at the Prospect Series level will enjoy three additional racing opportunities this season, with eight events for each age/sex/gait class going postward for $6,500 (added) per division.
Three of the sophomore legs will see two races go opposite the corresponding Gold and Grassroots Legs (i.e. Leg 1A and 1B opposite Leg 1), while all eight of the two-year-old events will have an A and B component, with the first leg getting under way opposite Leg 2 of the OSS events.
Starting fees for the Prospect Series remain at $100, while Grassroots Series starting fees increase to $400 and Gold Series starting fees move to $900.
"I think people will be pleased with the changes, especially the additional Prospect Series races," said Ian Fleming, General Manager of Clinton Raceway and SIP Committee and Ontario Racing Board member. "Overall purses have remained stable even with disruptions in wagering, and it's a season we're looking forward to getting started."
For the complete 2022 OSS and Prospect Series schedule visit: https://oss.ontarioracing.com/schedule/.

If you have questions about the 2022 OSS program, please email ossprogram@ontarioracing.com.

Photo: A two-year-old Duly Resolved, driven by Paul MacDonell, winning his William Wellwood Memorial Elimination at Woodbine Mohawk Park on Sept. 2, 2021. (Clive Cohen/New Image Media photo)