The CCI4*-S division attracted a large starting field of 34 entries.
Jennifer Ward/Starting Gate Communications for Equestrian Canada Fairburn, GA, April 11, 2022 – Canada's Dana Cooke won the CCI4*-S division at the Chattahoochee Hills International Horse Trials held from April 6 to 9, 2022, at the 8,000-acre Bouckaert Farm in Fairburn, GA.
The CCI4*-S division, the highest level of competition offered at the event, attracted a large starting field of 34 entries including 13 Canadians, all of whom successfully completed the three phases of competition. Many, including Cooke, were using the event as their final preparatory run before the upcoming Land Rover Kentucky Three Day Event from April 28 to May 1, 2022.
Originally from Merritt, BC, and now residing in Mooresville, NC, Cooke was sitting in fifth place following the opening phase of dressage with a score of 29 penalty points. Adding nothing to her score after jumping clear in the second phase of show jumping, Cooke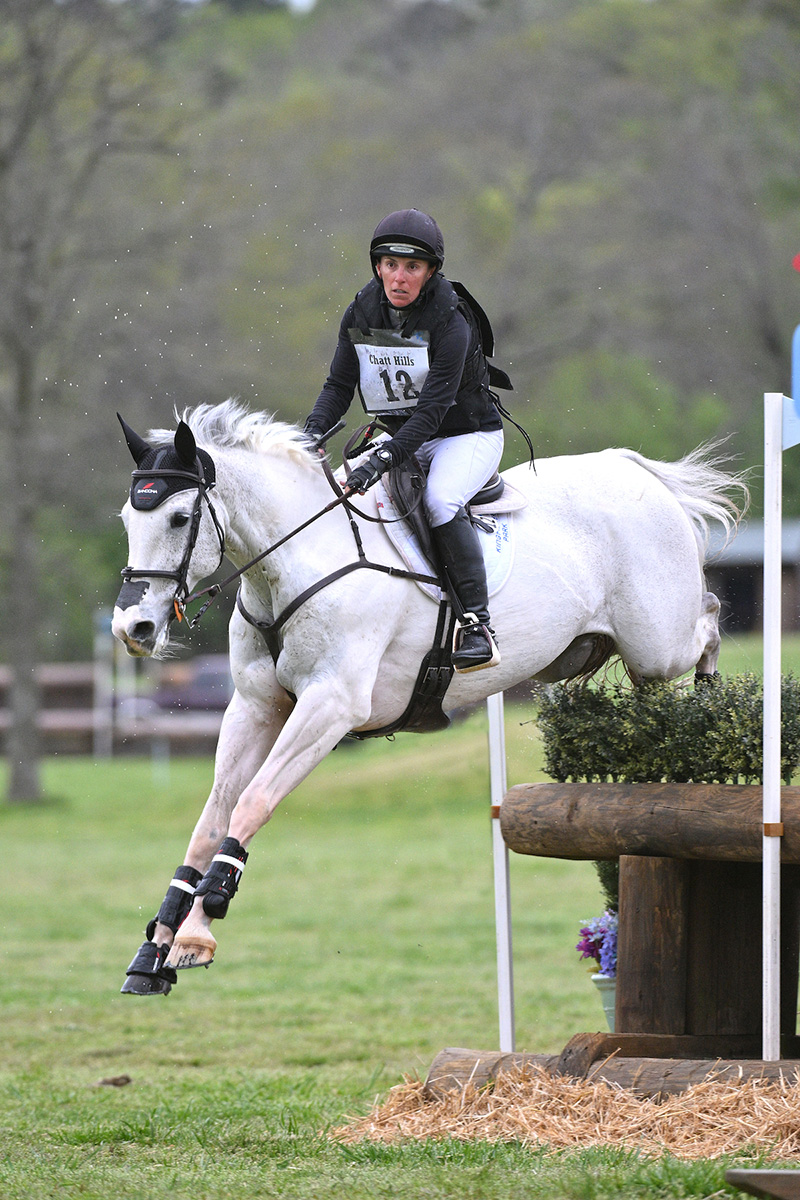 moved up into fourth position. A strong cross-country performance over the track set by British course designer, Hugh Lochore, saw Cooke add only four penalty points for exceeding the optimum time by 10 seconds. A final score of 33 penalty points gave Cooke the win over Olympian Joe Meyer, a veteran of the New Zealand Eventing Team, who finished with 33.3 penalty points riding Harbin.
Cooke's winning partner was Mississippi, a 12-year-old grey German-bred mare (Cassini II x Legaat) owned by the FE Mississippi Syndicate Inc. Chattahoochee Hills International Horse Trials was a fitting place for their first four-star victory, as the pair contested their first Fédération Equestre Internationale (FEI) sanctioned event together in the CIC1* division in 2016 at the same venue. It marked the second FEI career win for the partnership that also won the CIC3*-S division at Jersey Fresh International Three-Day Event in Allentown, NJ, in 2019.
"She's just getting more and more comfortable and established at the level," said Cooke, 34, who competed with a total of five horses across the various divisions offered at Chattahoochee Hills. "It's getting a little easier to put in a more consistent dressage test. I had a couple of silly mistakes in the test where I took a few things for granted, and then she jumped amazing in show jumping. It was probably one of the best rounds I've had with her."
Of the third and final phase of cross-country, Cooke noted, "It was definitely a tough, technical track that Hugh designed; it caught a few people out. He always designs a horse-friendly track; the horses all come out feeling confident and happy and ready to go again which is nice. They all seemed to jump really well. The footing this year is probably the best footing they've had here ever. I don't think it could have been any better."
Cooke will aim Mississippi at the CCI4*-S division of the upcoming Land Rover Kentucky Three Day Event at the end of April followed by her first trip to compete overseas at CCI4*-L Millstreet in Ireland from June 1 to 5, 2022.
"I've had her since she was four, she's another horse we got from Clayton Fredericks; she was literally still in quarantine when I tried her," said Cooke of the horse who carried her to the 2019 Pan American Games in Lima, Peru, as part of the Canadian team that won bronze. "We've been together a long time and she's taken me a lot of places. She was incredible all weekend."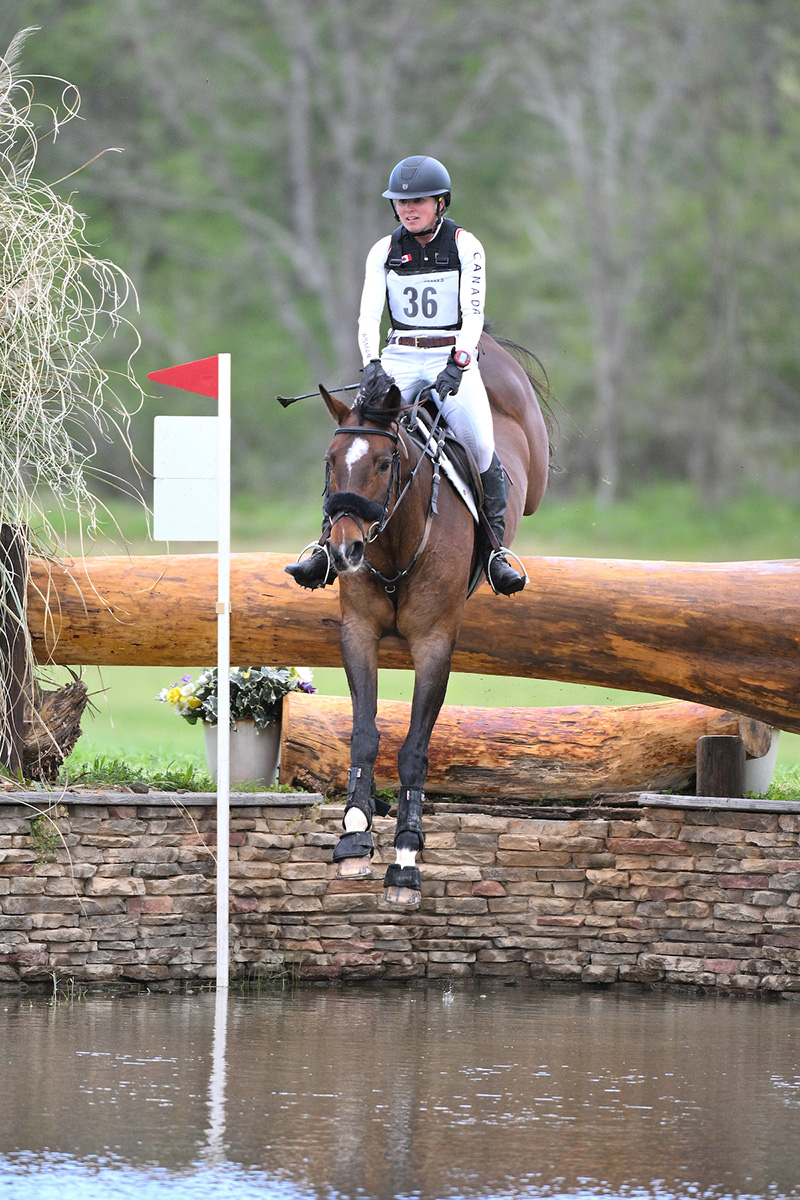 Two-time Canadian Olympian Jessica Phoenix, 38, of Cannington, ON, had the busiest weekend of all the four-star competitors, running a total of six horses in the CCI4*-S division. Her best result came with Freedom GS, a 10-year-old Canadian-bred mare owned by Charlotte Schickedanz. Sitting in 20th position following dressage, the pair made a dramatic move up the leaderboard with strong show jumping and cross-country performances to finish fifth overall with a final score of 40 penalty points.
Phoenix's student, Hanna Bundy, 27, of Toronto, ON, was hot on her heels to finish sixth overall riding Lovely Assistant, an 11-year-old American Thoroughbred mare (Colonel John x Silver Ghost) owned by Juliana Hansen. The pair jumped clear show jumping and cross-country rounds, picking up minor time penalties in both phases to finish with 42.6 penalties.
Phoenix also finished 11th and 12th in the final standings riding Bogue Sound and Mighty Mouse, respectively. Phoenix and Bogue Sound are headed to the Land Rover Kentucky Three Day Event to contest the CCI5* division, as is fellow National Team Program High Performance Athlete and two-time Olympian Hawley Bennett-Awad, 44, who finished 14th overall riding her 18-year-old British Sport Horse mare, Jollybo.
The lone Canadian entry in the CCI3*-S division was 23-year-old Shelby Brost who is currently based in Ocala, FL. Riding RHF Peterzano, Brost and the 10-year-old Hanoverian gelding (Perigueux x Now or Never) were consistent throughout all three phases of competition to finish fourth overall with a final score of 46.8.
For more information on the Chattahoochee Hills International Horse Trials, visit chatthillseventing.com/. For full results, visit evententries.com/#LiveScores
The Fork at Tryon International Equestrian Center in Tryon, NC, also hosted CCI4*-S competition the weekend of April 8 to 10, 2022. Two-time Olympian Colleen Loach of Dunham, QC, celebrated her 39th birthday by being the top Canadian finisher, taking sixth place with a final score of 38.5 penalty points riding Vermont, a 10-year-old Hanoverian gelding (Van Helsing x Heraldik xx) owned by Peter Barry. Loach also took 13th place with a score of 49.2 penalty points with her second entry, FE Golden Eye, a nine-year-old bay Hanoverian gelding (Goldfever 3 x Contendro I) that she owns in partnership with her mother, Maureen Lemay, as well as Peter Barry and Amanda Bernhard. Both horses are headed to the Land Rover Kentucky Three Day Event where they will contest the CCI4*-S division.
Only one competitor in the entire CCI4*-S division picked up jumping faults over the cross-country track designed by Mark Phillips but none of the 22 finishers made it home under the optimum time of six minutes and 29 seconds. U.S. Tokyo Olympic teammates, Doug Payne riding Vandiver and Phillip Dutton riding Z, both finished on a final score of 30.8 with the win going to Payne as the rider who finished closest to the optimum time.
For full results, visit evententries.com/#LiveScores.
Photo 1: Dana Cooke, originally from Merritt, BC, won the CCI4*-S division riding Mississippi at the Chattahoochee Hills International Horse Trials in Fairburn, GA. Photo Credit: Liz Crawley Photography 
Photo 2: Two-time Canadian Olympian Jessica Phoenix of Cannington, ON, completed the CCI4*-S division with six horses, including placing fifth with Freedom GS, owned by Charlotte Schickedanz. Photo Credit: Liz Crawley Photography