Competition began on April 14, with a total of 26 entries contesting the CDI3* Grand Prix.
Ocala, Florida Jennifer Ward / Starting Gate Communications for Equestrian Canada Ocala, FL., April 19, 2022 – Ariana Chia of Winnipeg, MB, was Canada's top placed athlete in the Grand Prix Special held as part of the CDI3* World Equestrian Center international dressage competition held in Ocala, FL, from April 13 to 17, 2022.
Competition began on April 14, with a total of 26 entries contesting the CDI3* Grand Prix. Megan Lane of Loretto, ON, emerged as the top Canadian performer, earning a score of 68.587% to place 10th overall riding Zodiac MW. Chia was close behind, placing 13th in the CDI3* Grand Prix after scoring 68.304% with Fiderflame.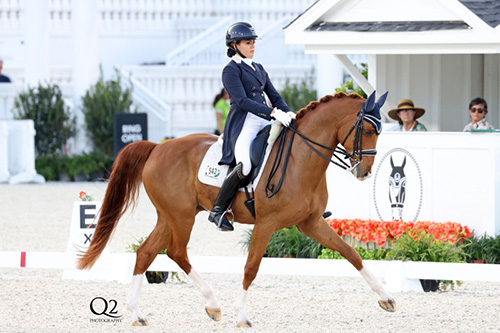 In Saturday's CDI3* Grand Prix Special, it was Chia who came out as the top Canadian, scoring a personal best of 70.213% to place fifth riding Fiderflame, her 12-year-old Oldenburg gelding (Fidertanz 2 x Abanos). Lane also broke the 70% barrier, earning a score of 70.106% to finish immediately behind Chia in sixth position with Zodiac MW.
"It was absolutely amazing, it really just all came together," said Chia of her Grand Prix Special performance. "We've been on the verge of breaking 70% all season and it was a nice, clean test. He's getting more confident in the piaffe and passage and that's been the goal all season. That was a highlight of our test, and his changes were great. The overall feeling was so nice. I'm so happy with him.
"I've had him since he was just a baby and done all the training on him," continued Chia who, as an 18-year-old, found Fiderflame in Germany when he was six months old. "I backed him and started him myself. It's been my lifelong partnership."
Chia debuted Fiderflame in the Fédération Equestre Internationale (FEI) Six-Year-Old division in 2016 and the pair has been steadily climbing the FEI ranks ever since, making the move up to the top level of Grand Prix in 2021. "This is only his second year at the Grand Prix level, and the whole goal has been to get him more confident and comfortable with all the movements and getting him fitter," continued Chia. "Now I feel like he's strong enough to do a good warm-up and still have some horse left, especially on a hot day like today."
Chia, now 30, is a great example of an athlete who has followed the pathway to success. She made three appearances at the North American Youth Championships, twice competing in the Junior division and once, in 2012, in the Young Riders' division. Now partnered with Fiderflame, she has successfully reached the highest level of the sport.
Lane, also 30, came up through the Young Riders' ranks as well with five consecutive appearances at the North American Youth Championships from 2008 through 2012. She has represented Canada at the 2016 Rio Olympic Games, the 2014 and 2018 World Equestrian Games, and the 2015 Pan American Games where she was a member of Canada's silver medal team.
"As the season has been going on, he's been feeling better and better, and this show is proof of that," said Lane of her partner, Zodiac MW, an 18-year-old Dutch Warmblood gelding (Harmony's Rosseau x Amethist). "He felt really honest, he was trying, and it was some of the best work I've had in the ring. I think his piaffe and passage were really strong and the trot tour in general felt really good."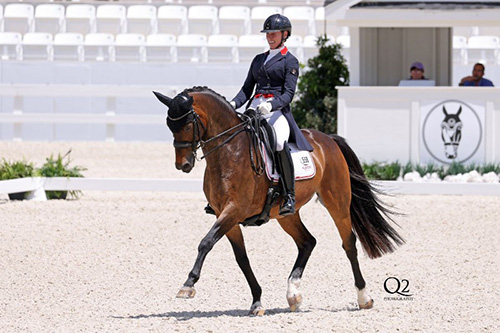 Lane is aiming Zodiac MW, who was her partner at the 2018 World Equestrian Games in Tryon, NC, for another World Championship appearance this summer in Herning, Denmark. The pair have been partnered together for 10 years, after Deer Ridge Equestrian purchased Zodiac MW as an eight-year-old at a sales barn in Holland.
"It's so amazing being at this venue because it has a major games feeling," said Lane of competing at the recently built World Equestrian Center - Ocala. "It's reassuring to feel what he would be like to ride in a place like this with the atmosphere and the scale of everything. It's been really exciting and a lot of fun."
Fellow Canadian Pia Fortmüller, 36, of Priddis, AB, also contested the CDI3* Grand Prix division riding Frieda, an 11-year-old black Hanoverian mare (Fuerstenball x Rouletto) that she has been training since Frieda was two years old. The pair scored 67.130% for 17th place in the Grand Prix and returned to the Grand Arena on Saturday to place 12th overall in the Grand Prix Special with a score of 67.192%. Frieda made her debut at the Grand Prix level in FEI-sanctioned competition earlier this winter during week three of the Adequan Global Dressage Festival in Wellington, FL, where she and Fortmüller won the CDI3* Grand Prix with a score of 70.457%.
For full results from the CDI3* World Equestrian Center - Ocala, which was hosting its first FEI sanctioned event of the 2022 season, visit results.equestrian-hub.com/show/3051#competition-47452.
Photo 1: Ariana Chia riding Fiderflame scored a personal best of 70.213% in the CDI3* Grand Prix Special on April 16, 2022, at the World Equestrian Center in Ocala, FL. Photo Credit: Q2 Photography
Photo 2: Canadian Olympian Megan Lane and Zodiac MW, owned by Deer Ridge Equestrian, contested the CDI3* Grand Prix division at World Equestrian Center – Ocala, FL. Photo Credit:Q2 Photography