A total of 10 horses qualified for the jump-off.
Ottawa, Ontario – For the second week in a row, François Lamontagne of Saint-Eustache, QC, won the Open Welcome at the two-week Ottawa Summer Tournaments at Wesley Clover Parks in Ottawa, ON. Having scored victory in the $20,000 Giant Tiger Open Welcome on Thursday, July 7, Lamontagne repeated his winning ways by topping the $20,000 Soltek Equestrian Open Welcome on Thursday, July 14. His mount for both wins was Chanel du Calvaire, his 14-year-old Belgian Sport Horse mare (Luccianno x Kashmir van Schuttershof).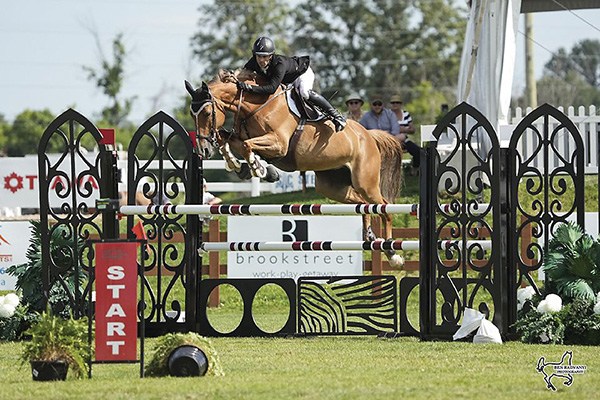 Unlike last week when there were five horses in the jump-off and two belonged to Lamontagne, the 38-year-old rider had his work cut out for him in the $20,000 Soltek Equestrian Open Welcome. A total of 10 horses qualified for the jump-off over the inviting track set by course designer Marina Azevedo of Brazil on Wesley Clover Parks' expansive grass field. With Chanel du Calvaire being his only entry, the task became even more challenging when he was the first rider back for the jump-off. Instead of worrying about the horses that would follow, Lamontagne laid it all on the line with a blazing fast jump-off performance in a time of 38.53 seconds. Only Hyde Moffatt of Brantford, ON, was able to lower the time, stopping the clock at 37.92 seconds riding Grafton, but a rail down left the pair in seventh place in the final standings.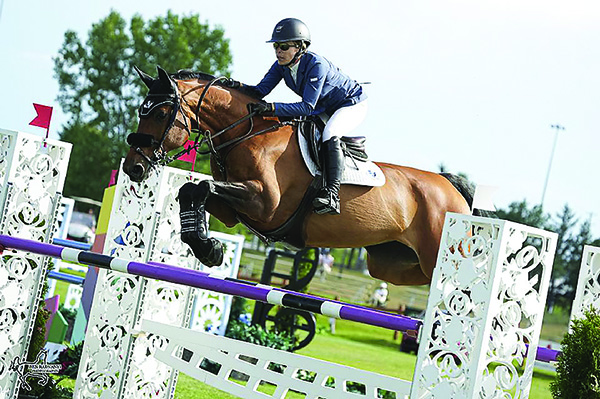 Susan Horn, 38, of Bolton, ON, came the closest to catching Lamontagne, laying down another clear round in a time of 39.64 seconds riding Chacca Keeps II, a 12-year-old Hanoverian mare (Chacco-Blue x For Keeps) owned by Kingsfield Farm.
Toronto's Stephanie Gallucci gave it her best shot riding Calle 67, a 13-year-old Westphalian mare (Carell x Capitalist) owned by Artemis Equestrian Farm LLC. Her jump-off time of 41.41 seconds still gave Lamontagne lots of breathing room and, in the end, the Quebec-based rider simply could not be caught. For the second week in a row, Lamontagne claimed victory in the Open Welcome.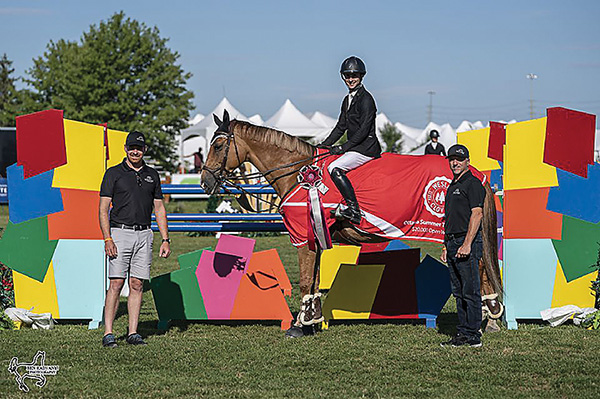 "The track was fair, a little light and small but just fine for the Welcome," said Lamontagne. "Marina is a very nice course designer, and very smart. The Grand Prix will be bigger and harder, but the course was nice for the job today. Thank you to Francis Leblanc from Soltek for sponsoring the Open Welcome." Lamontagne also had a promise for show jumping fans planning to come to Wesley Clover Parks this weekend.
"And I will be back on Saturday! I was not satisfied with my second-place last week," said Lamontagne, who was the runner-up riding Thunderbird vh Scheefkasteel in the $50,000 Steel-Craft Grand Prix on Saturday, July 9.
The $50,000 RBC Grand Prix will be the featured event of week two at the Ottawa Summer Tournaments beginning at 2 p.m. on Saturday, July 16. Other featured events include the $10,000 CHDS Horseware Open Hunter Derby on Friday, July 15, at 2 p.m. immediately followed by the $1,000 CHDS Junior/Amateur Hunter Derby. Two weeks of show jumping competition concludes on Sunday, July 17, with the $10,000 Mark Motors Group Modified Grand Prix at 2 p.m.
Spectators are invited to enjoy the competition at Wesley Clover Parks. Tickets may only be purchased in advance online at https://www.eventbrite.ca/e/ottawa-summer-tournaments-1-2-tickets-370628900017 and will not be sold at the gate. Cold beverages and snacks will be available in the beer tent overlooking the grass Grand Prix field. Additional spectator information can be found at https://www.ottawaequestriantournaments.com/spectators.
Livestreaming coverage from the Grand Prix field, offered in partnership with Equestrian Digital, is available at https://www.ottawaequestriantournaments.com/, or can be watched on the Equestrian Digital app (https://apps.apple.com/ca/app/equestrian-digital/id1183799348). Clips are available for competitors to download free of charge, courtesy of Equestrian Digital.
For more information on the Ottawa Equestrian Tournaments, visit www.OttawaEquestrianTournaments.com. Full results are available at www.ottawaequestriantournaments.com/results. Get the latest updates, news, and photos by following Ottawa Equestrian Tournaments on Facebook here and Instagram and Twitter @TheWCParks.
$20,000 Soltek Equestrian Open Welcome
Thursday, July 14, 2022
Rider / Hometown / Horse / Faults / Time
1. François Lamontagne / Saint-Eustache, QC / Chanel du Calvaire / 0:0 / 38.53
2. Susan Horn / Bolton, ON / Chacca Keeps II / 0:0 / 39.64
3. Stephanie Gallucci / Toronto, ON / Calle 67 / 0:0 / 41.41
4. Lauren Esdale / Seagrave, ON / Viamdios d'Avril / 0:0 / 41.82
5. Jessica Phoenix / Cannington, ON / Freedom GS / 0:0 / 44.44
6. Marie Messier / Laval, QC / Chacco Mio Al Khair Z / 0:0 / 44.68
7. Hyde Moffatt / Brantford, ON / Grafton / 0:4 / 37.92
8. Sam Pegg / Cannington, ON / Big Girl Z / 0:4 / 41.96
9. Amy Millar / Perth, ON / GCS Athena / 0:8 / 40.88
10. Hyde Moffatt / Brantford, ON / Gisborne VDL / 0:withdrawn
PHOTOS
François Lamontagne of Saint-Eustache, QC, riding Chanel du Calvaire won the $20,000 Open Welcome for the second week in a row at the Ottawa Summer Tournaments at Wesley Clover Parks in Ottawa, ON. Photo by Ben Radvanyi Photography
Susan Horn of Bolton, ON, was the runner-up riding Chacca Keeps II in the $20,000 Soltek Equestrian Open Welcome at Wesley Clover Parks on Thursday, July 14. Photo by Ben Radvanyi Photography
François Lamontagne aboard Chanel du Calvaire is presented as the winner of the $20,000 Soltek Equestrian Open Welcome by Francis Leblanc (left), President, and Paul Boudreau, Director of Operations, for Soltek Agregats Inc. Photo by Ben Radvanyi Photography
Stephanie Gallucci of Toronto, ON, was double clear riding Calle 67 to place third in the $20,000 Soltek Equestrian Open Welcome at Wesley Clover Parks. Photo by Ben Radvanyi Photography