"I was surprised that I was the only one to jump clear," said Moffatt.
Ottawa, Ontario – Hyde Moffatt of Brantford, ON, successfully defended his title in the $50,000 RBC Grand Prix held on Saturday, July 16, at the Ottawa Summer Tournaments at Wesley Clover Parks in Ottawa, ON. Having won the feature event in 2021, Moffatt returned to the winner's circle one year later with the same horse, Donjo. Proving his domination of the event, Moffatt also took second place with Grafton. Both horses are owned by Ariel Grange of Cheltenham, ON.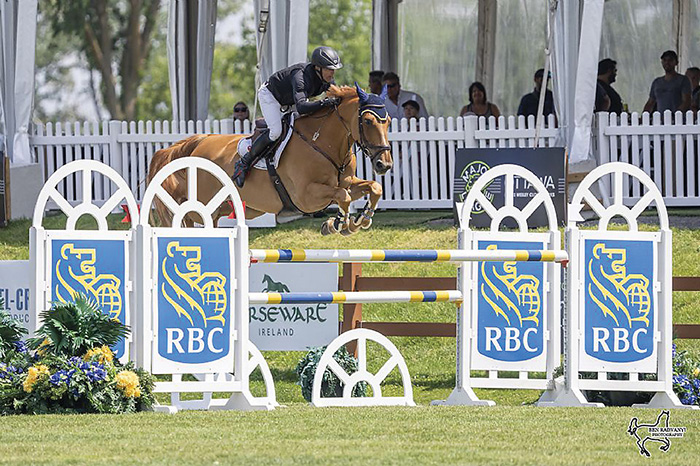 The grass field at Wesley Clover Parks was in prime condition to host top show jumping competition with a colourful and beautifully decorated course designed by Marina Azevedo of Brazil. While it may have looked inviting, rails fell throughout the course as rider after rider attempted to jump a clear round. Moffatt and Donjo had gone second in the order, proving a clear round was possible. However, no one else was able to leave all the rails in place, giving Moffatt the win without a jump-off. When the four-fault rounds were placed based on time, Moffatt found himself runner-up as well after producing a four-fault round in a time of 81.95 seconds aboard Grafton.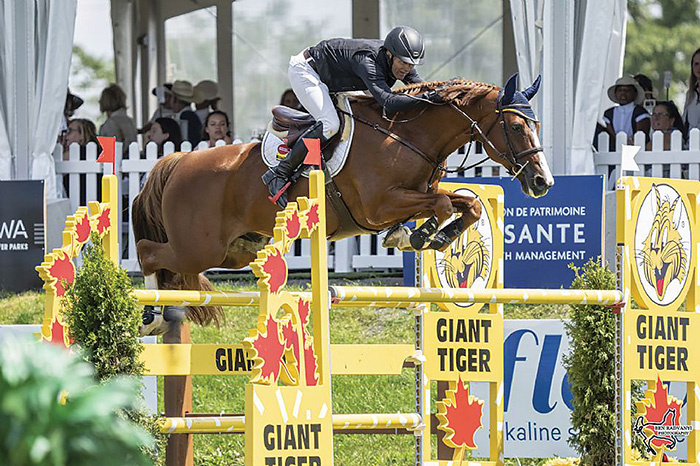 "I was surprised that I was the only one to jump clear," said Moffatt, 43, who brought seven horses to compete at this year's Ottawa Summer Tournaments. "It was a very fair test. I do think it was a bit stronger in terms of the build that we've seen in the province recently. A little bit of a step up for the horses, but I thought it was very fair and a nice way to introduce a few bigger jumps and it rode well. They were good questions, and they were very fair questions.
"I thought we might see a couple more clean," continued Moffatt. "It's very modern material, very light material, that doesn't tolerate mistakes. The footing is great, the weather is perfect, and we couldn't have had a better day."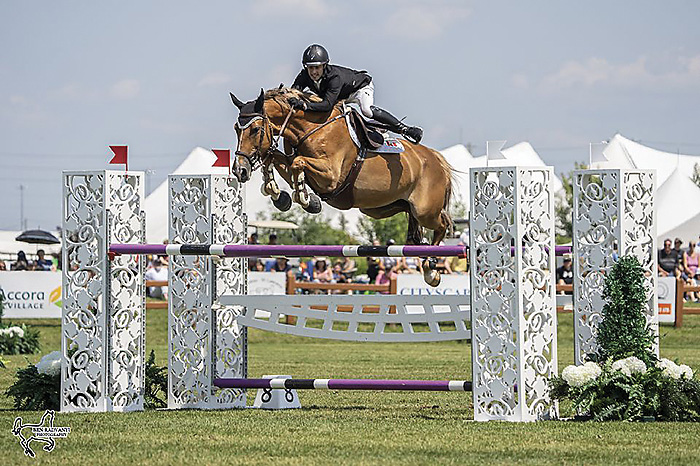 As for his winning mount, Moffatt noted, "He has not shown since the end of February, he's had some vacation time and is just ramping back up. He was a fraction on the rusty side earlier in the week and has come into his own as the week went on."
Moffatt began riding Donjo, a 14-year-old Dutch Warmblood gelding (Zirocco Blue VDL x Ahorn), at the beginning of the 2021 season. He's been partnered with Grafton, a 16-year-old Selle Francais stallion (Calvaro x Vondeen) since 2018, when the pair's first FEI-sanctioned event together was at Wesley Clover Parks.
"I like that we're still on a natural surface; it's one of the few opportunities that we have to jump on the grass these days," said Moffatt of competing at Wesley Clover Parks. "I like this style of show. We have lovely jumps, and everything about the place itself is very accommodating. Plus you're in Ottawa! It has wonderful atmosphere, and fantastic restaurants. I've been running down to the Parliament buildings every couple days on the trail system, it's about 40km. You run past Bluesfest. It's amazing. They are playing and you're running on the trail beside it. It's really cool!"
Not content to confine his athletic abilities to the show ring, Moffatt is planning to compete in a half-Iron Man in December although he notes, "I don't do it to be competitive, I do it to challenge myself."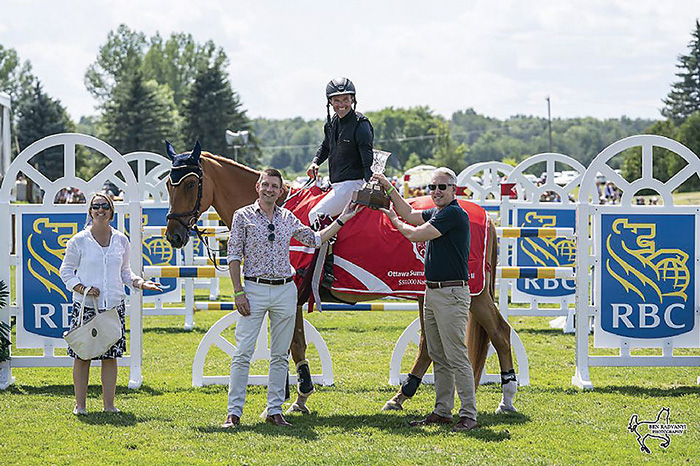 Of his win in the $50,000 RBC Grand Prix, Moffatt concluded, "Thank you to my owners for the opportunity to be here, and to RBC and Wesley Clover Parks. They've done an amazing job yet again!"
Having won the Open Welcome both weeks of the Ottawa Equestrian Tournaments, François Lamontagne, 38, of Saint-Eustache, QC, was hungry for a Grand Prix victory. It was not meant to be, however, as a rail down with Chanel du Calvaire, his 14-year-old Belgian Sport Horse mare (Luccianno x Kashmir van Schuttershof), would leave the pair third in the final standings with a time of 83.06 seconds.
Lauren Esdale of Seagrave, ON, also had a rail with her mount, Viamdios d'Avril, and crossed through the timers in 83.42 seconds to finish fourth while David Arcand of Boisbriand, QC, rounded out the top five with four faults in a time of 83.83 seconds riding Dollar del Colle. 
For more information on the Ottawa Equestrian Tournaments, visit www.OttawaEquestrianTournaments.com.
Full results are available at www.ottawaequestriantournaments.com/results.
$50,000 RBC Grand Prix Saturday, July 16, 2022
Rider / Hometown / Horse / Faults / Time
1. Hyde Moffatt / Brantford, ON / Donjo / 0
2. Hyde Moffatt / Brantford, ON / Grafton / 4
3. François Lamontagne / Saint-Eustache, QC / Chanel du Calvaire / 4
4. Lauren Esdale / Seagrave, ON / Viamdios d'Avril / 4
5. David Arcand / Boisbriand, QC / Dollar del Colle / 4
6. Stephanie Gallucci / Toronto, ON / Broken Heart / 6
7. Marie Messier / Laval, QC / Chacco Mio Al Khair Z / 8
8. Julia Wiggins / Kanata, ON / Lynnford AS / 11
9. Stephanie Gallucci / Toronto, ON / Calle 67 / 12
10. Jay Hayes / Mono, ON / Elton John / 12
PHOTOS:
Hyde Moffatt of Brantford, ON, successfully defended his title riding Donjo in the $50,000 RBC Grand Prix held Saturday, July 16, at Wesley Clover Parks in Ottawa, ON. Photo by Ben Radvanyi Photography
Hyde Moffatt produced the fastest four-fault effort to finish second with Grafton in the $50,000 RBC Grand Prix at Wesley Clover Parks. Photo by Ben Radvanyi Photography
François Lamontagne of Saint-Eustache, QC, aboard Chanel du Calvaire was third in the $50,000 RBC Grand Prix. Photo by Ben Radvanyi Photography
Hyde Moffatt aboard Donjo is presented as the winner of the $50,000 RBC Grand Prix. Presenting from left to right: Karen Sparks, Executive Director of Wesley Clover Parks; Justin Schurman, Regional Vice President, Business Financial Services, for RBC; and Glenn Sheen, Regional Director, Marketing and Citizenship, RBC. Photo by Ben Radvanyi Photography