The tight knit group of young athletes are all from Ontario.
Traverse City, MI, August 12, 2022 – The Children's Jumping Team of Mathilde Candele, Livia Martin, Taylor Wood and Tristan Tobin captured the gold medal in an exciting two rounds and jump-off on August 11 at the North American Youth Championships (NAYC) in Traverse City, Michigan.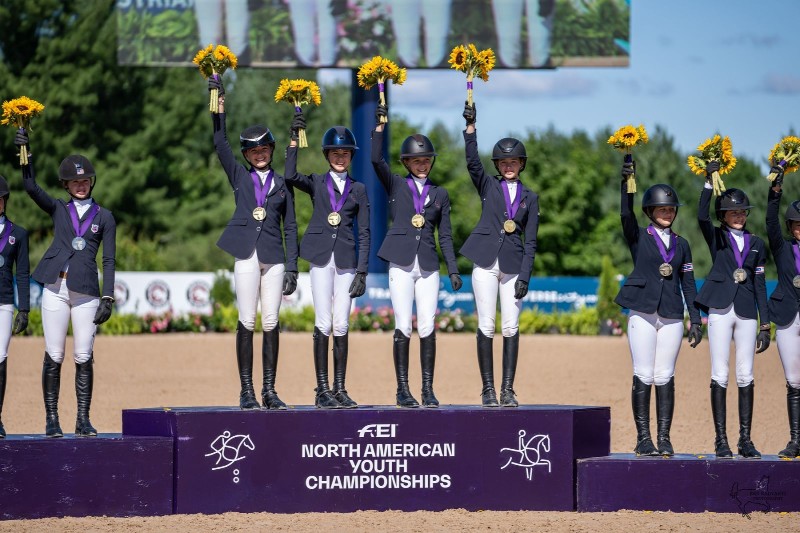 After Canada went double clear with three scores in the first two rounds, they entered a jump-off against United States Zone 2 to determine who would finish on top of the podium. The tightknit group of young athletes, who are all from Ontario, were successful in facing the pressures of a jump-off, jumping clear in three scores to win the gold medal over the Americans, who incurred one fault to earn the silver medal.
Competing at her first NAYC, Mathilde Candele of Orangeville, ON, has been enjoying her experience at the event. "I love the show," she said. "It's very pretty and organized, everyone is welcoming." Riding her own Disco de Pleville (Contendro x Dollar Dela Pierre), a nine-year-old Selle Francais gelding, the twelve-year-old, who is the daughter of Canadian Olympic Equestrian Yann Candele, completed a speedy jump-off round of 28.82.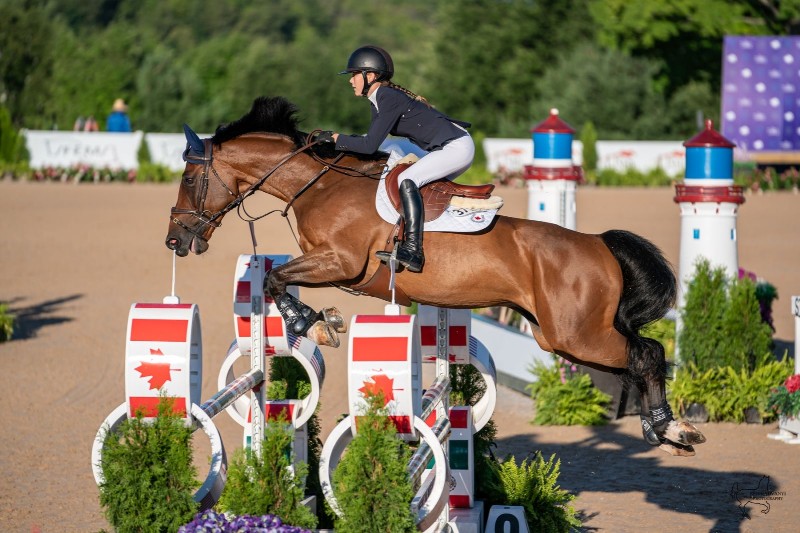 As luck would have it, Candele has been specifically working with her horse on jump-offs. "I got him in the beginning of January, and at first he couldn't turn very well, but we've been working on turning, going forward and back." When asked about her father, with a slight chuckle, "I think he's a good trainer, we walked the course prior to the competition – he's helped me with making Disco a better jump-off horse."
A close friend of Candele's, Livia Martin of Manotick, ON, competed in her second NAYC in as many years, competing with her own Coradi (sired by Ce Matin), a 10-year-old Macklenburg Warmblood gelding, the same horse as last year. Martin was the lead-off for the team and helped them reach the podium with a time of 30.03 in the jump-off round.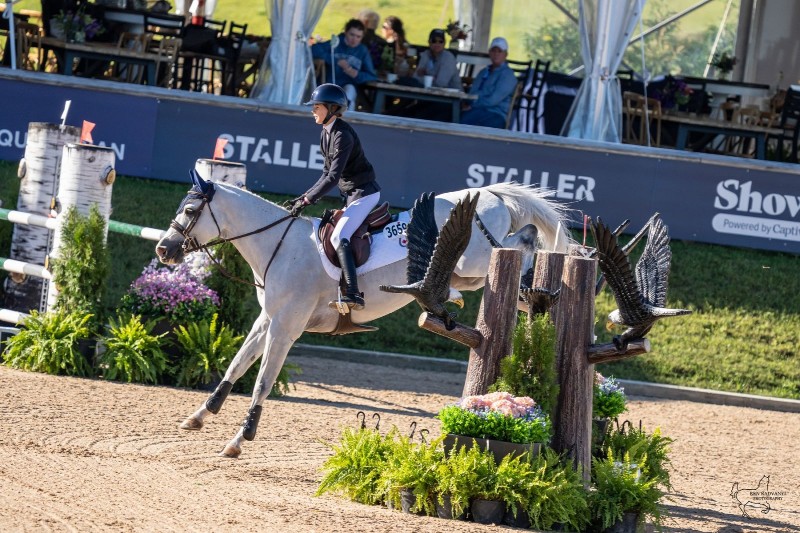 Also on the last year's team, Taylor Wood of Manotick, ON, was competing this time on a new horse, riding her own Joyride (Quidam Junior x Cavalier Royale), a nine-year-old Irish Sport Horse gelding. "Last year, we had only three of us on the team, Dayton asked me to come back and I brought a different horse I've had for a year and half." Wood, who is coached by 10-time Canadian Olympian Ian Millar, was thrilled with his performance, "Joyride was amazing today! I can't describe it, he was so good, it was a lot of pressure and I'm very happy," she said.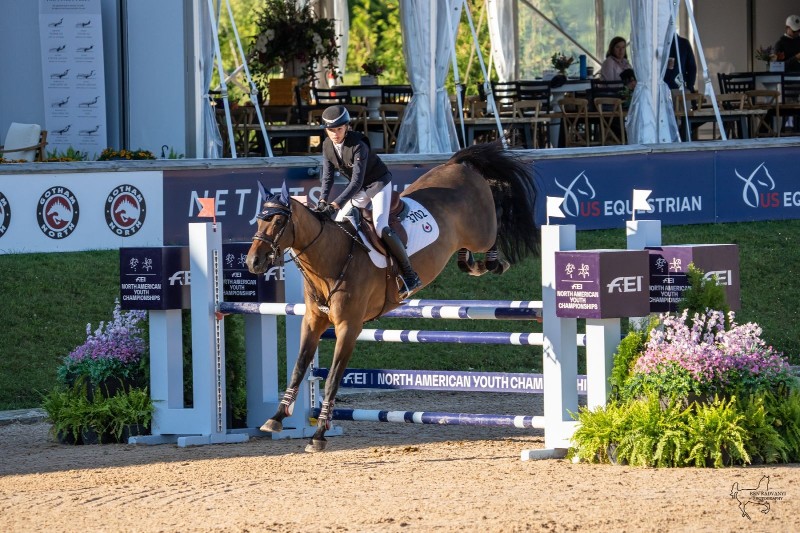 The fourth member of the team was Tristan Tobin of King City, ON, who was also competing in her first NAYC. Riding Dartagnan Z (Diamant de Semilly x Chellano Z), a 17-year-old Belgian Warmblood gelding owned by Reese Tobin, the 14-year-old Canadian athlete has really enjoyed the camaraderie and atmosphere at NAYC. "It's been a blast getting to know my teammates and being here with my horse," she said when asked about her experience at the championship.
The team was lead by Chef d'Équipe Dayton Gorsline, who was extremely happy with the result but moreover proud of the team. "It's nice to win, but also, it's a nice group of kids. Not just the children but a good group across the board, I think there is a very good group feeling as the senior riders get along with the younger ones."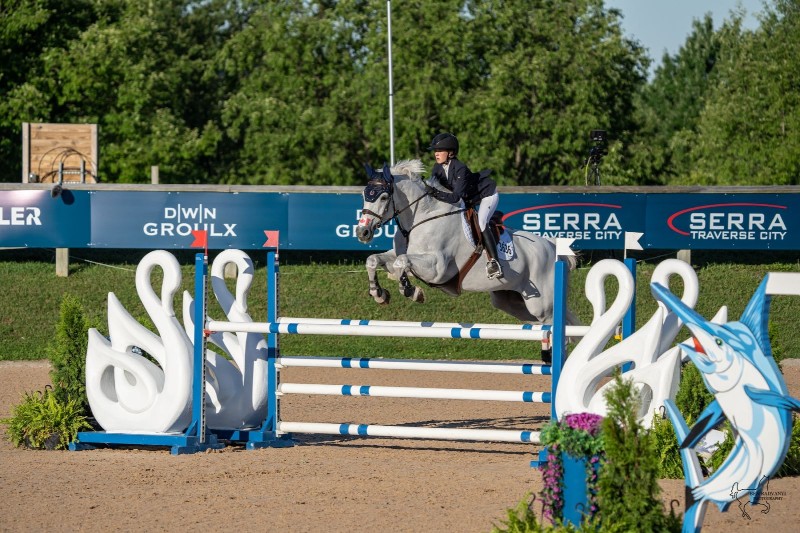 Gorsline added, "two of the children's riders were on the team last year, they were our lead off and anchor and they dealt with the pressure very well – it was our day today, sometimes you get some luck!"
The team is looking to continue in the young riders program, "they move up to the pre-juniors next year – which they are all excited about but they are also excited to continue in the young riders program for a period of time – which is a nice thing," the Chef d'Équipe explained.
Canada looks to continue throughout the weekend at the NAYC in both jumping and dressage disciplines. For more information on the North American Youth Championships, please click here.
PHOTOS TOP TO BOTTOM:
1/ Canada atop of the podium at the North American Youth Championships Photo Credit: Ben Radvanyi
2/ Candele and Disco de Pleville competing at the NAYC in Traverse, City, MI Photo Credit: Ben Radvanyi Photography
3/ Martin and Coradi clearing a jump in her second NAYC. Photo Credit: Ben Radvanyi Photography
4/ Wood and Joyride Photo Credit: Ben Radvanyi Photography
5/ Tobin and Dartagnan Z Photo Credit: Ben Radvanyi Photography