Tiffany Foster Qualified for Individual Final.
Herning, Denmark – The Canadian Show Jumping Team finished tenth overall in the Team Final held on Friday evening, August 12, at the ECCO FEI 2022 World Championships in Herning, Denmark.
Following the first round of team competition on Thursday, August 11, which saw 22 nations start, the top 10 teams moved forward to Friday's Team Final. Held under the lights in the Stutteri Ask Stadium with a large crowd in attendance, the course designed by Louis Konickx of the Netherlands dramatically shook up both the team and individual leaderboards.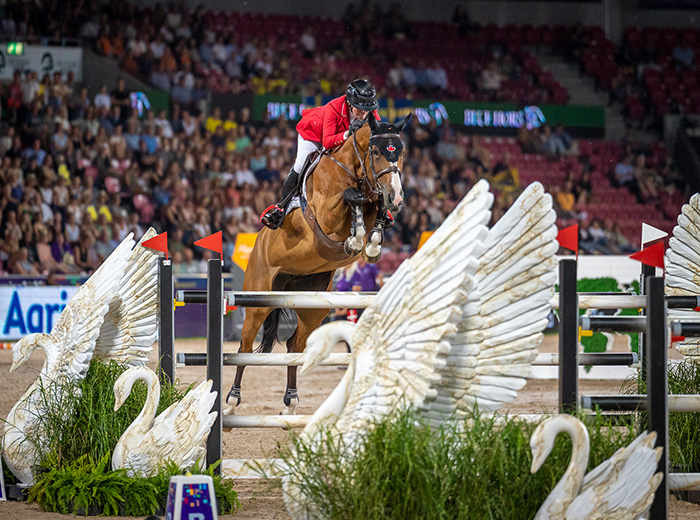 Canada was sitting in eighth position with a total of 15.56 penalties coming into the Team Final. Luck was not on Canada's side, however, as its lead-off rider, Beth Underhill of Mulmur, ON, was eliminated following her round when a trace amount of blood was found on the side of Nikka vd Bisschop, a nine-year-old bay Belgian Warmblood mare (Emerald x Nabab de Reve) owned by Rein Family LLC and Torrey Pines Stable Inc.
"I didn't see it myself because I was training the next rider but if the horse had a mark, it had a mark," said Canadian team chef d'equipe Eric Lamaze of the spur rub. "It would not have been made on purpose, but Beth would have had to use her leg. It can happen. Beth did her job; her horse greened up on her and she refused to abandon. The mare was under the lights and she's nine-years-old and she's learning. Beth has the attitude and the mileage to come out and do this. She was simply riding a horse that got green on her and she reacted positively and gave the horse a good experience."
With its first rider eliminated, the next three scores all had to count towards Canada's team total. Erynn Ballard, 41, of Tottenham, ON, had three rails to add 12 faults riding Gakhir, an 11-year-old chestnut Dutch Warmblood gelding (Spartacus TN x VDL Indorado) owned by Ilan Ferder and Esperanza Imports LLC.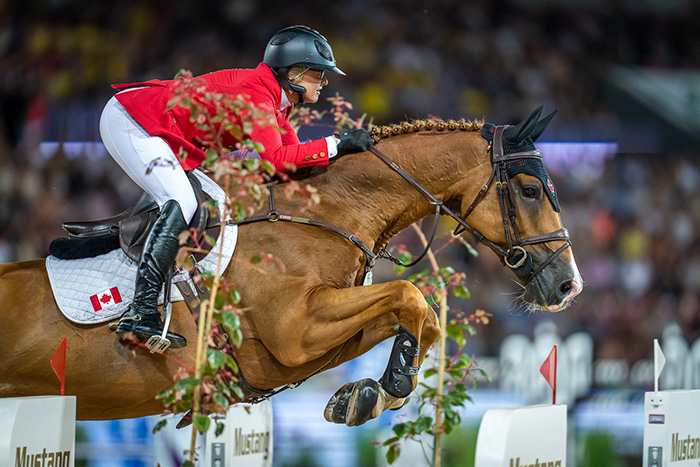 Tiffany Foster, 38, of Langley, BC, had impressed with clear rounds in Wednesday's speed round and again in the first round of the team competition riding Figor, an 11-year-old bay Dutch Warmblood gelding (Querly-Elvis x Indoctro) owned by Foster and Artisan Farms LLC. When the vertical at fence seven fell followed by the final jump on course, another eight faults were added to Canada's tally.
Amy Millar, 45, of Perth, ON, was the final rider on course for Canada. Riding Truman, a 13-year-old Selle Français gelding (Mylord Carthago x Kolibri) owned by Millar Brooke Farm Ltd. and Overlund, Millar only had one fence down at number six, but picked up four time penalties for exceeding the tight time allowed of 83 seconds for a total of eight faults.
With a final score of 43.56, Canada finished in tenth place overall. The reigning Olympic champion, Sweden, won its first World Championship title with a score of 7.69 while the Netherlands claimed silver with 19.31 penalties thanks to a clear round from anchor rider Harrie Smolders and Monaco N.O.P. Great Britain moved from sixth place into bronze medal position with a final score of 22.66 thanks to a clear from 23-year-old Harry Charles riding Romeo 88.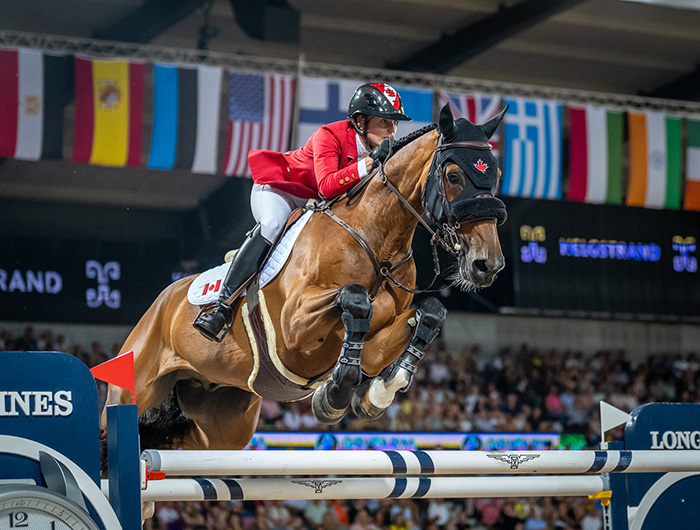 "At the World Championships, you must stay calm to the end and concentrate on your riding and just ride better and better," said Canadian Show Jumping Team chef d'equipe Eric Lamaze who competed in the past seven consecutive World Championships. "Instead, some of our riders tried to overachieve and didn't rely on their sheer talent to get this done. They just weren't on their games; they didn't go in the ring and deliver. They have to learn to do it.
"To watch so many individuals having rails before the team competition started wasn't good for their confidence," continued Lamaze, referring to the fact that the top 60 riders who were not members of the top 10 teams had the opportunity to ride for individual scores prior to the start of the team final. "That's where experience comes in. Watching the individuals got to them and they thought it was unjumpable. They needed to be smooth, have pace, and let their horses jump. Instead, they went to war with the course. They didn't have the right reaction and they let their horses feel the pressure. They didn't rise to the occasion."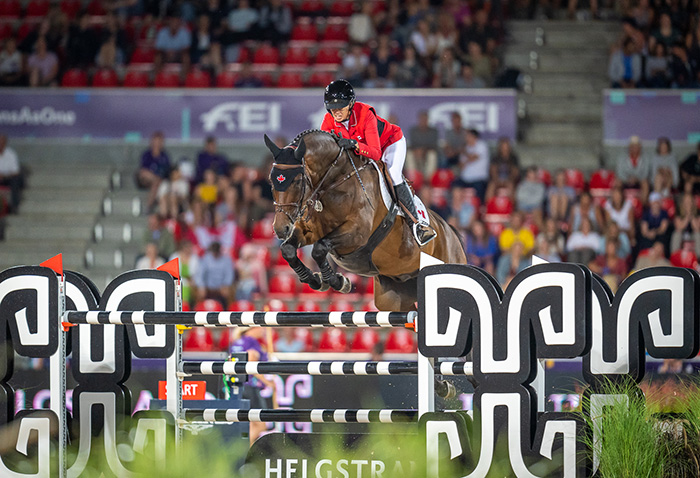 Lamaze concluded by saying, "I take full responsibility for my riders not being on top of their game. They got out-ridden. Not necessarily in the skill department, but in the international mileage department. It's not easy to jump three days in a row. They rode their hearts out yesterday and they needed to do that again today. We started off well and our plan was good – our second day proves that – but they didn't finish the job. That's why we need to be in Europe as much as we can, to help them learn how to ride in a tough second round. We need to work on the mental part of the game. We got to the second round and some people might call that a win but that's not what I'm about and this was not a way to finish a championship. If you get that close, you don't let it slip away. We must get better." Following a day of rest, the top 25 ranked riders now move forward to the Individual Final on Sunday, August 14, beginning at 2 p.m. local time.
Following the first round, the top 12 riders move forward to a second round and, if required, a jump-off to determine the individual medal winners. Olympic team gold medalist and now World Championship team champion Henrick von Eckermann of Sweden sits at the top of the standings with a score of .58 riding King Edward. His teammate, Jens Fredricson, is now in second position with 2.71 riding Markan Cosmopolit followed by Belgium's Jerome Guery and Quel Homme de Hus with 3.35.
Foster, currently in 15th position with 8.95 penalties, is the only Canadian qualified for the Individual Final. Millar ended her World Championship debut in 39th position individually with 17.03 while Ballard, who was competing in her second consecutive World Championships, finished 44th with 22.40 penalties.
For more information on the ECCO FEI World Championships, visit https://herning2022.com/. For full results for all disciplines, visit https://www.longinestiming.com/equestrian/2022/ecco-fei-world-championships-herning.
Live streaming of all events is available with a subscription to FEI TV/ClipMyHorse at https://www.clipmyhorse.tv/en_EU/fei-tv.
PHOTOS:
Beth Underhill of Mulmur, ON, and Nikka vd Bisschop, owned by Rein Family LLC and Torrey Pines Stable Inc. Photo by Arnd Bronkhorst Photography
Erynn Ballard of Tottenham, ON, and Gakhir, owned by Ilan Ferder and Esperanza Imports LLC. Photo by Arnd Bronkhorst Photography
Tiffany Foster of Langley, BC, and Figor, owned by Foster and Artisan Farms LLC. Photo by Arnd Bronkhorst Photography
Amy Millar of Perth, ON, and Truman, owned by Millar Brooke Farm Ltd. and Overlund. Photo by Arnd Bronkhorst Photography