Saturday August 13, 2022 - Para-Dressage
Herning, DEN August, 13, 2022 – The temperature was not the only thing that has been heating up as the world championships hit the one-week mark in Denmark. Held over the last two days, steep competition met the Canadians as the Para Dressage teams were gathering to contest for a national medal in the BB Horse Arena.
It was a very warm Friday evening having reached an unusual high of 30 degrees just an hour before. First to enter the ring for Canada was Grade I Paralympic athlete Jody Schloss of Toronto, ON, riding her own 18-year-old Danish Warmblood gelding Lieutenant Lobin (Lobster x Fanal Prydsholm). Once into the field of play, the pair seemed a little off their game, and unfortunately that was reflected in their score of 65.179.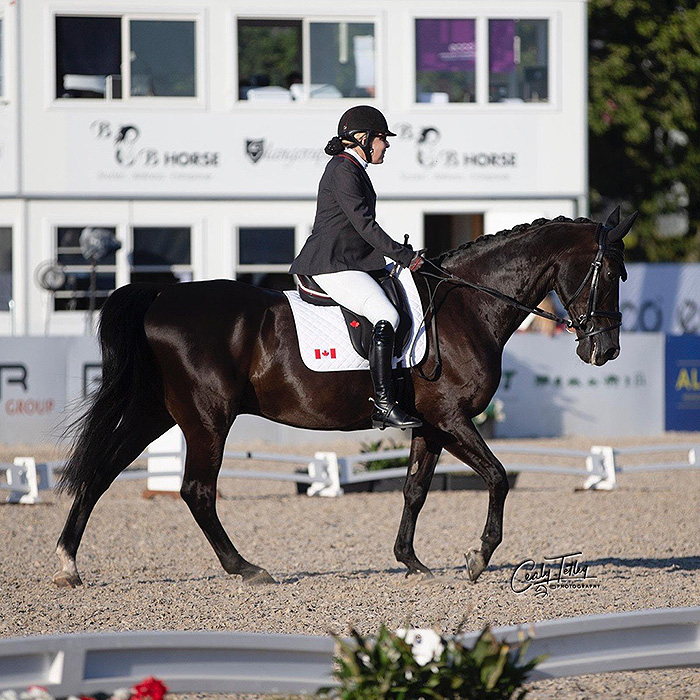 Schloss made no excuses and indicated that the day just wasn't hers, "Lobin is always a really good boy, but I think today he was a bit distracted. I was not expecting him to be difficult, but he's a horse! And he can't be perfect all the time."
Her coach, Karis Van Essen, a Grand Prix dressage rider herself who has been working with Schloss since 2014, and as her only coach since 2018, was more encouraging. "Jody rode really well, she rode through it like the seasoned rider that she is, she kept him focused and worked on the suppleness throughout the test."
Wondering if the heat had any affect on them, Van Essen continued, "Jody and Lobin both perform really well in the heat, one thing that is different here is that there are spectators here, where we haven't had that in the recent shows, so that is one thing that adds an additional distraction for him."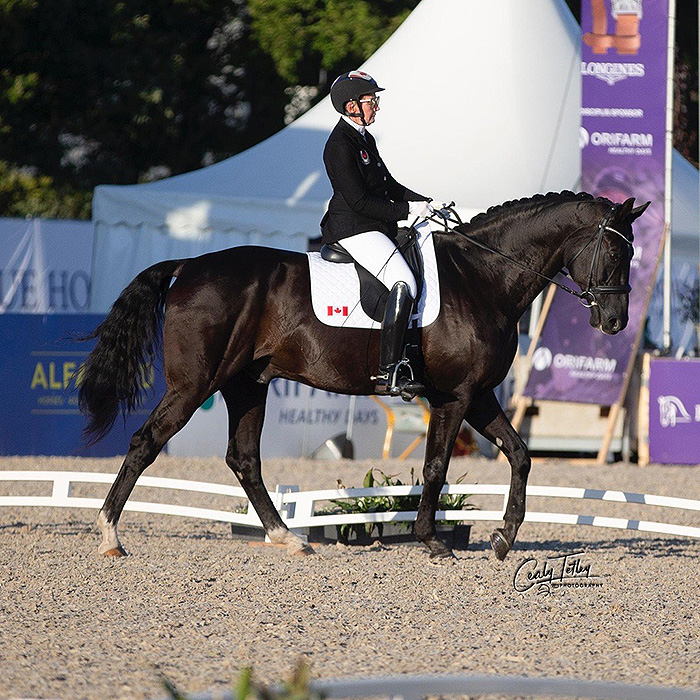 With each individual athlete in the team competition aiming to score into the top eight combinations to secure a position in Sunday's freestyle, this test would not be enough for Schloss who placed 15th and did not advance.
Following closely after in the Grade I order of go, was fellow Paralympian Winona Hartvikson of Langley, BC, riding the 19-year-old Hanoverian gelding Onyx (Wolkentanz) that she co-owns with Jane MacDonald. The pair's score of 68.714, wasn't what they were hoping for and placed them in 11th for the day and ninth overall, narrowly missing the cut-off to ride again in Herning.
According to Hartvikson, one of the symptoms of her multiple sclerosis that has worsened over time is sensitivity to heat. With the custom icepacks that she wears under her show jacket to cool her, she felt the heat didn't play a factor in their performance.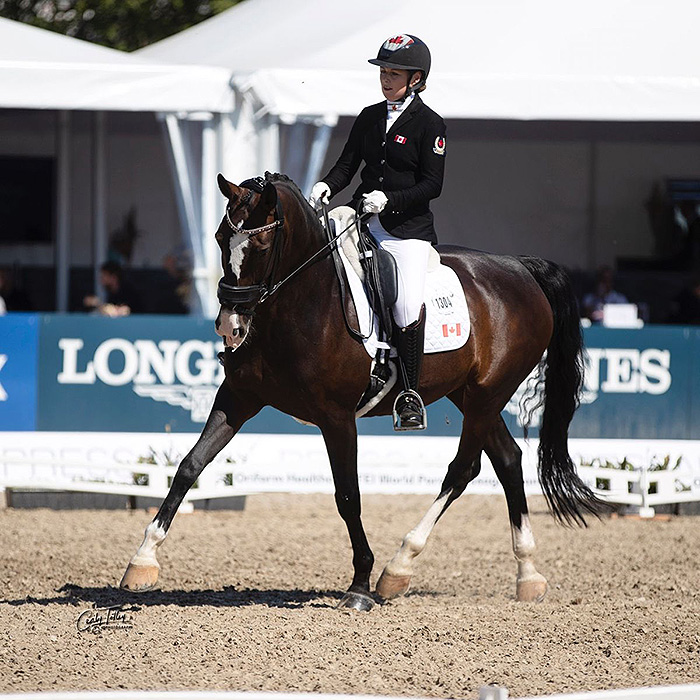 "He was still carrying a bit of tension from yesterday," Hartvikson said, referring to the spook they experienced prior to her first test. "So he wasn't the relaxed horse that I would have liked to have, but he was super cooperative, and he did everything that I asked him to do, so I am really happy with that test."
Her coach Wendy Christoff, who is also president of Dressage BC, thought he had a bit of an off night, like his stablemate Lieutenant Lobin. "He's been so good and really easy," said Christoff. "He's been a gentleman the whole time we've been here. He got a little fresh tonight."
"On the walk down to the arena, he had a scare. Considering what he felt like when I first got on him, that was an amazing ride. She rode him well and quite accurately. There was a lot of great stuff in there."
When asked about how things had gone for the two Grade I combinations, Chef D'Équipe Clive Milkins said, "I was pleased with the performance today. It's always difficult for a Grade I athlete to go later on in the day, especially with the heat that we have had today. But this isn't a time for excuses. It's a judged sport, it is what it is, we accept it, learn from our mistakes, regroup and move on. Tomorrow is another day."
With two challenging rides completed by her team mates on Friday, Grade III Paralympian Roberta Sheffied of Lincolnshire, ENG was aiming on Saturday to hopefully increase the Canadian team score but also to advance to Sunday.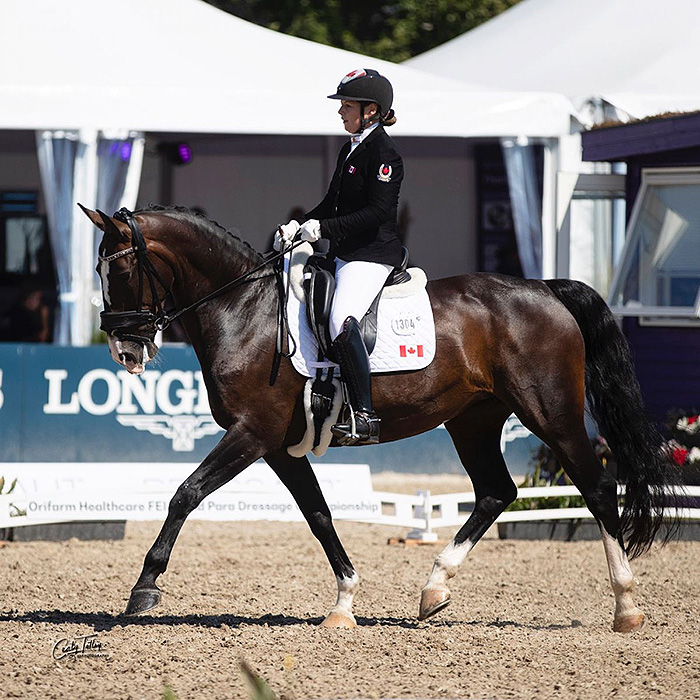 Riding her own Fairuza, 'Wonky', a 13-year-old Gelderlander mare, the combination also had a tougher ride than usual, but with a score of 69.559, it edged them enough to land in seventh place overall and secured their spot in the freestyle.
"It was a challenging test today. Wonky was not as with me as she was on the first day, which is unusual for her, usually she is more with me on the second test," said Sheffield. "I think possibly having a day between the tests was not so easy for her. But between the two of us I think we managed to pull it back and get it together. It wasn't quite the clean test that I hoped for but wasn't a disaster by any means, I think we showed some really nice work in places."
Milkins agreed. "In the ring we had a couple of expensive errors, but on the whole I was very pleased with the performance," he said.
Milkins also reflected on the team's 15th final placing in comparison to the eighth place finish they enjoyed at the last world championships in Tryon, NC. "Our sport has a way of building you up and sometimes putting you down, but I guess that's what our sport is. All I can say is onwards and upwards. Bring on Paris!"
Jody Schloss and Lieutenant Lobin Photo Credit: Cealy Tetley
Winona Hartvikson and Onyx Photo Credit: Cealy Tetley
Roberta Sheffield and 'Wonky' Photo Credit: Cealy Tetley
Roberta Sheffield and Fairuza Photo Credit: Cealy Tetley