"I've never been on a horse that ran that fast," said jockey Josh Scot.
AJAX DOWNS OCTOBER 7, 2022 - Ajax Downs hosts its popular Thanksgiving Monday card on October 10 highlighted by the $50,830 Alex Picov Memorial Championship, a 770-yard 'hook race' and a pumpkin giveaway for the first 100 kids to decorate. Fans on track might also catch a glimpse of the 'Headless Horseman' during the afternoon. The first of nine races goes off at 12:55 p.m.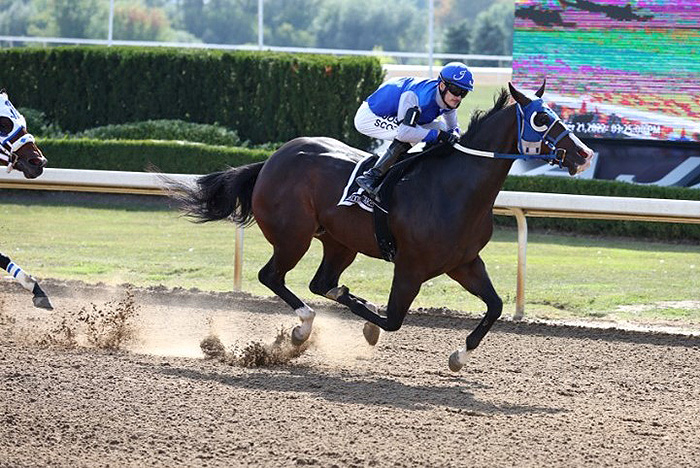 The 49th Picov Championship is for 3-year-olds and upward at 440-yards and champion HAD TO BE IVORY (Ivory James - Had to Be Fandango) seeks to complete a perfect 2022 campaign after winning all five of his outings, including two stakes races. The 7-year-old, bred in Hillsburgh, Ontario by Carol and Jaime Robertson and trained by Bryn Robertson, has won 21 of 27 career starts, over $337,000 in purses, and was named the 2019 Horse of the Year.
Had to Be Ivory, a contender for 2022 Ajax Downs Horse of the Year, has yet to win the Championship, however, having finished third in his lone attempt at the big event last fall. But the big, flash gelding is arguably in the best form of his career, coming off a track-record setting victory at 440-yards in the $21,200 Distances Series on Sept. 21, earning a career-best 112 speed index.
"I've never been on a horse that ran that fast," said jockey Josh Scott, who also rides Thoroughbreds at Woodbine racetrack.
Three horses who finished behind Had to Be Ivory in the Sept. 21 Distance Series, stakes winner Streakinlilwagon, Eye Live for Candy, this year's top 3-year-old filly, and Spy for the Senate, third in the 2020 Championship, are back to take on Ivory. The field is completed by stakes winner Jessaprimadonna.

Race 1 on Monday is the second-ever 'hook' race at Ajax Downs (a longer Quarter Horse race around a turn) and a field of six will travel 770 yards. Only two horses in the $14,500 'open' race have tried a turn race, JESS A DEAL, who won a non-wagering race last fall at 770 yards, and SW ARTEMISIA, a multiple winner at 870 yards in the U.S.
You can watch and wager on the Ajax Downs Thanksgiving Monday card through www.HPIBet.com and catch the live stream of the races on the Ajax Downs' Facebook page.
Field for the 49th Alex Picov Memorial Championship
Race 8, October 10; Purse $50,830;
3-year-olds and upward; 440 yards PP Horse Jockey Wgt Trainer
1 Had to Be Ivory,  J Scott, B Robertson
2 Eye Live for Candy, I E Mosqueira, J Pascoe
3 Spy for the Senate, D I Benitez, J Pascoe
4 Jessaprimadonna, H M Vanek, L Spada
5 Streakinlilwagon, B Bell, J Pascoe '
Owners:
1 - Robertson, Carol and Jaime ;
2 - Milena Kwiecien ;
3 - Milena Kwiecien ;
4 - Craig Spada and Isaak Fehr ;
5 - GFR Equine Services
Breeders:
1 - Carol and Jaime Robertson;
2 - Klay Hinck;
3 - Mary L Hainline;
4 - Leroy Janacek Jr;
5 - Gfr Equine Services 
Keep up to date on racing news and events at Ajax Downs on social media (@AjaxDowns) and at www.ajaxdowns.com
Photo: Ontario bred Had to Be Ivory, undefeated in 2022, set a track record on Sept. 21 and headlines the $50,830 Alex Picov Memorial Championship on Thanksgiving Monday at Ajax Downs (New Image Media Photo)