Canada's most decorated Para-Dressage athlete joined forces with Equestrian Canada.
Ottawa, ON, Feb. 1, 2023 – Kyla Sorensen of Waterdown, ON, has been selected as the successful recipient of the 2023 Bridging the Gap Training Bursary with five-time Paralympian Lauren Barwick.
Canada's most decorated Para-Dressage athlete joined forces with Equestrian Canada (EC) to provide this unique training and development opportunity to Canada's next generation of Paralympic athletes. Along with a $5,000 bursary, Sorensen receives two weeks of private training with Barwick in Ocala, Florida, accommodations, and horse board.
"Our developing riders need more opportunities that are friendly, supportive but guided from a performance standpoint. I am really excited to be able to share my 23 years of Para equestrian experience and be able to help shape our sport for the future," said Barwick.
Sorensen and her horse Gandalf, a nine-year-old Warmblood gelding (Gid Up Winchester x Radjah Z) have set a goal to reach the 2024 Paralympics in Paris. The duo has come from a training level horse initially to actively training fourth level and competing in Para Dressage Grade IV. Their recent performance results have landed them on EC's Canadian Talent ID team.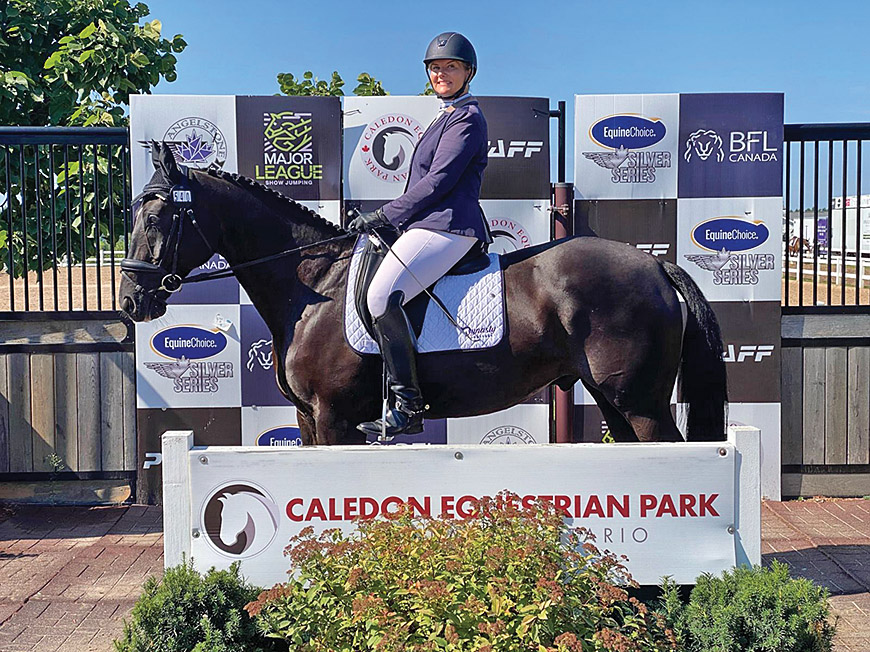 Bridging the Gap Training Bursary winner Kyla Sorensen and Gandalf Photo Credit: Matt Dow
Barwick is excited to welcome Sorensen to her training facility. "I've been given so many opportunities over the years to represent my country," she said. "I'm looking forward to developing riders to make a stronger group of athletes to pull from for the senior international team — It's just a small way to be able to give back."
On top of her passion and dedication to para-equestrian, Sorensen is a full-time physician at Halton McMaster Family Health Centre in Burlington, ON. She is thrilled with the opportunity and looking to use it to further develop an overall high performance skill set.
Over the past eight years, Sorensen has been training with six-time Dressage Olympian Cindy Ishoy. Shortly after they began working together, Sorensen faced some health challenges. "In 2016, she struggled with her health, subsequently becoming diagnosed with Multiple Sclerosis," said Ishoy. "This was a challenging time where she still worked exceptionally hard to improve her riding."
Ishoy has seen her partnership with Gandalf flourish over the last three years thanks to Sorensen putting in the work. "I'm not easy on Kyla and push her to my best ability, and she rises to the challenge," she shared. "We work on ways to overcome physical challenges that make some traditional dressage training difficult." As her coach, she believes in her and that the pair will make the best of this opportunity.
"I have big goals, and this training opportunity will help Gandalf and I to compete at an international level," said the 43-year-old Sorensen. "I dream of one day representing Canada as a para-athlete, and working with Lauren Barwick, with this bursary from EC will help us develop further as a team to achieve that. The opportunity to learn from a well decorated Paralympian, and to receive their mentorship, is priceless."
In her growth as a Para-Equestrian athlete, Sorensen's grit and hard-working attitude are helping her succeed. EC's Para-Dressage Technical Advisor Clive Milkins believes it'll be a great benefit to her growth as an athlete.
"Previous recipients have greatly benefited from the experience and continue to thrive from the mentorship working with the five-time Paralympian," Milkins explained. "Many thanks to Lauren for creating a legacy and putting so much back into the sport. The partnership with EC and the Bridging the Gap bursary keeps developing."
For more information on the 'Bridging the Gap' Training Bursary, click here.