The OptiMizer InStall has been tested at 25 stables across North America.
By Susan Wilson.
In my mind, a bale of hay for a horse is like a buffet for a human - there is a lot to choose from and a tendency to overeat. When I am at a buffet, I look at the dessert table first and then plan the rest of my meal around that. I really need to be disciplined and mindful to eat my vegetables and not eat too much dessert.
Like me at a buffet, when my horse goes into his stall, he eats his favourite things first (grain and carrots) and then inspects his hay. He is turned out 8 hours a day, which means ⅔ of his daily hay is fed in his stall. If we fed his 16 hour ration of hay on the ground all at once, he would drag a lot of it into his bedding while looking for the best parts, and he would gobble the clean hay up in a few hours. Portioning the hay into evening and night check intervals helped, but in the morning, I was still greeted by an anxious and hungry horse, and his stall would be a disaster. Hay nets helped, but they took a lot of time to fill and we were still removing a lot of wasted hay each morning.
We needed to be more mindful about how we were feeding hay in the stall so we set out to develop a feeder that would "waste not, want not".
Waste not is from the human's perspective. Hay and bedding are expensive. A 1000 pound horse needs to forage on about 15 pounds of hay over 16 hours in his stall. We want it all to be eaten, not mixed into the bedding and turned into a mess. Making multiple trips to the barn just to feed hay and the drudgery of filling hay bags consumes a lot of time.
Want Not is from the horse's perspective. They are content because they always have forage available, grazing small bites at a time with heads down and chewing a lot to buffer the acid in their stomach.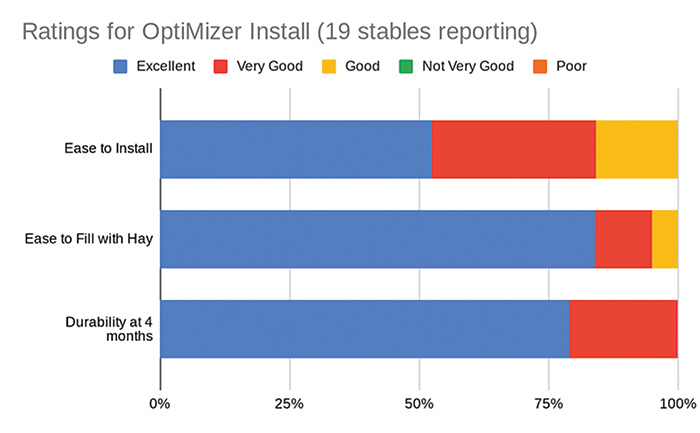 In 2019, we introduced the OptiMizer paddock feeder which is a free standing, multi-bale herd feeder. Taking the learning from this product, the OptiMizer InStall is designed to be mounted in a corner of a stall (or shelter or fence line). It holds up to 25 pounds of hay and the OptiNet drapes inside the manger while the horse slowly consumes its hay. It is made from the same proven, durable materials as our paddock OptiMizer including playground equipment polymer and stainless steel components. It is produced at our trusted manufacturer in Newmarket, Ontario. And it is really quick and easy to fill - just 2 fingers to open the latch and pull the net out of the way.
The OptiMizer InStall has been tested at 25 stables across North America. After over 40,000 hours under horses, we have measured a lot of horse and human satisfaction with the product. Specifically, users have told us that reducing hay and bedding waste, saving time and the health benefits associated with slow feeding are clear benefits of the OptiMizer. Many horses are more content/less anxious in the morning. There have been no injuries or safety concerns reported and after 4 months of use, the OptiMizers are rated as looking "almost brand new" by the majority of users. ● 100% of users reported that the OptiMizer was a much better/better way to feed hay than their previous methods. ● 100% of users rated the durability of the products as excellent/very good. Here are the results from 3 of participants from Ontario in our study: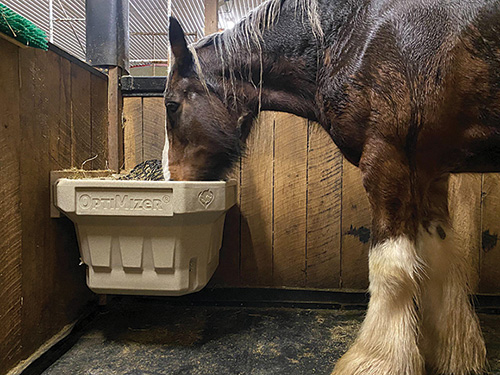 Taylor's mare Bellator was one of the larger horses in the study at 16.2 hands and 1700 pounds. Taylor says, "Absolute game changer for my very messy Clydesdale. Zero waste, quick filling, and best of all slow feeding all night long!"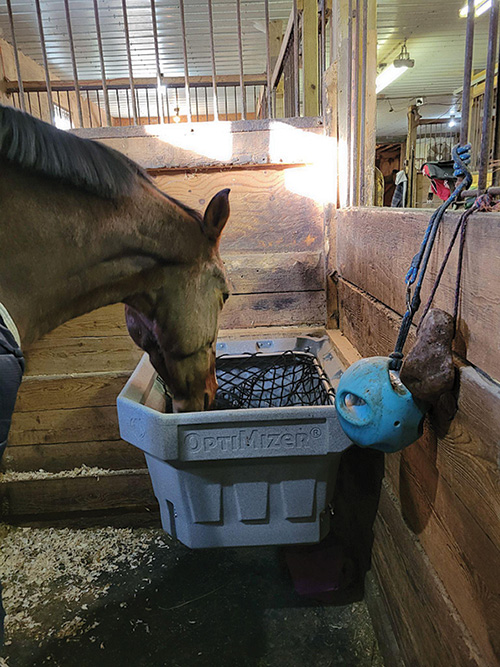 Kaitlyn's mare Dia had a history of ulcers, which changed her demeanor and required $1000's in expensive medications.Kaitlyn says, "The health of my horse has improved, which has made me so happy!! "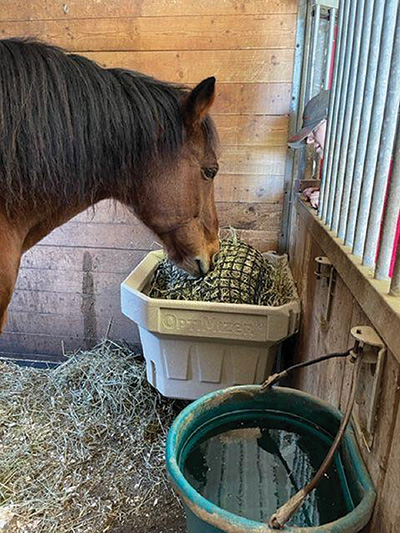 In October, Tracey said "Super easy install and Tucker is a happy muncher!" and then in March she added "I was just having a really good look at the net on my feeder and can honestly say there is very little wear and tear on it. Amazing as my horse is pretty hard on stuff."
The OptiMizer InStall will be available for sale in April 2023!