Mobile Salt Therapy (Halotherapy) for Horses.

Founded in October, 2022, Equi-Salt is the first to offer equine salt therapy, a new service in Canada - serving all of Canada and beyond.
Equi-Salt is partnering with the top horse breeder, ranches, trainers, owners, and veterinarians to help improve the lives of horses by providing a safe and drug-free complimentary therapy to support and elevate the performance, well-being, recovery and health in horses.
Studies have found that Halotherapy can have benefits for respiratory conditions, skin problems, and allergies. Salt is a natural and safe ingredient. (See studies referenced below)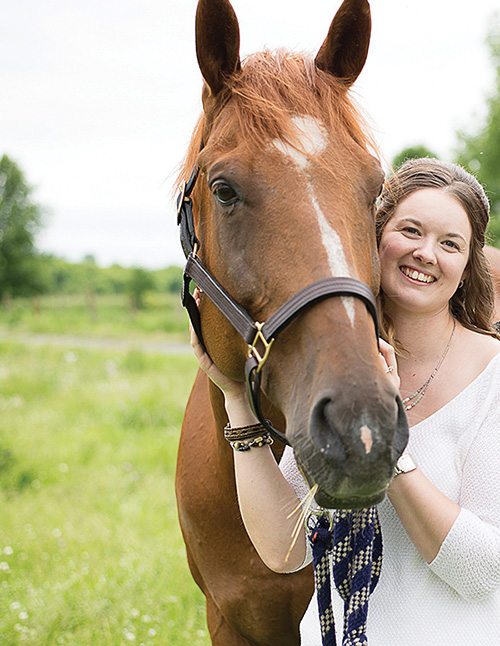 Why Salt Therapy?
Horses have a respiratory and lung system similar to that of people. And, like people, horses are exposed to the same air we breathe which often contain pollutants, pollen, allergens, airborne diseases and more. They often experience the same issues including inflammation, extra mucus, and restrictive breathing. Horses have a large lung capacity and often have issues with normal mucociliary clearance.


Salt Therapy Can:
• Open airways and improve lung function
• Provide dual therapy - inhalation and skin absorption treat the horse inside and out
• Increase Oxygen Carrying Capacity, helping a horse breathe easier, have increased stamina, higher energy, more speed and enhance recovery.
• Reduce inflammation
• Boost the immune system and
• Has antibacterial properties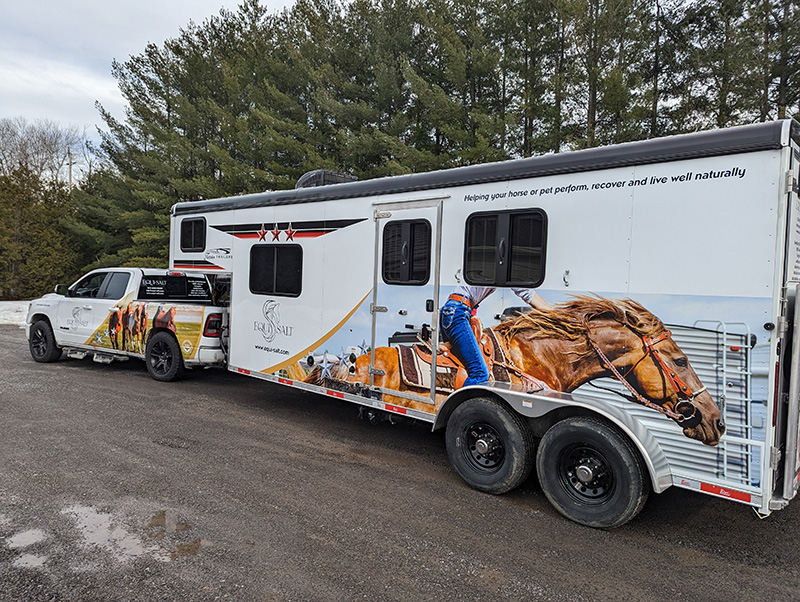 How Salt Therapy Works For Horses
Salt therapy is a natural remedy that involves inhaling pharmaceutical-grade dry salt in a comfortable, controlled environment.
"We bring our mobile trailer with a halogenerator, a medical device that will disperse the dry salt aerosol into the trailer," says Equi-Salt founder Amber Denis. 
The horse will breathe in the microsopic salt particles and the dry salt will work internally as an anti-bacterial agent clearing secretions, and dissolving bacteria and pollutants in the respiratory system.
Salt therapy reduces inflammation by penetrating deeper into the cells of your horse's body. The negative ions and properties that are produced are inhaled through the nose or soaked up by their skin.
Ultimately, this lessens inflammation in the lungs, thins out mucus build-up, improves lung function, and opens breathing passages.
The microparticles of dry salt that are not inhaled into the respiratory system will fall onto the skin. Because dry salt is ultra-absorbent, the microparticles permeate into the epidermis of your pet's skin, absorb oils, and reduce the frequency of irritating skin conditions. The natural antibacterial properties of salt can prevent the development of bacteria and help normalize the skin's pH level.

What Kind of Salt do is used for Salt Therapy?
Only 99.9% pure grade sodium chloride (salt) is to be used with halogenerators which crush and grind the salt into microscopic particles and disperse into the salt trailer. All the medical studies and research for halotherapy involve only 99.99% Pure Grade Sodium Chloride.
For more informastion contact Amber Denis, Owner/Operator at 613-880-9660, email: info@equi-salt.com or visit equi-salt.com


Research Sources

Halotherapy - Benefits and Risks
https://www.salttherapyassociation.org/images/Halotherapy-Benefits-and-Risks-Research.pdf

Halotherapy for the Treatment of Respiratory Diseases
https://pubmed.ncbi.nlm.nih.gov/10161255/

https://www.salttherapyassociation.org/research-articles