MARS Bromont Rising Star Sara Schulman Tops the U252*-L to Wrap Up the MARS Bromont CCI 2023.
BROMONT, QC - June 11, 2023 - America's Phillip Dutton currently sits at number 12 in the world on the Eventing world rankings list, is a veteran of seven Olympic Games and FEI World Equestrian Games (each), and is pretty darn happy that (good friend) and fellow Olympian Boyd Martin didn't have a horse in the CCI4*-L at this year's MARS Bromont CCI.
Dutton topped the weekend's marquee event, the CCI4*-L with Azure, owned by Anne, Caroline, and Michael Moran. Together for about a year, the pair admittedly still have work to do on their dressage phase (placed 15th after dressage, they rocketed up into first after a clean cross-country round on Saturday adding just 0.4 penalties for time.) They left the poles in the cups today over the Marc Donovan designed stadium jumping course, adding another 0.4 penalties for exceeding the time allowed, to finish at the top of the leaderboard on a final score of 37.2.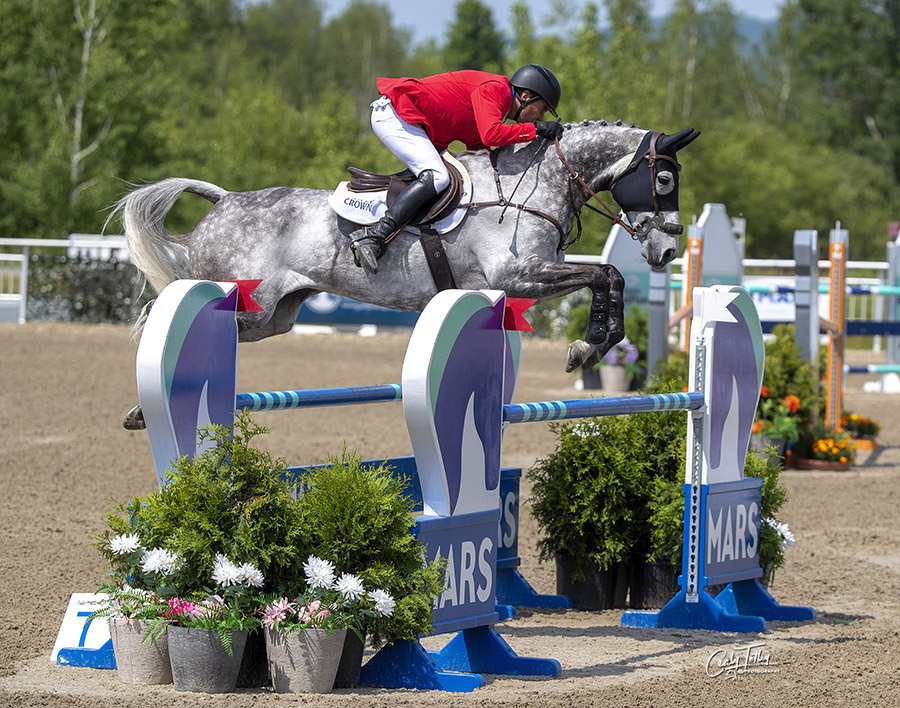 Phillip Dutton (USA) and Azure captured the CCI4*-L following Sunday's final showjumping phase at the MARS Bromont CCI. © Cealy Tetley

"It was really rewarding the way [Azure] jumped today," said Dutton after the awards. "We're still getting to know each other and have been working closely with Lauren Hough trying to get her to slow down, finesse the warm-up and get in the ring. She's just an excitable horse — she enjoys life, but in a very enthusiastic way." he laughed. "She's almost ready for a five-star if I can get her a little bit more competitive on the flat."
Dutton also finished second (to Boyd) in the CCI2*-L with Fernhill Shutterfly, as well as second in the CCI4*-S (to Boyd) with his Tokyo Olympic horse Z.
"This was Z's first run back since [competing in the CCI5*-L] Kentucky in April," said Dutton of his long-time partner. "I know it's a long way to come to give him an 'easy run' but we love it up here and it's a great education. It's the perfect prep for Aachen [where they have been named to the US Eventing team for the CHIO Aachen CCIO4*-S]"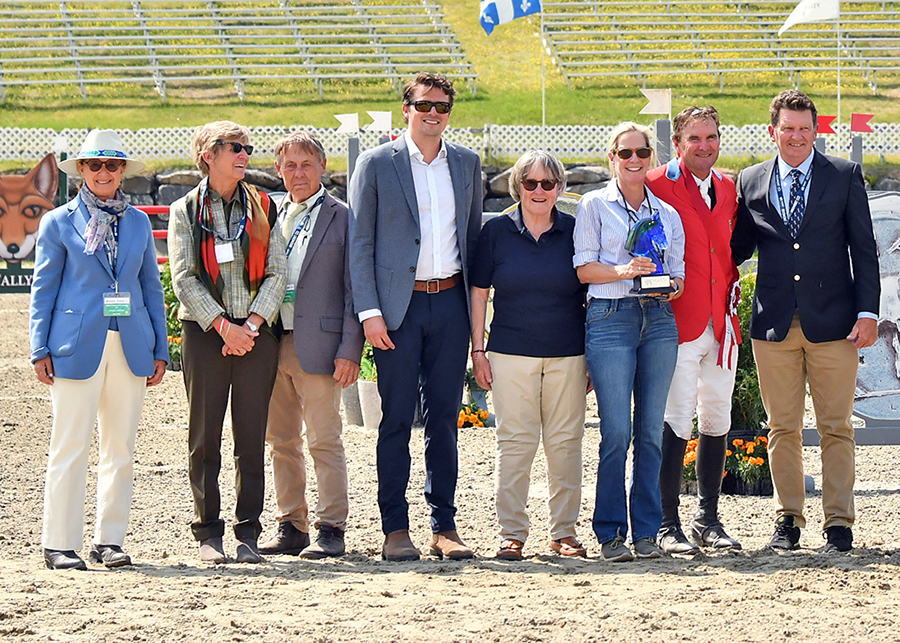 Presentation of the MARS Trophy to Phillip Dutton on winning the CCI4*-L at the MARS Bromont CCI. © Michelle Dunn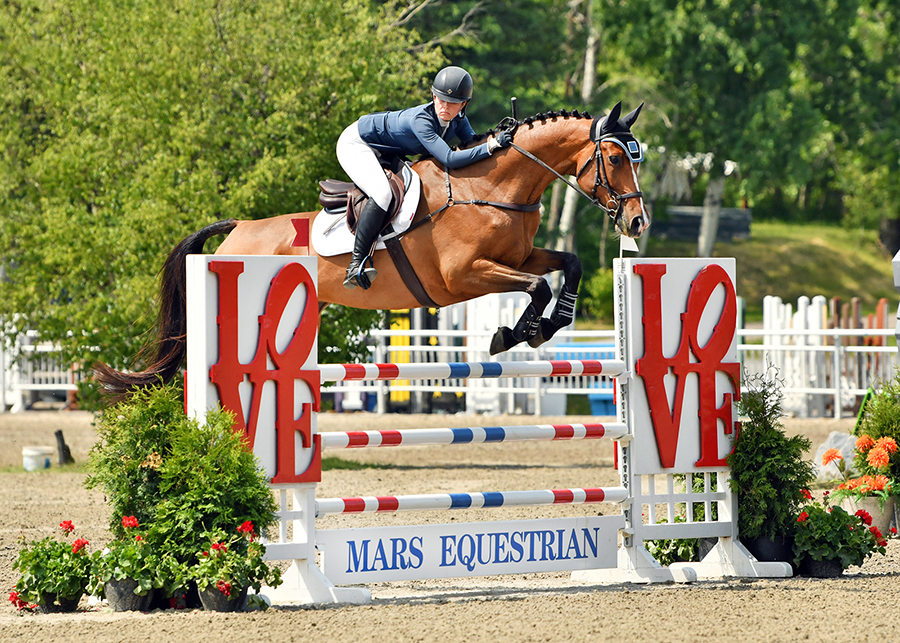 Arielle Aharoni and Dutch Times finished second in the CCI4*-L at the MARS Bromont CCI © Michelle Dunn
Finishing second to Dutton in the CCI4*-L was Arielle Aharoni (USA) with Dutch Times. A veteran of the MARS Bromont Rising program in 2019, they jumped double-clear Sunday afternoon, having added only time to their dressage score on Saturday's cross-country phase. They finished on an overall score of 41.3. Remarkably, the overall standings from first through 13th did not change at all from where they were following the cross-country phase.
Going into the ring second to last (you show jump in the reverse order of standing) Aharoni had to wait all day through all of the other divisions and nearly the entire CCI4*-L for her turn — a position she'd not been in before.
"I was SO nervous all morning," Aharoni admitted. "Our first couple of days were a little rough with the cooler weather 'Dutch' was feeling pretty fresh. I was thrilled with our personal best in dressage, and then I walked the cross-country course a gazillion times trying to figure out the best way around. In the end I went with my original plan and it all worked out. Today, as soon as I got on, all the nerves went away. I trust him. As long as I can just get out of his way he'll do his job.
Rounding out the top three was Hannah Sue Hollberg (USA) with Capitol HIM who also jumped double-clear Sunday to finish a point behind Aharoni on a final score of 42.4.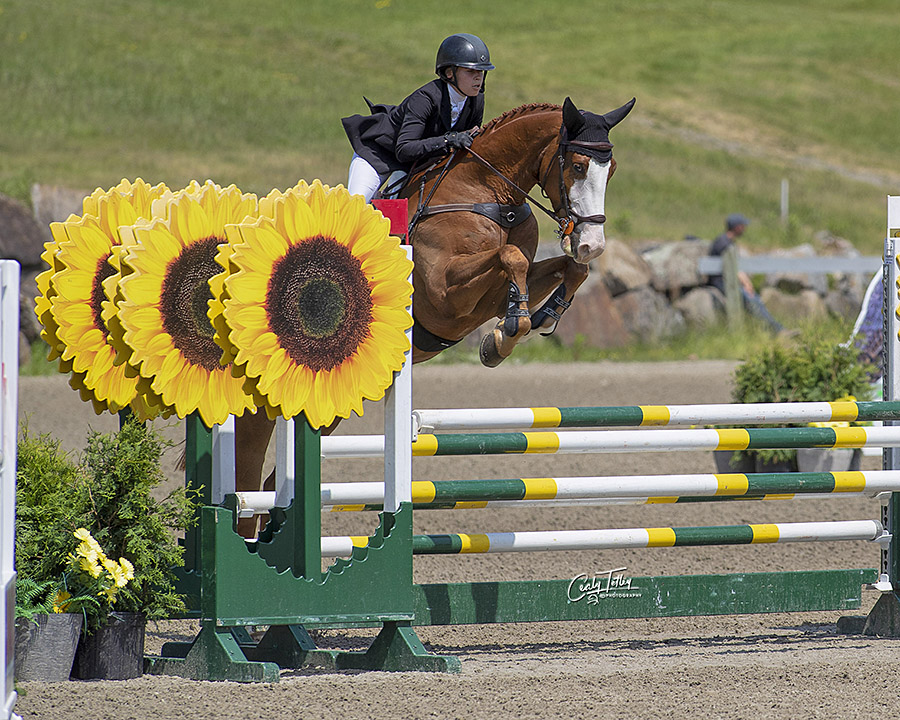 MARS Bromont Rising participant Sara Schulman took top spot in the U25CCI2*-L with Cooley Chromatic © Cealy Tetley.

CCIU252*-L
MARS Bromont Rising participant Sara Schulman (USA) was one of just a handful of riders to finish on a sub-30 final score this weekend (29.6), with her horse Cooley Chromatic in the CCIU252*-L. 
This was the division that saw the most movement in final placings as a result of stadium rounds. Most notably, overnight leaders Noah Stanlaske and DHI Showman pulled two rails to relinquish the win and settle for third (37.2), and to her credit, Emeline Gilbert and EWSZ Mozart jumped a lovely double-clean to move up from fourth into second (34.1).
"It has been really nice to have all three phases come together," said Schulman at the end of the weekend. "I didn't know how [Cooley Chromatic] would handle it all, especially show jumping in a ring with a bunch of spectators, but I can tell he's grown up from the four-year-old I started with and he's a total professional now."
As one of the participants in the MARS Bromont Rising grant and education program, administered by the USEA Foundation, Schulman benefitted from workshops and coaching throughout the week from some of the top names in the sport. Cross-country course designer Derek Di Grazia, FEI 5* judge Cara Whitham, FEI veterinarian Dr. Yves Rossier and German Olympian Bettina Hoy all generously gave their time to provide seminars, coaching and knowledge to this first group of young riders. The second group will apply and be chosen in advance of the Galway Downs International CCI in November of this year.
"Without the MARS Bromont Rising grant I wouldn't have been able to come up here and compete," Schulman explained. "I was very lucky because my home trainer Jan Byyny was able to be here, and she and Bettina would bounce ideas back and forth. Jan was able to give Bettina an idea of the things we've been working on and Bettina was able to work with that and not change our program completely but rather add in those minor details that might help depending on the specific course."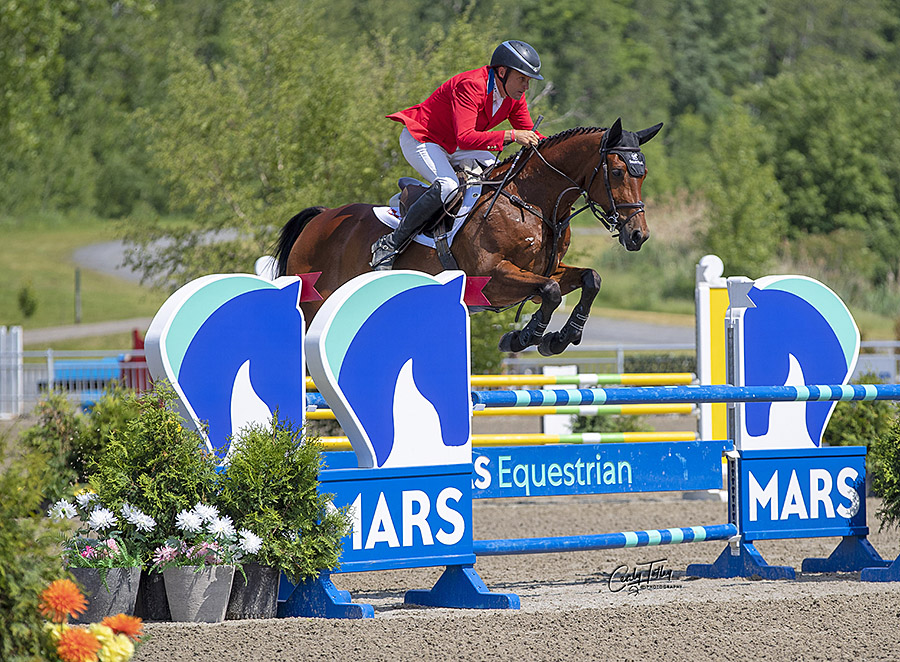 Boyd Martin and Asti's Charming, winners in the CCI2*-L at the MARS Bromont CCI © Cealy Tetley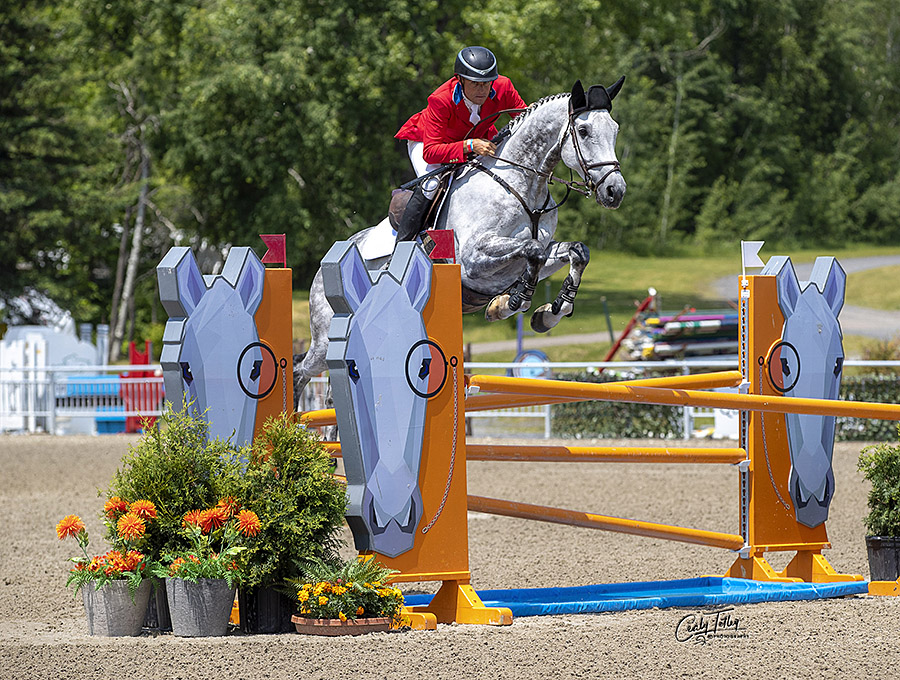 Boyd Martin and Chiraz, winners in the CCI3*-L at the MARS Bromont CCI © Cealy Tetley.

Now, Boyd.
Looking at American Boyd Martin's FEI biography, you might guess he likes to do things in threes. He's been to three Olympic games, as well as three FEI World Equestrian Games. And today in Bromont he scored a perfect hat-trick, taking top honours in the CCI2*-L, CCI3*-L and CCI4*-S divisions and earning his 10th, 11th and 12th wins at Bromont to boot.
The top three placings in each of these divisions remained entirely unchanged from where they were Saturday. Martin took the win in the 2*-L with Asti's Charming owned by Catie Boone, on a score of 23.0. And in the 3*-L with Chiraz owned by Sandra Holden on a score of 29.6; AND in the 4*-S with On Cue owned by Martin, Christine, Tommie and Thomas Turner on a score of 45.8. 
In the 2*-L and 3*-L divisions, each of the top three riders jumped double clean on Sunday to retain their placings. In the 4*-S, it meant Martin had enough of a lead going in that even with one rail down to add four jumping penalties to his score, he was able to (easily) absorb those penalties into his lead and still finish on top.
"Charm put in a heroic effort [in the 2*] today," Martin remarked following the first division. "He came from the showjumping world so I had a tiny bit of confidence leading into today just because he's done a fair bit of showjumping. He doesn't want to touch the rails. Yesterday didn't take anything out of him and I was very pleased for the win.
"Chiraz showed signs of greenness this weekend but we got through it, and I'm guessing he'll grow and learn from this. I'm very proud of the group I brought, they really toughed it out this week and have proven themselves.
"On Cue has a heart of gold. She's got to be one of the most all-time favourite horses I have ever competed. She's had a year of recuperating from an injury and she feels rejuvenated and happy. I've never ridden such a champion cross-country horse. She's turned into a horse of a lifetime."
Martin plans to return to the FEI Eventing Nations Cup™ in August at Bromont with On Cue before heading overseas to compete at the Burghley CCI5* in the fall.
"She will have a couple of weeks off now and then we'll gear up for Burghley. I'll use Bromont as a preparation event in August, I just think it's the perfect preparation event for an epic competition like Burghley.
"I think [the MARS Bromont CCI] is one of the greatest contests in North America. The town itself is great with the location and the restaurants. The competition itself has this beautiful ring and unbelievable cross-country course. It's a real challenge and we are so grateful for [organizer] Sue Ockendon and a huge thank you to the Mrs. Mars and the MARS corporation for sponsoring such a champion event." 
Runners up in the 2*-L and 4*-S were (wait for it) Phillip Dutton, with Fernhill Shutterfly and Z respectively. In the 3*-L, U25 and MARS Bromont Rising participant Maya Clarkson finished second with Maks Mojo C. 
When asked to sum up the experience at the MARS Bromont CCI as a rider who can go anywhere in the world to compete, yet chooses to come to Bromont, Dutton was succinct in his evaluation.
"It's a great show and it's rider-friendly. It's a beautiful town. You're not going to bring EVERY horse here because it's difficult. It's a championship course and I hope it stays like that. The work Sue Ockendon does — it's incredible for Canada but also for eventing. She's kept this event going through thick and thin. And she puts the emphasis on the right things, making sure the cross-country course is built well and safe and strong for the horse's education. I just can't say enough good things about it."
For complete scores visit EventEntries and follow us on social media at @bromontcci.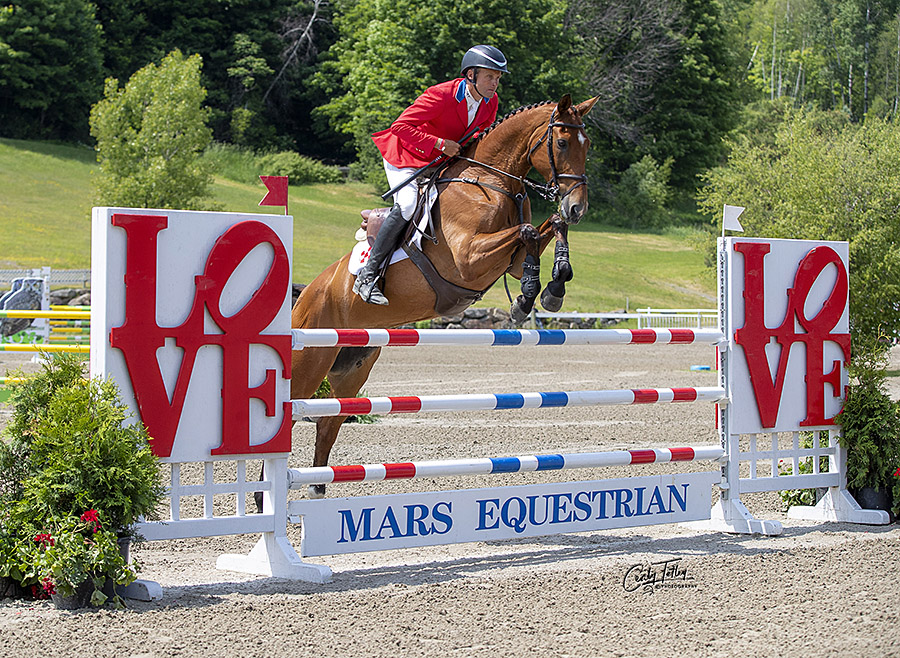 Boyd Martin and On Cue, winners in the CCI4*-S division at the MARS Bromont CCI © Cealy Tetley.
About the MARS Bromont Three Day Event
Bromont, which has featured top competitions for four decades, will be welcoming some of the best horse-and-rider combinations from all over world across three competitions this summer. Located in the beautiful village of Bromont, Quebec, the spectator-friendly venue is within easy driving distance of Montreal, Quebec and Burlington Vermont. For more information please visit www.bromonthorsetrials.com
About MARS EQUESTRIAN™
MARS EQUESTRIAN™ Sponsorship, funded by Mars, Incorporated is the link between these iconic brands and the equestrian community. For generations, Mars has celebrated a rich equestrian heritage, and through purposeful partnerships, MARS EQUESTRIAN Sponsorship is committed to the sport and building an enduring legacy. From world-class competitions across all equestrian disciplines, to stewarding the power of horses on society and sustainability, the MARS EQUESTRIAN Brand is dedicated to our purpose to improve the lives of horses, pets, and the people who love them. For more information please visit www.marsequestrian.com and follow them at @marsequestrian.

The Bromont Horse Trials are made possible in part through a contribution from Sport Canada. The Bromont organizing committee also wishes to thank the Government of Quebec, and the City of Bromont for their support.