Five Fillies Racing was formed by Chantelle Bourgeois, of Enniskillen, ON.

AJAX DOWNS, JUNE 13, 2023 - The sixth racing day of the 2023 Ajax Downs Quarter Horse season, Wednesday, June 14, is packed with stakes races and the debut of a group of excited, new women horse owners who call themselves Five Fillies Racing.
There is also a special Sunday afternoon of Quarter Horse racing, June 18 (post time 12:55 p.m.), celebrating Father's Day with prizes and activities.
Five Fillies Racing was formed by Chantelle Bourgeois, of Enniskillen, ON who breeds and races her own Quarter Horses. Utilizing the Quarter Racing Owners of Ontario's popular Horse Purchase Program, which offers an interest-free loan of up to $7,500 to buy a horse to race during the season, Bourgeois bought A Rushn Lilly from the estate of the late Alan Hudgins. Three new owners, Melissa Slute, Nadia Faccin and Vanessa Lawson-Dulny share ownership in A Rushn Lilly, the fifth member of Five Fillies.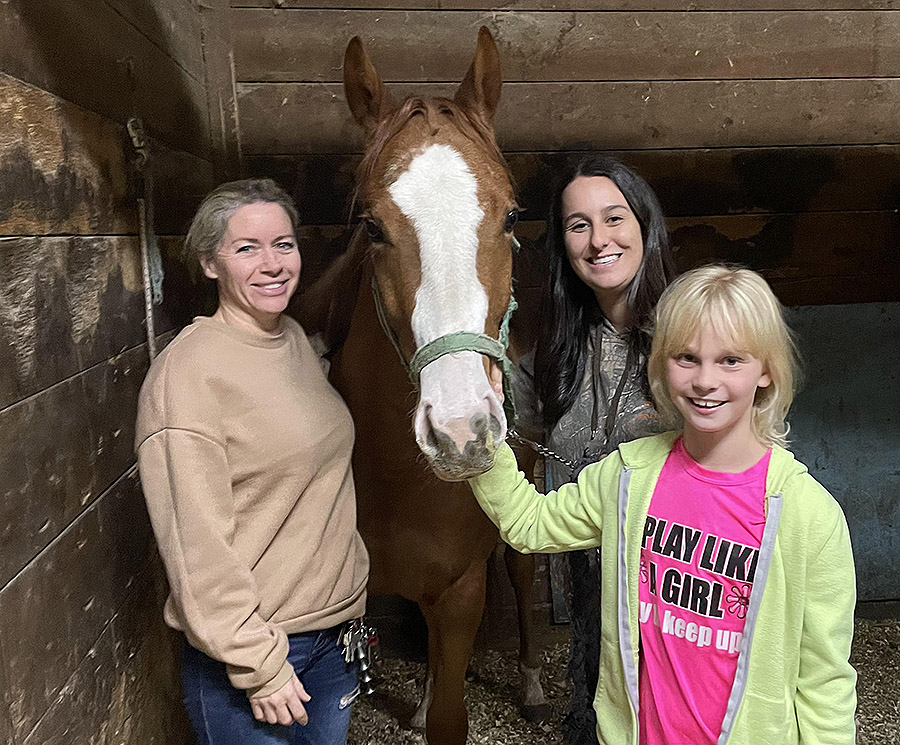 New Quarter Horse owners Vanessa Lawson-Dulny (left) and Melissa Slute along with their filly A Rushn Lilly and young Emily Link.
A Rushn Lilly, a daughter of Ontario sire Rushago, makes her career debut in race 2 at Ajax Downs on June 14. Cassandra Jeschke will ride.
"The Horse Purchase Program has helped me realize a lifelong dream of owning a racehorse," said Faccin. "Being a lover of horses all my life, I was always captivated by their majesty, speed, and agility. At my racetrack visits, I always wondered how excited and anxious the owners must be and what it would be like to cheer for your own horse."
Lawson-Dulny, a former jockey who rode at the old Picov Downs track, has been away from racing for almost 20 years. "After my racing career ended I dreamed that one day I would own a racehorse, but truthfully, I never believed that it would be possible. Thanks to the Horse Purchase program this year my dream has become a reality."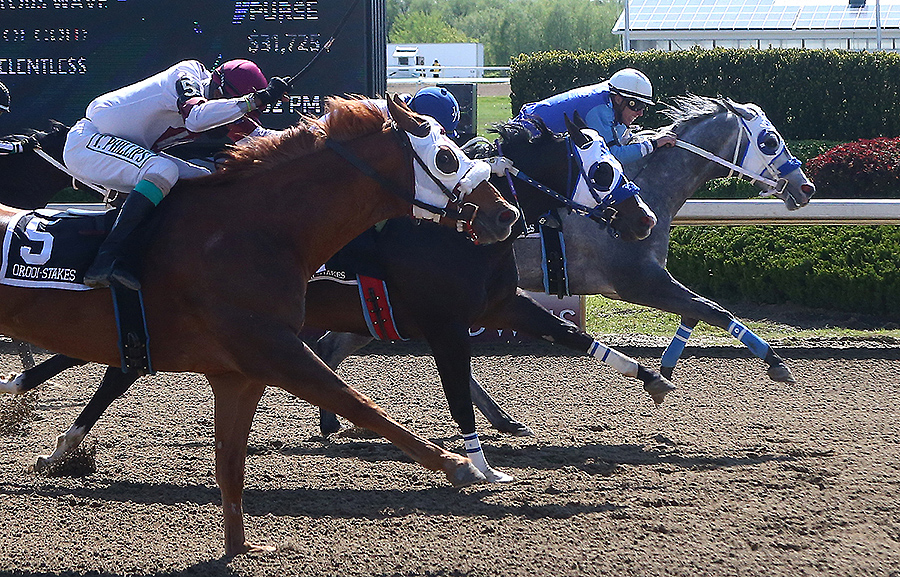 Snow Moose (grey) is currently the top 3-year-old at Ajax Downs. New Image Media photo
*The $29,880 BONUS FUTURITY for 2-year-olds is race 5 on Wednesday and there are two Trials for the $55,000 Ontario Bred Derby, races 3 and 4. 
In the first Ontario Bred Derby Trial, two-time stakes winner SNOW MOOSE has drawn post position 2 with Brian Bell riding for owner Milena Kwiecien. The second Trial features SOUR CANDY, who lost for the first time in the Open Derby on May 24 to Snow Moose and Open Derby Trial winner One Fabulous Wave.
First race post time on June 14 is 1:30 p.m.  
You can find out about all of Ajax Downs' racing dates and special Sunday event days at www.ajaxdowns.com and on social media, @AjaxDowns.
Watch and wager on the Quarter Horse races at www.HPIBet.com or come to the track and enjoy racing up close at our trackside tables.


Field for the $29,880 Bonus Futurity, June 14
Race 5, 250 yards
1 Senator of Magic  Ed Walton Jason Pascoe  7-2
2 Willie Lump Lump  Josh Scott Bryn Robterson  5-1
3 Eye Tempt You  JB Botello Jason Pascoe 5-2
4 Crypto Train Brian Bell Jason Pascoe 3-1
5 Lady Alice Diego Benitez James Bogar 15-1
6 Papa Chase Now  Carly Furlonger Scott Reid 10-1