The 2023 American Quarter Horse Youth World Cup Team Heads to Bryan, Texas. Read the first hand reports from team members below!

June 29th, 2023 - Our Travel Day!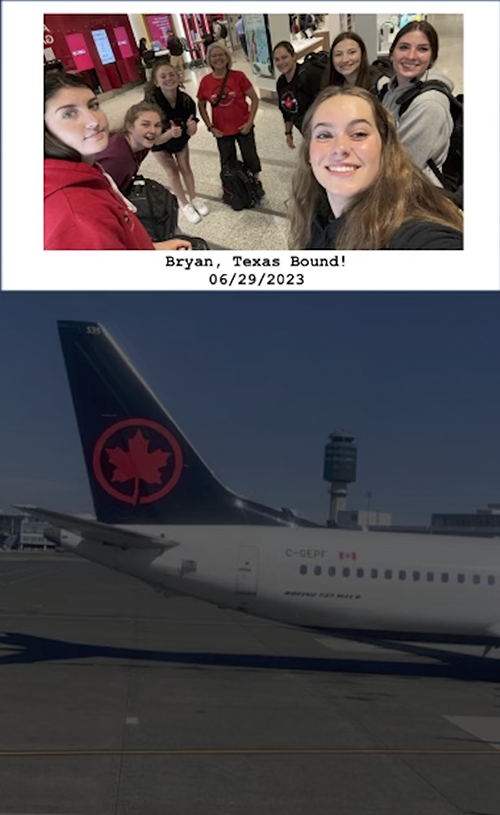 By Emily Firth - BC
l arrived at the airport at 12:15 AM, around 12:45 AM Jessica and Jodi came to grab me from the Toronto Pearson airport. We waited roughly 30 minutes for a shuttle to go to our hotel room to get roughly 3 hours of sleep. Jessica and I woke up at 4 AM to get ready for our 4:30 shuttle while the other girls woke up at 4:30 to get ready for their 5 AM shuttle.
The reason why Jess and I had to leave half an hour early was because there was no room on the 5 o'clock shuttle. Once both teams had got there, we checked our bags, headed through security, and then went to get our Timmys. Once we got our breakfast, we headed to our gate. The girls and I talked for hours and hours longer as our flight got delayed an hour passed the time we were supposed to fly out.
The girls and I adapted quickly, and persevered through our situation. We eventually got on the plane which lucky for us - the wind was in our favour, and it only took around 3 1/2 hours to get there. I watched one of my favourite movies Scream VI from the movie series Scream, the one that features Ghost Face!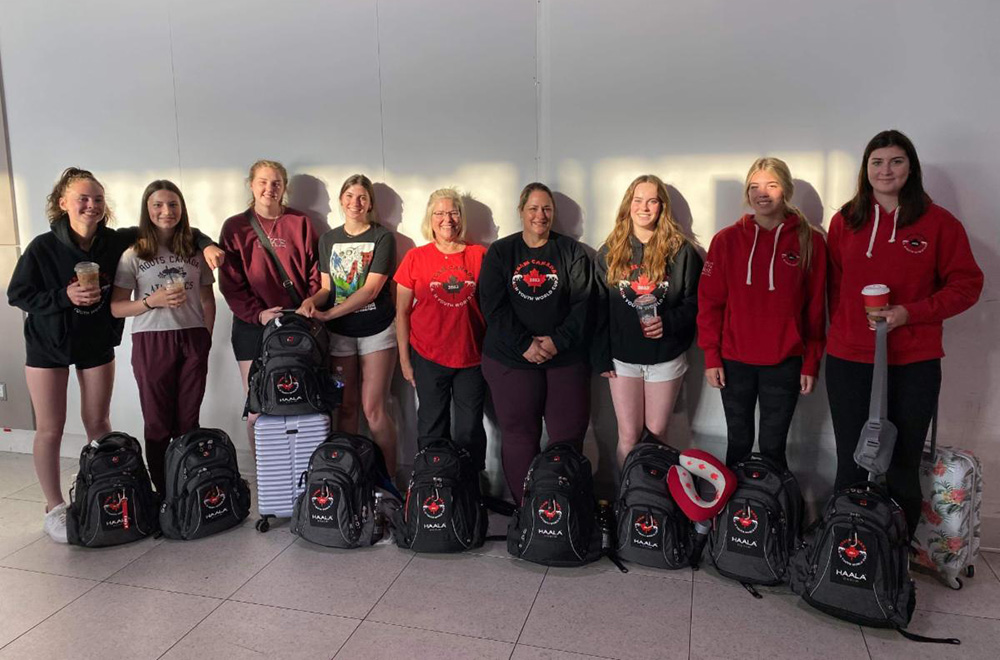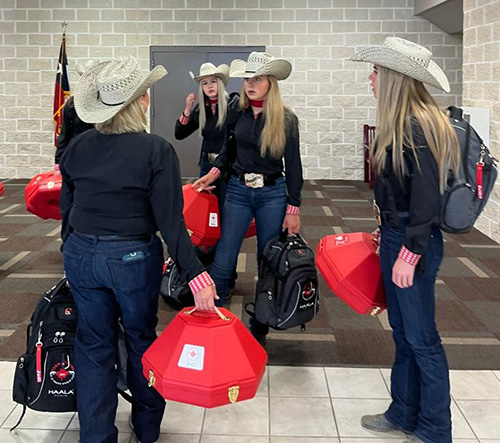 Once we have landed, we grabbed our bags and headed on our shuttle to our hotel. On the way there, our crew (Jess, Aliera, Tylar, Lauren and I did a little Karaoke! Getting to our hotel was long, but once we got there, we met our travel family! Which I have to say, they seem so sweet!
We settled, unloaded We settled, unloaded the trailer, met the rest of the girls, and then headed out for dinner. We went to this cute little Mexican restaurant across the street; which was so cute and perfect! The food was to die for!
Finishing our food, we came back to the hotel to practice our little sick battle for tomorrow night, and headed off to bed! Overall. I would have to say it was a very good day, and a fantastic start to the Youth World Cup!

June 30th, 2023
Our First Day!
By Lauren Irwin - ON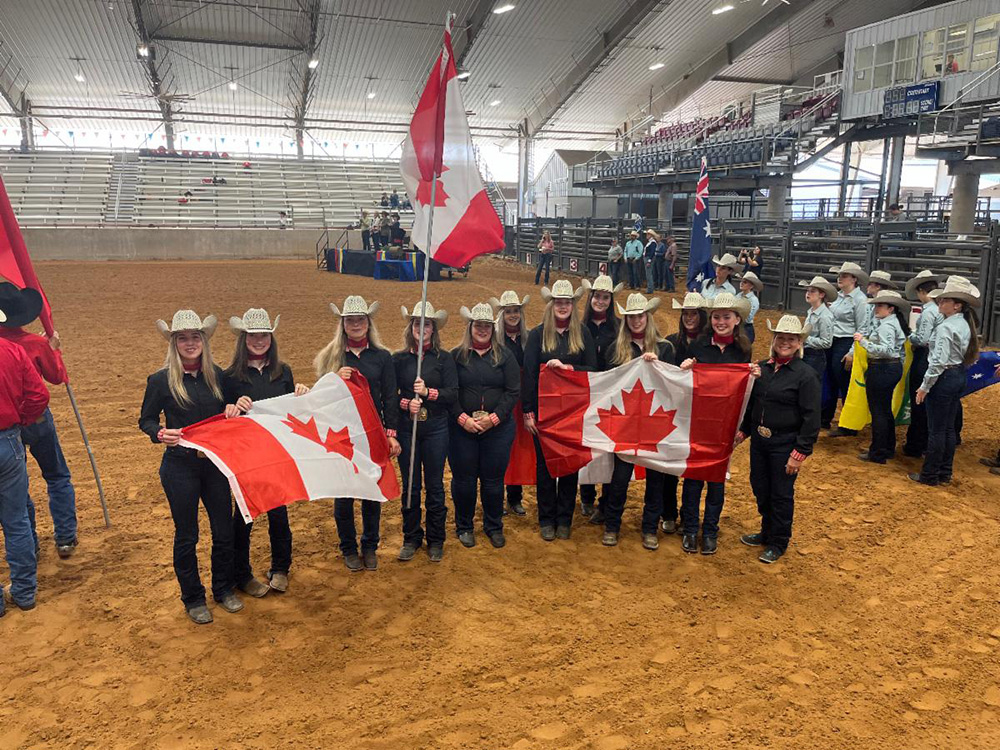 A Today was the first official day of the Youth World Cup! We started the day at 6:30 before hopping on a bus to the expo for breakfast with all the teams.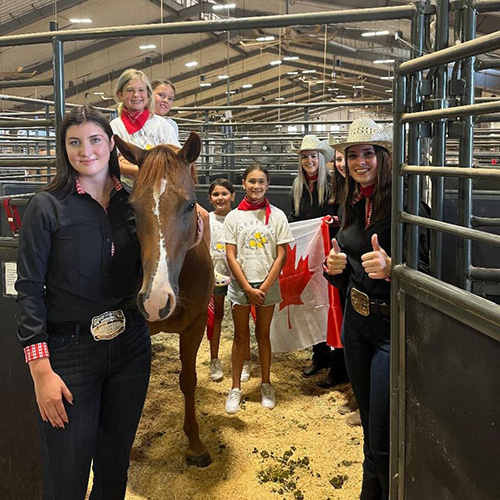 Following breakfast we made our way to the show ring where we proudly held our national flag in the opening ceremony. There, Ali had the exciting opportunity to draw our lot of horses and she picked number 17. We are super excited to introduce the newest members of Team Canada, Waylon, Pumpkin, MJ, Hotshot and Tushka!
The riders had their first rides on each horse to get familiar with them; We are happy to say we got a whole lot of sweethearts under the saddle! Once we finished in the barn we popped back to the hotel to grab our lip sync costumes, we munched down some dinner quickly, before heading on stage to perform 9 to 5 by Dolly Parton.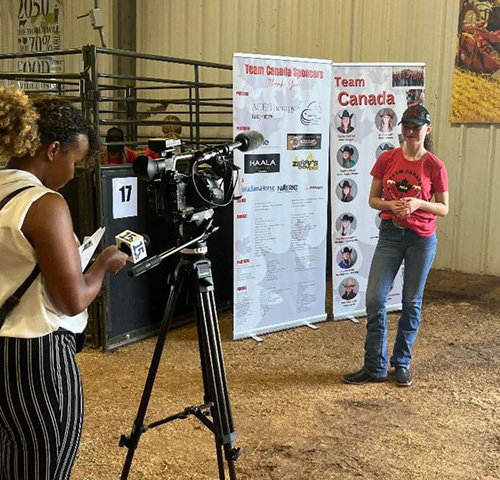 Very proud to say we placed 8th! Now we are heading back to the hotel for a good nights sleep before we get up at 4:30 AM tomorrow!
Team Canada was welcomed at their stalls by one of our horse donors along with their new fan club!
Wannabeabigstar aka "Pumpkin" is happy to be a member of team Canada!!
Emily Firth being interviewed by a local Texas News Channel about what it means to be at the 2023 AQHA Youth World Cup.


July 1st, 2023

HAPPY CANADA DAY!!!

By Abigail Parker Spratt-Dunlevy - ON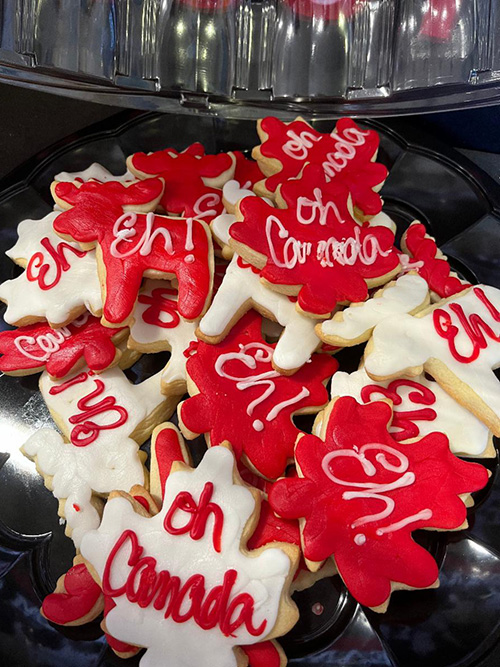 We woke up bright and early! We boarded the bus at 5:30 am and headed straight to breakfast. 
Today was a special day because we had a group of alternate horses to look after as well! As we were cleaning out stalls and doing our chores, a lovely group of girls from Ireland came and offered us help! It was a great way to meet new people. Throughout the day we met more wonderful people as we handed out some Canadian cookies for Canada Day!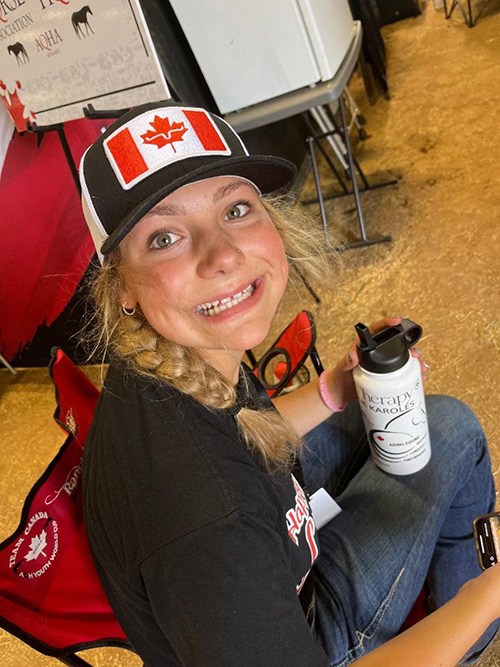 We watched some clinics which were very helpful. Once we were all finished our barn chores, we boarded another bus and took a 1 hour trip ( there may have been some snoozing along the way) to the South Texas tack shop to get some goodies! As we head back to the hotel for the night, I feel accomplished and ready to start all over tomorrow!
I would like to thank all of our incredible sponsors and lovely parents for the support along the way! This would not be possible without you!
Hailey Olson - Rider, Saskatchewan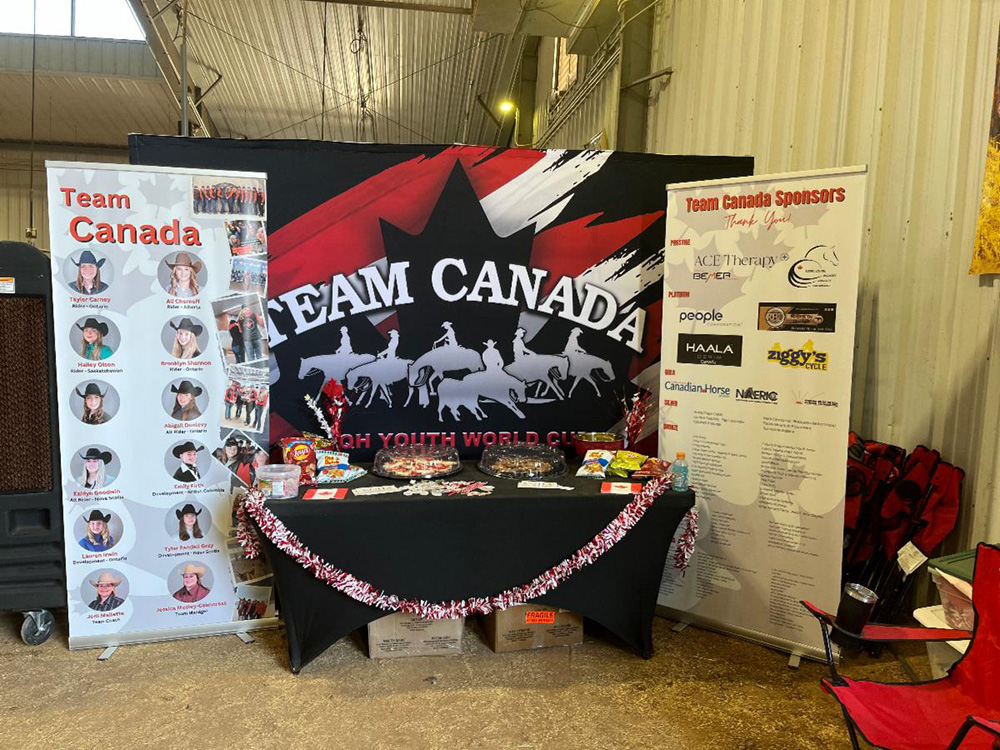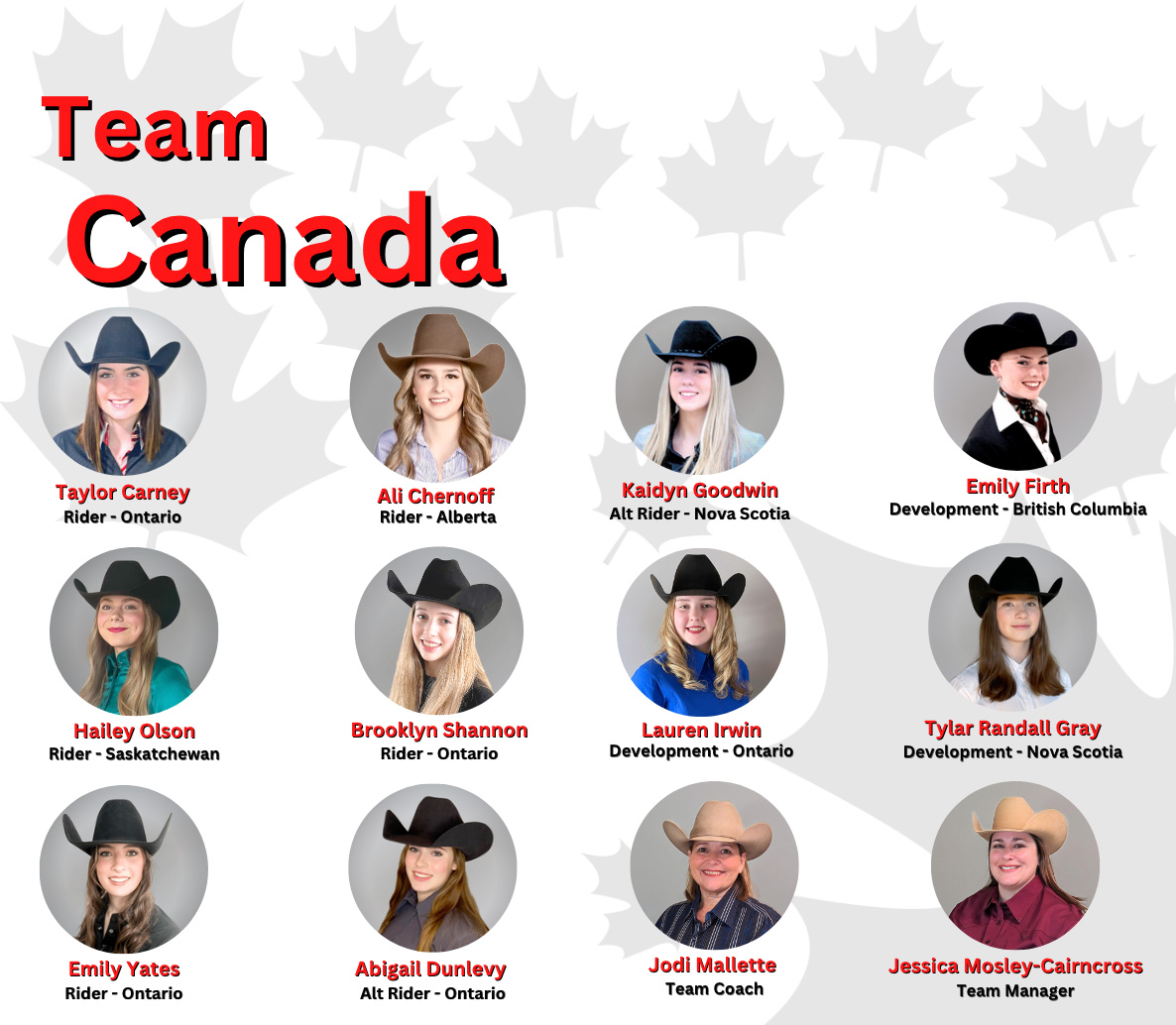 Canadian Quarter Horse Association News Release