Two of the main players in the Ontario Bred Derby final are SNOW MOOSE and SOUR CANDY.

AJAX DOWNS, JULY 4, 2023 - Summertime means it's Derby season in Quarter Horse racing and the first big event for 3-year-olds is this Wednesday, July 5 with the 12th running of the Ontario Bred Derby at Ajax Downs, worth $56,340. The 10 fastest qualifying times from two Trials on June 18 advanced to the final which will be run at 300-yards. The Ontario Bred Derby is race 6 of the afternoon and first race post time is 1:30 p.m.
Two of the main players in the Ontario Bred Derby final are the Trial winners, SNOW MOOSE, owned and bred by Burlington's Milena Kwiecien and SOUR CANDY, who races for his breeder Richard Wincikaby from New Liskeard. The pair line up beside each other in the starting gate on Wednesday in posts 5 and 4 respectively. Snow Moose and his regular rider Brian Bell won the QROOI Open Derby on May 24, handing Sour Candy his first, and only, defeat.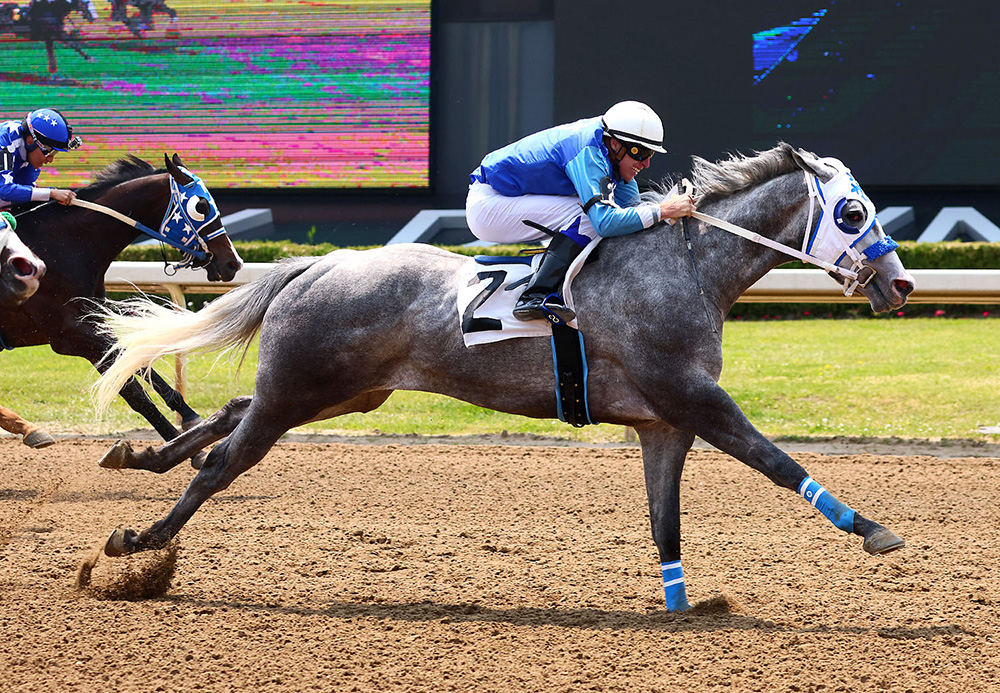 The grey 3-year-old Snow Moose has won three of his last four races including the faster of two Trials for the Ontario Bred Derby on Wednesday. (New Image Media photo)
In his Trial for the Ontario Bred Derby, Snow Moose, trained by Jason Pascoe, overcame a bumping incident to win by half a length over the fast-improving filly Had to Be Ivy. His Trial time of 15.43 was marginally quicker than that of Sour Candy, who also won his Trial by half a length, in a time of 15.49 under rider Tony Phillips. Michelle Woodley trains Sour Candy.
There are many other 3-year-olds who have a chance to upset the top two contenders in the Derby. ONE FABULOUS WAVE defeated Snow Moose two starts ago in a Trial for the Open Derby but he missed the final when he acted up at the gate. In his most recent race, One Fabulous Wave, owned by Carol and Jaime Robertson, had an awkward start from the gate and was fourth behind Sour Candy.
EYSA DASHA WACKY was an impressive maiden winner in his 2023 opener on May 17 and a good third in Snow Moose's Trial. Amelie Aubut's A SHADES OF COLD was second to Sour Candy in their Trial. 
Admission and parking are always free at Ajax Downs. Joins us at the trackside picnic tables on race day or watch and wager at www.HPIBet.com.
For more information, visit www.ajaxdowns.com or check us out on social media, @AjaxDowns.


FIELD FOR THE 12TH ONTARIO BRED DERBY
$56,340; 300 yards; 3-year-olds foaled in Ontario


Post Horse                          Jockey Trainer Odds 
1 A SHADES OF COLD      Diego Benitez  Jason Pascoe 6-1
2 ONE FABULOUS WAVE Josh Scott Bryn Robertson 12-1
3 TEX DYNASTY               Cassandra Jeschke Carol McIntyre 10-1
4 EYESA DASH WACKY   Ramiro Castillo Bob Broadstock 8-1
5 ADREAMTOBUILDAKISSON Alexis Sanchez Angele Carter 10-1
6 SOUR CANDY                Tony Phillips Michelle Woodley 7-2
7 SNOW MOOSE               Brian Bell Jason Pascoe 3-1
8 SILVER LYNING              Ed Walton Michelle Woodley 8-1
9 HAD TO BE IVY              Ismael Mosquiera Bryn Robertson 4-1
10 DAZ COLD                    JB Botello Jason Pascoe 15-1