This was the fourth time that Had to Be Ivory had won the Ontario Bred Maturity.


AJAX DOWNS, JULY 16, 2023 -  Fans flocked to Ajax Downs on Sunday, July 16 for a special Sunday afternoon of Quarter Horse racing on Craft Brewery Day, which highlighted the many outstanding local brewers. On a warm and humid afternoon, visitors to the track took part in T-shirt giveaways and draws for outstanding prizes while enjoying a super card of racing.
The day's feature race was the 12th running of the $38,880 Ontario Bred Maturity at 400-yards (two furlongs) featuring 2022 and 2019 Ajax Downs Horse of the Year, HAD TO BE IVORY, who had won his only outing of this season, the Norman Picov Maturity on May 17. The 8-year-old son of Ivory James, owned and bred by Carol and Jaime Robertson and trained by Bryn Robertson of Hillsburgh, ON, came into Sunday's race on a seven-race winning streak including the Norman Picov Maturity on May 17.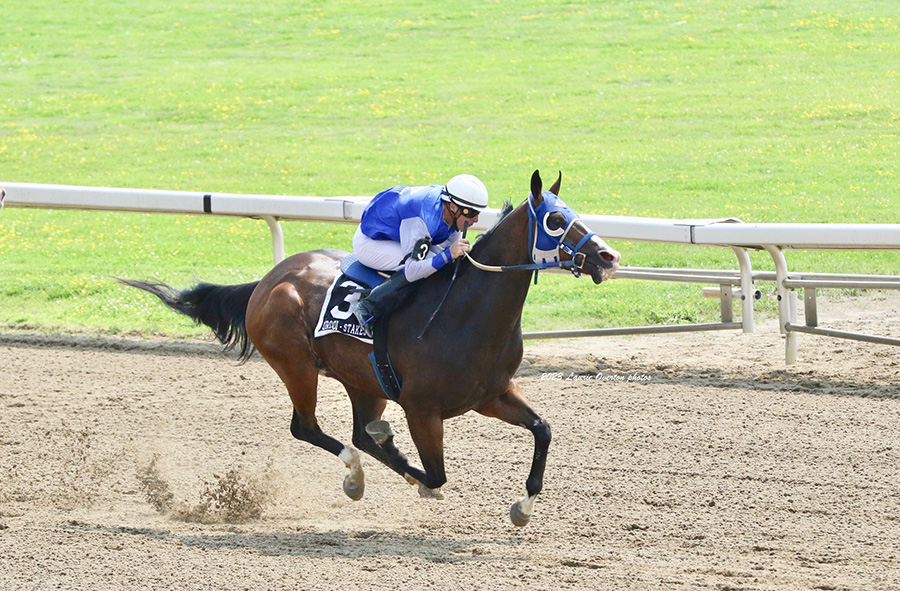 The 2022 Horse of the Year Had to Be Ivory, under jockey Brian Bell, coasts to an easy win in the Ontario Bred Maturity (New Image Media photo)
Under his new rider Brian Bell, who leads all Ajax Downs' jockeys by wins, Had to Be Ivory broke smoothly and straight from post three in the five-horse field and quickly assumed a clear lead on his way to a 1 1/2 length win in 19.612 for the 400-yard distance, giving him an impressive 107 speed index.
Had to Be Ivory's half brother, Had to Be Relentless, with jockey Ramiro Castillo on board,  rallied for second for the Robertson team with James Bogar's Heart of the Sun picking up third.
"I don't remember the last time I sat on that kind of horsepower," said Bell, who has won 764 races and leads all riders at Ajax Downs this year with 15 victories. "He was all class, stood in the gate like a champ and when the gates opened, he was gone."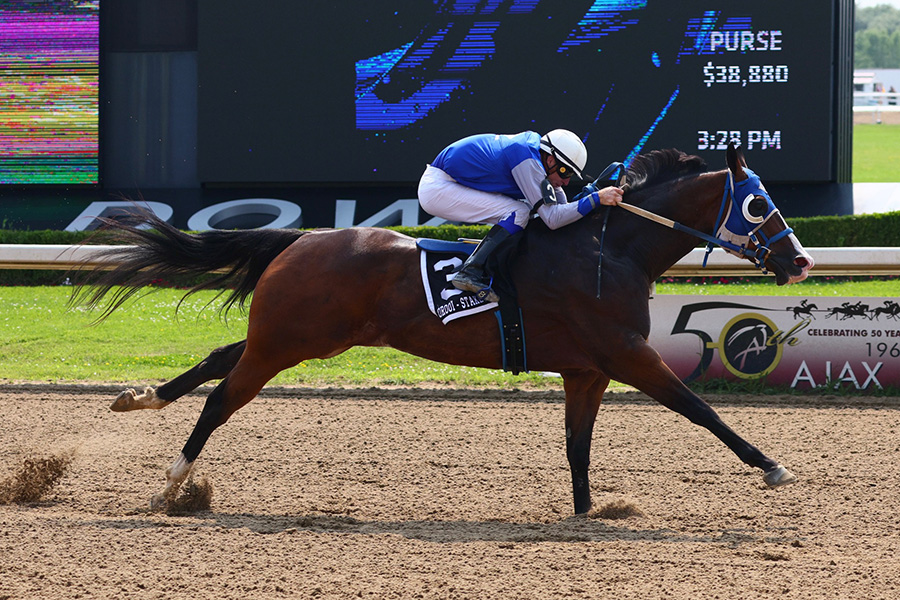 Had to Be Ivory easily wins on the Ontario Bred Maturity - Laurie Overton Photo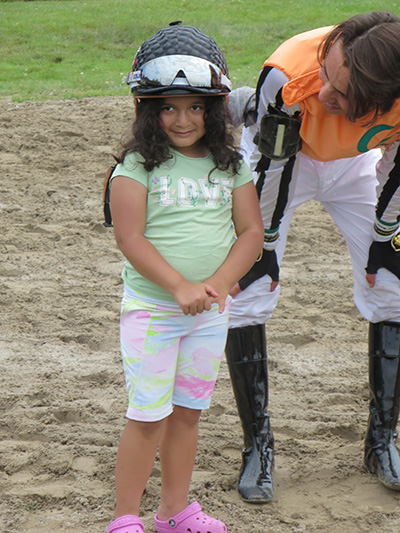 Photo at Right: Emma is a big fan of young rider Alexis Sanchez, perhaps a jockey career is on the horizon? Rob Mac photo
This was the fourth time that Had to Be Ivory had won the Ontario Bred Maturity in a career that has seen the big, bay gelding win 24 0f 30 career races and earn over $390,000.
"He never seems to have to put himself all out," said Bryn Robertson, who is assisted by his son Mike Robertson and daughter Kim Sabila. "He had his ears up."
*Ajax Downs returns with great Quarter Horse racing Wednesday, July 26 with a first race post time of 1:30 p.m. Be sure to visit www.ajaxdowns.com for upcoming events and race dates, plus all the news and features on the great sport of Quarter Horse racing.
Replay of the Ontario Bred Maturity:  https://www.youtube.com/watch?v=fnbSTUQ8lXY