"The Eventing program has been building and moving forward for the last 18 months," said James Hood EC Director.

Ottawa, ON, July 21, 2023 – Equestrian Canada and the EC High Performance Advisory Group, Eventing (HPAG) is pleased to announce the team that will represent Canada at the Fédération Équestre Internationale (FEI) Eventing Nations Cup™ in Bromont, Quebec from August 11 – 12, 2023.
Thanks to a generous donation from Kelly McCarthy-Maine and Shane Maine, each of the athletes have been awarded a $1,000 CAD travel bursary to assist in the costs of travelling to and competing at the Bromont Olympic Equestrian Park in the southern part of Quebec.
The following members of the Canadian Eventing team will represent the maple leaf in Bromont (in alphabetical order):

Colleen Loach
Horse: FE Golden Eye (Goldfever 3 x Contendro I)
Owner: Peter Barry, Amanda Bernhard and Colleen Loach

Selena O'Hanlon
Horse: MS Thunderbolt (Vingino x Corrado I)
Owner: The Thunderbolt Syndicate

Jessica Phoenix
Horse: Watson GS (Humble GS x Voltaire Pref)
Owner: Charlotte Schickendanz and Jessica Phoenix

Lindsay Traisnel
Horse: Bacyrouge (MyLord Carthago*HN x Clyde de la Combe)
Owner: Patricia Pearce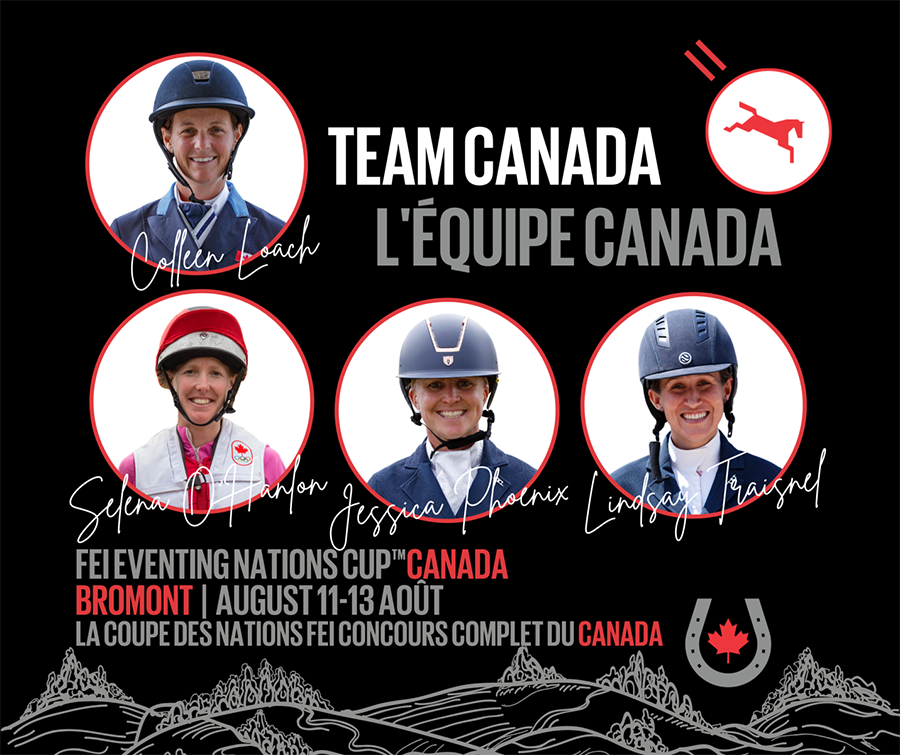 Photo Credit: Cealy Tetley and Practical Horseman
Last year's Nations' Cup at Bromont Olympic Equestrian Park saw three nations compete for the win, including Australia, Canada and USA – with the home country placing second.
"The Eventing program has been building and moving forward for the last 18 months and it is great to see strong representation at home for Team Canada, being led by Chef d'equipe Rebecca Howard," said James Hood EC Director, High Performance. "In addition to our generous donors Kelly McCarthy-Maine, Shane Maine and the countless others that are supporting Canadian Eventing, a big thank you goes out to the grooms, owners and support teams who are all a part of Team Canada. We couldn't compete without everyone working together."
This year's all-female team heading to Bromont has proven experience at major games, including the Pan American Games, Olympics and FEI World Championship appearances for three of the four athletes. Phoenix and Loach are returning from last year's competition, vying to finish at the top of the podium. Traisnel and O'Hanlon are making their Bromont Nations Cup debut.
"We've got a very competitive Canadian Team headed to the Nations Cup at Bromont. This is a state-of-the-art venue and one of the most picturesque events in North America. Thank you to the entire team at Bromont for providing such a class competition on home turf", said Emily Gilbert, Chair of the HPAG.
Phoenix of Cannington, ON, fresh off being named to represent Canada in Arville, Belgium is looking forward to this event with a different partner, "I am so excited to be riding on the Nations Cup team at Bromont with Galten Farms' Watson GS, and this stellar group of women," she said. "Bromont is one of my favourite venues in the world and is the backbone of Eventing in Canada. It is incredible to have such a world-class venue so close to home. Thank you to the Canadian Eventing HPAG for giving us this opportunity!"

About Bromont Eventing
Bromont CCI, which has featured top competitions for four decades, will be welcoming some of the best horse-and-rider combinations from all over world across three competitions this summer: the MARS Bromont CCI4*, Little Bromont and the FEI Eventing Nations Cup™ Canada CCI4*-NC-S and the new Teams Challenge. Located in the beautiful village of Bromont, Quebec, the spectator-friendly venue is within easy driving distance of Montreal, Quebec and Burlington Vermont.
For more information and to purchase VIP tables please visit https://bromonthorsetrials.com/en/vip-tickets-and-packages/
The Bromont Horse Trials are made possible in part through a contribution from Sport Canada. The Bromont organizing committee also wishes to thank the Government of Quebec, and the City of Bromont for their support.