The scores were incredibly close at the top.

BROMONT, QC - August 7, 2023  - Under a brilliant late afternoon sun and in front of a crowd overlooking the immaculate grass derby field, 35 top hunter riders competed Saturday, August 5 in the $5,000 Izada Equestrian Hunter Derby. Elodie Lemieux (Saint-Lambert, QC) and her own King's Landing emerged victorious.
The scores were incredibly close at the top, a testament to trainer Vanessa Robert (St. Bruno, QC) who coached both the winner and the runner-up Rosie Foucault (Varennes, QC) riding Kayla Baron's Dubai De Sainval. 
Lemieux posted a base score of 88 points, adding 5 for "handy" and 10 for taking all the high options to total 103. Foucault's base was slightly lower at 85.5, but their handy score of 7 added to 10 for the options put them in second by just half a point, at 102.5. Third went to Catherine Lauzon of Saint Jean Chrysostome, QC on Audra McKnight's Oliver who came in again just a half point behind on an overall score of 102.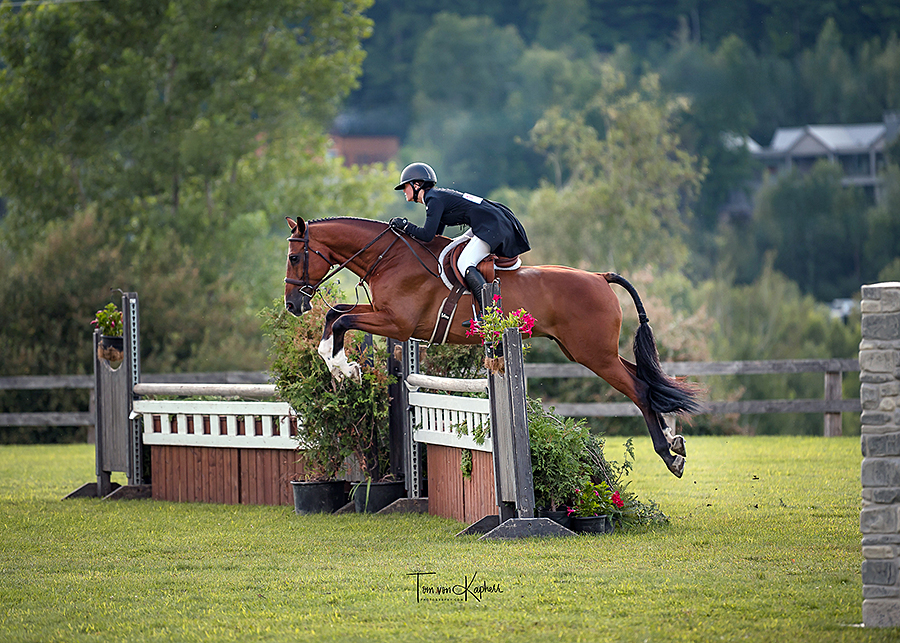 Elodie Lemieux and King's Landing took the win in the $5,000 Izada Equestrian Hunter Derby Saturday afternoon, during the International Bromont at the Bromont Olympic Equestrian Park. © Tom Von Kapherr Photography / Kim Van Gysel
Judge Connie Dorsch of Weyburn, SK, remarked on both the course, and what set Lemieux apart enough to capture top spot.
"It was a beautiful evening in Bromont and we had an excellent Hunter Derby with a field of 35 horses. The course designer, Charles Légaré set a course that was challenging but flowing, with several unique jumps including a hay bale trot bounce and a potted cedar jump. 
"King's Landing ridden by Elodie Lemieux and trained by Vanessa Robert was the winner. She competed early in the class at the 3'6" height, and set the bar high with a score of 103.
"She carried an excellent pace throughout the course and horse jumped in perfect technique with great scope. She was clearly in it to win it!"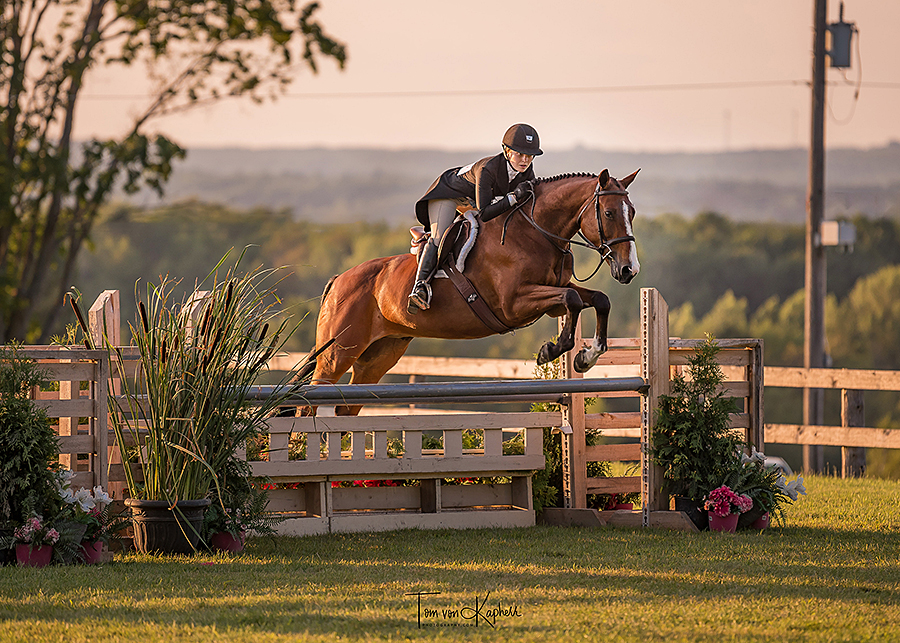 Rosie Foucault and Dubai De Sainval were the runners up in the $5,000 Izada Equestrian Hunter Derby, with a final overall score just half a point behind the winners. © Tom Von Kapherr Photography / Kim Van Gysel
Trainer Vanessa Robert coaches the winner and runner-up, both of whom ride out of her Écuries La Montée farm in Saint Bruno, Quebec. Robert said both riders made their plans and stuck to them exactly.
"We all studied the course and then walked the whole thing including the longer lines, which not everyone does," explained Robert. "It's a big field and there were some really challenging 90 degree turns and long galloping lines. Both of our girls walked and planned and worked really hard on leads and striding. They stuck exactly to their plans.
"Elodie has been riding that horse for almost four years and knows him really well. Last year was their first year at this level and they qualified for the Royal, which they have again this year. It was Rosie's second time competing in a hunter derby — she's a very hard worker and great rider. We're lucky to have two big grass fields at the farm, so both horses are used to jumping on grass."
Lemieux finished Reserve Champion in the Junior hunters and second in the Hunter Classic on Sunday, as well as winning the Jump Canada medal. 
Foucault, who also works for Robert during the summer months, on her break from medical school, earned the Champion rosette in the Adult hunters and finished fourth in Sunday's Hunter Classic.

About International Bromont
For more than four decades, International Bromont has welcomed renowned riders, the young up-and-coming, passionate amateurs and all horse lovers to the Bromont Olympic Equestrian Park. In 2023, the organizers of International Bromont will host international show jumping, driving and dressage across multiple FEI levels up to 3*. For the International Bromont 2023, over 600 horses competed for over $350,000 in prize money over two weeks. 

Located in the beautiful village of Bromont, Quebec, the spectator-friendly venue is within easy driving distance of Montreal, Quebec and Burlington Vermont. The event provides a wonderful family day out with a vendor area including food trucks. Young horse and riders regularly compete alongside the best in the world, where men and women compete on equal footing against one another.

For more information please visit www.internationalbromont.org.  


Thank you to our Sponsors
Public partners: Government of Quebec, Ministry of Education/Higher Education of Quebec (MEES), Ministry of Tourism Quebec, Ville de Bromont
Private partners: Assante, Omega Alpha Canada, Cofina, Soltek, Izada, Bruno Delgrange, Serres Yargeau, Jumps USA, Gazébec, ATPLab, Aux Grains, Engel & Volkers.


$5,000 Hunter Derby presented by Izada Equestrian
King's Landing / Elodie Lemieux / Saint Lambert, QC / 103
Dubai De Sainval / Rosie Foucault / Varennes, QC / 102.5
Oliver / Catherine Lauzon / St-Jean-Chrysostome, QC / 102
Heliant BP / Jasmine Remillard / Brebeuf, QC / 100
Raphael / Andréanne Côté / 99.5
Mademoiselle / Emmanuel Geoffroy / St. Croix, QC / 99
Jackpot / Emmanuel Geoffroy / St. Croix, QC / 98
Cognac Chateau Hollogne Z / Rosalie Gagné / Levis, QC / 92