Seventeen juveniles have been entered with eight competing in the first Trial.

AJAX DOWNS, TUESDAY, AUGUST 22, 2023 -  Ontario Sired Quarter Horse 2-year-olds will compete in two Trials at Ajax Downs on Wednesday, August 23 for a chance to compete in the $55,000 Ontario Sires Stakes Futurity on Sept. 13.
Seventeen juveniles have been entered with eight competing in the first Trial, race 6 on Wednesday, and nine in the second Trial, which is race 7. Each Trial is 330 yards and the 10 fastest qualifying horses will advance to the final.
If the finish of the Ontario Bred Futurity (photo), held on Aug. 2 at Ajax Downs, is any indication, these two Trials will be very competitive dashes.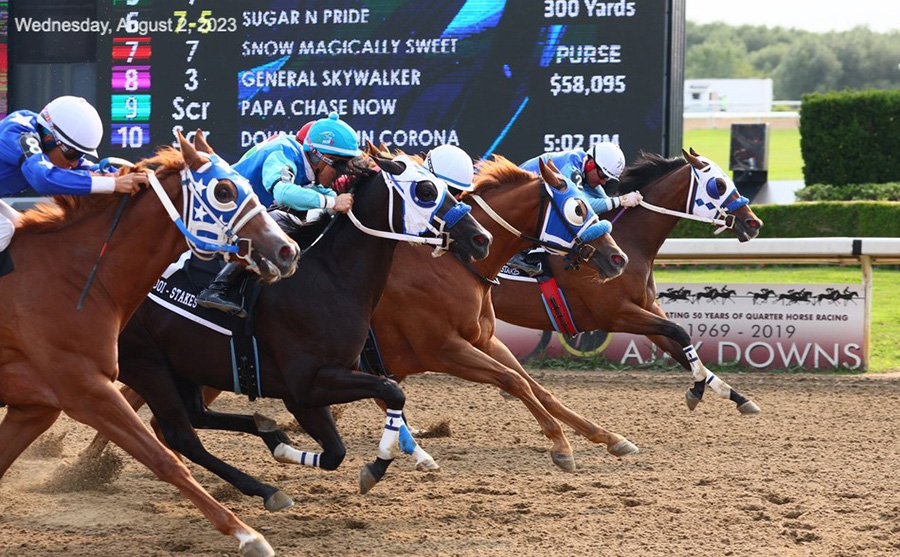 Two-year-old filly Snow Magically Sweet (second from left) was a nose ahead of Sugar N Pride (2nd from right), Pretty Magicall (inside) and General Skywalker in the Ontario Bred Futurity on Aug. 2. They are all back for the Ontario Sires Stakes Futurity Trials on Aug. 23. New Image Media photo
The first Trial pits SNOW MAGICALLY SWEET (by Maryland Magic), owned by Burlington's Milena Kwiecien and trained by Jason Pascoe, against Stallion Auction Futurity winner GENERAL SKYWALKER (Look at Magics Form), owned by Marie Broadstock of Nestleton. Snow Magically Sweet won the Ontario bred Futurity under jockey Alexis Sanchez by a nose in a five horse blanket finish. General Skywalker, trained by Bob Broadstock, was fourth that day, just a neck behind with Ramiro Castillo riding.
There are five first-time starters in the first Trial.
The second OS Stakes Futurity Trial features George Coleman's SUGAR N PRIDE (Sugarman Perry), second in the Ontario Bred Futurity by a nose, and PRETTY MAGICALL (Maryland Magic), who was third in that race. Sugar N Pride, trained by Bob Broadstock, will have Castillo aboard as regular rider Rachael Isaacs is absent while Pretty Magicall, owned by Kwiecien, will have JB Botello up.
The second Trial also includes Mitchell Daniel's WICKED WILD WILLIE (El Night Shift), who was a close second to General Skywalker in the Auction Futurity in June. 
First race post time for the Aug. 23 card at Ajax Downs is 1:30 p.m. and parking and admission are always free. You can download a free pocket program and find racing selections and more information at www.ajaxdowns.com.