Family Fun Day Day is an important event for the Durham community.

AJAX DOWNS AUGUST 27, 2023 - The two things most dear to the late Norman Picov were family and horses. His Ajax Downs held its annual Family Fun Day in support of the Ajax Pickering Hospital Foundation on Sunday, August 27 and the event was yet again a rousing success. On a picture-perfect summer Sunday, Ajax Downs was filled to the rafters with families who enjoyed dozens of fun activities and got up close to the Quarter Horses racing during the afternoon.
It was also a fitting day for the Picov family to unveil a memorial bench and plaque for Norman, adjacent to the walking ring on the track apron. Norman passed away in February.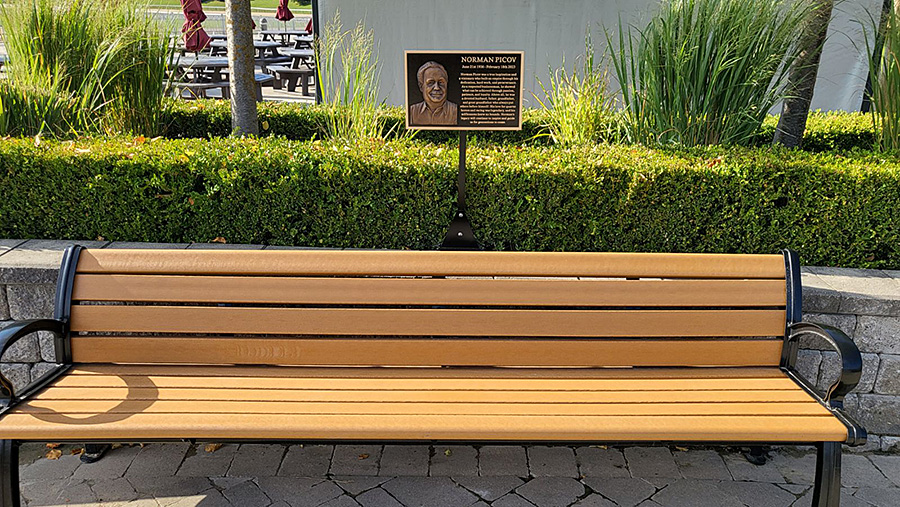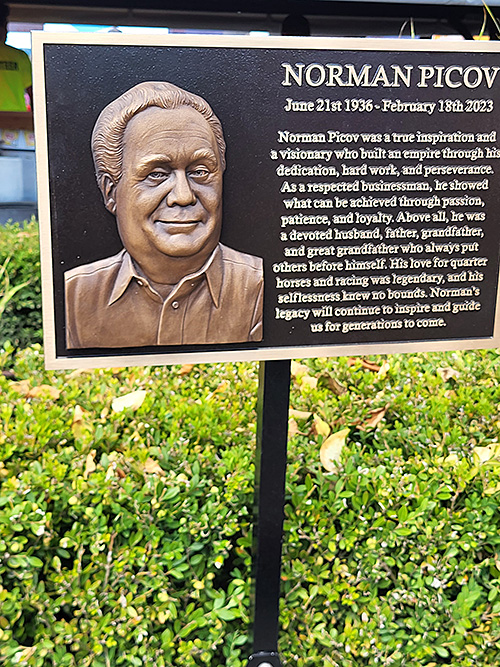 A commemorative bench and plaque were unveiled at Ajax Downs, beside the walking ring, for Norman Picov, one of the founding fathers of Quarter Horse Racing in Ontario.
"Norm was a visionary horseman, who, along with our grandfather Alex and our mom Linda. dared to dream and embark on a journey that turned into a reality," said Barry Picov, one of Norman's sons. "In 1969, the seeds of Picov Downs were sown... It was a dream rooted in the simple idea of bringing people together to enjoy all that he believed in. Picov Downs, bourne for this vision, emerged where families could come together.
This bench stands as a symbol of his enduring presence. It is meant to be occupied just as Norman sat here and enjoyed conversations with all of you."


(Photos below: Barry and Robin Picov at the memorial bench for Barry's father Norman)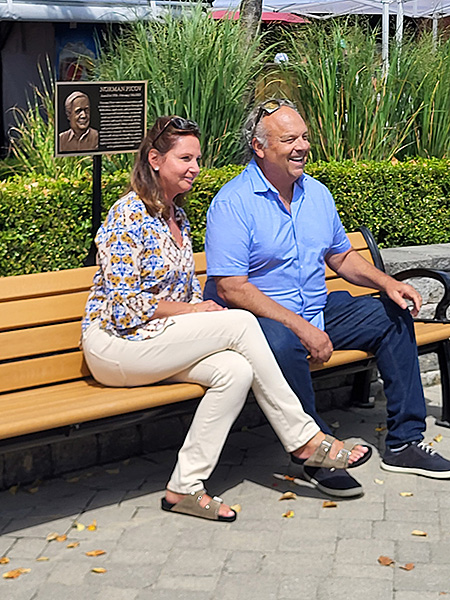 While kids of all ages enjoyed games, live entertainment, exotic animals, and a variety of treats, on the track the racing was fast and furious. The featured race of the day, an allowance race for some of the top 3-year-olds in the country, was seemingly won by the current leader of the division Snow Moose but the Ontario bred gelding was disqualified as the stewards deemed him to be guilty of interference. Placed first in the 350-yard race, which was serving as a prep for the $50,000 Norman Picov Derby next month, was SOUR CANDY, who was recently purchased by Craig Spada and Rick Crispi. Trained by Lauren Spada and ridden by Alexis Sanchez, Sour Candy was one of two winners for his team of owners, trainer and jockey on the afternoon.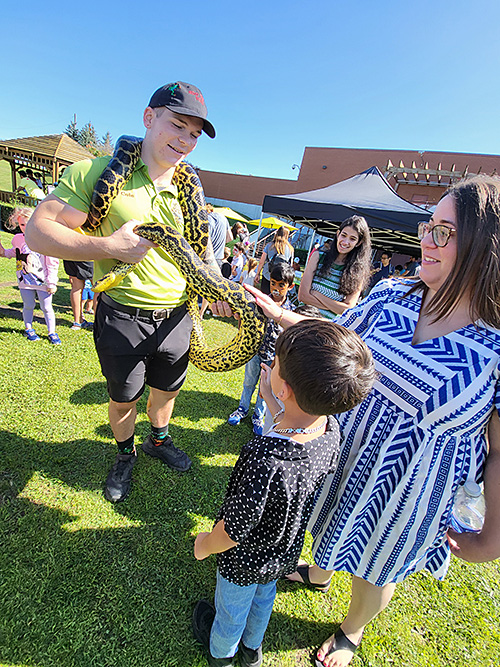 (Photos below - A J greeted kids at the track, Zoo to You had a wide selection of interesting animals (like this anaconda) and kids got a chance to break out of the starting gate and race down the track.)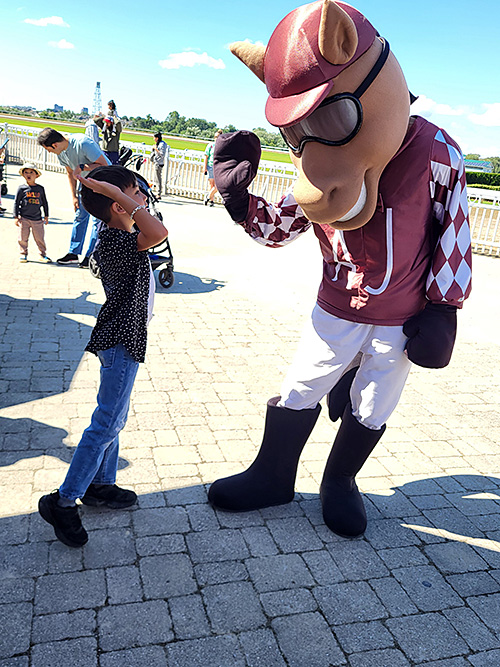 *Ajax Downs has another special event Sunday, Fan Appreciation Day, coming up September 3 over the Labour Day weekend. Fans in attendance can win prizes throughout the afternoon's card of racing. First race post time is 12:55 p.m.
*Be sure to visit www.ajaxdowns.com for all the latest news and events and follow us on social media, @AjaxDowns.